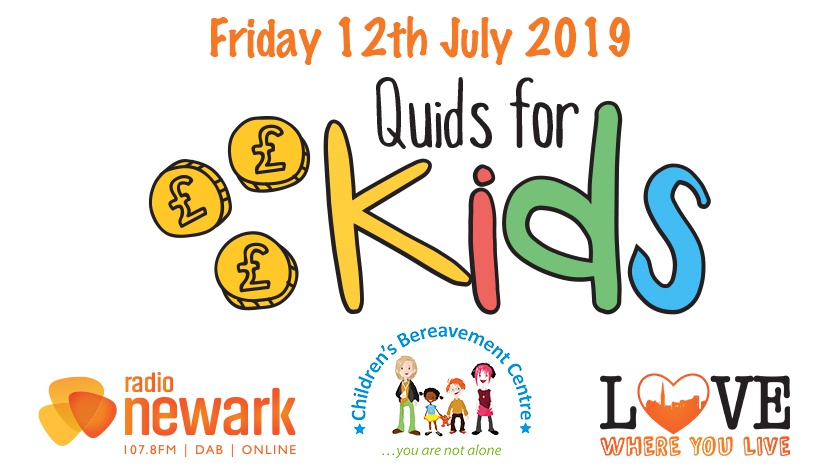 Have you got what it takes to get involved in our Quids 4 Kids day on Friday 12th July 2019?
Schools, businesses and even individuals can get involved, as we plan to raise money for our charity of the year, the Children's Bereavement Centre.
It's really simple. Take part in a non-uniform or fancy dress day at school or work, polish off your baking skills and have a bake off, put together a raffle or maybe even go head to head with your work colleagues in a challenge... all we ask is for a simple £1 per person taking part.
Radio Newark will be here, there and everywhere spreading the word about the Children's Bereavement Centre on the 12th July and we could be coming to you! We'll be getting as many participants on the airwaves on Radio Newark and featured on our social media accounts! Let us know how you are supporting #Quids4Kids and we will pay you a visit.
The Children's Bereavement Centre are our Charity for 2019 and we want raise awareness and much needed funds for this local Nottinghamshire charity and the vital work that they do.
For further information regarding Quids 4 Kids, you can call us on 01636 550 533 or if you're ready to take the plunge, complete the webform below to register your involvement now.
Who's signed up?
Inizio

Our staff will be baking for our clients for donations and having a dress down day which the staff will be donating towards the Childrens Bereavement Centre.

We will also donate £1 for every full size retail product sold.

Newark Sports Direct Fitness Club

We will be running an outdoor boot camp circuit class outside our fitness club, this is a class for members and non members to take part in; £1 per person all to raise money whilst burning calories and having fun at the same time. Rhuel our Personal Trainer will be taking the class, we shall also be offering free guest passes to all that take part and wish to bring friends or family down for the day at a later date. #Noexcuses #quids4kids

FRIDAY 12TH JULY 9:30AM OUTDOOR BOOT CAMP

Barnby Road Academy

All students have the chance to take part in a non-uniform day on Friday 12th July.

Simply Sweet

For every customer who spends £10 or more on Friday 12th July, we'll donate £1 to the Children's Bereavement Centre.

The Soup Dwagon

We will donate 50p per soup sold on the day!

Active8 Managed Technologies

We are having staff dress down Friday which will cost £1 each.

We are also having an Active8 bake-off, each slice will cost £1 and the bakers will be scored, whoever wins will be crowned the Active8's best Baker!

Magnet Expert Ltd.

Guess The Baby Photo Challenge - staff members bring in old photos of themselves as kids/babies and everyone pays to guess. The most correct guesses wins! £2 a go.

Staff cake sale - We will be bringing in our homemade cakes.

The Big Day Off - We will be holding a raffle where staff can enter for the chance to have a day off! One ticket for £3 or two for £5.

Magnus Church of England Academy

Students have the chance to pay £2 and enter a colour run for the last period of the day on Friday. With only 120 places available... it's first come first served!

Claire Spindley

A fantastic example of an individual wishing to take part, Claire is having a coffee and cake morning in the garden for her neighbours and friends.

Davison's Bakery

Davison's are baking some funky gingerbread people which will be available for £1 each, with all the money from each sale going to support the Children's Bereavement Centre in Newark.

Be sure to add them to your breakfast orders and pick them up at lunchtime... we'll make sure there are plenty so you can help us raise lots of money for such a brilliant charity!!

Greenzone Facilities Management

We will be holding an extra mid month dress down day and charging staff £1 to come in casual clothes

Hoval UK

We are having an extra middle of the month dress down Friday, where everyone can pay £1 to come to work in casual clothes. We will also be having a raffle where tickets are £1 each.

Duncan and Toplis

Staff cake sales at our offices.

LetsXcape Board Game Cafe

Come and join on Chain Lane and pay a £1 to play a board game.

Cre8 Studios

Book a photo shoot for a £1. Terms and conditions apply.

RPS

We're having a dress down for work day with all our staff.
What are you waiting for? Whether you're taking part at work, donating £1 individually to support the Children's Bereavement Centre or joining together with friends or family for a morning or afternoon, let us know by completing the above form.