Newark Community Awards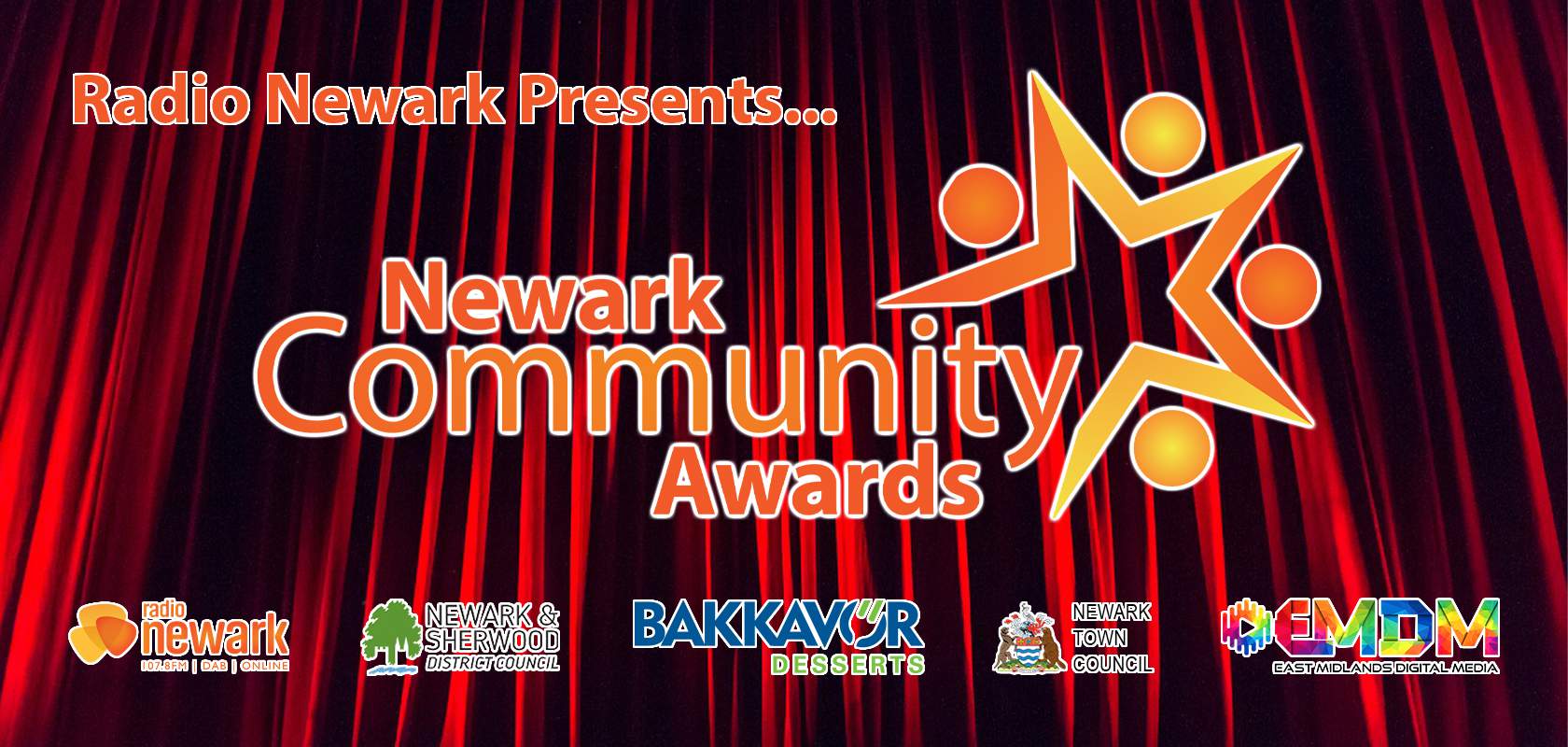 Local heroes were recognised and celebrated at a glamorous awards ceremony within the grounds of Newark Castle as the community came together for the Radio Newark Community Awards 2019.
Winners of the 12 categories were selected by a judging panel after being nominated by family members, friends, colleagues, customers or other members of the public. They received an award, certificate and sweet hamper.
The Awards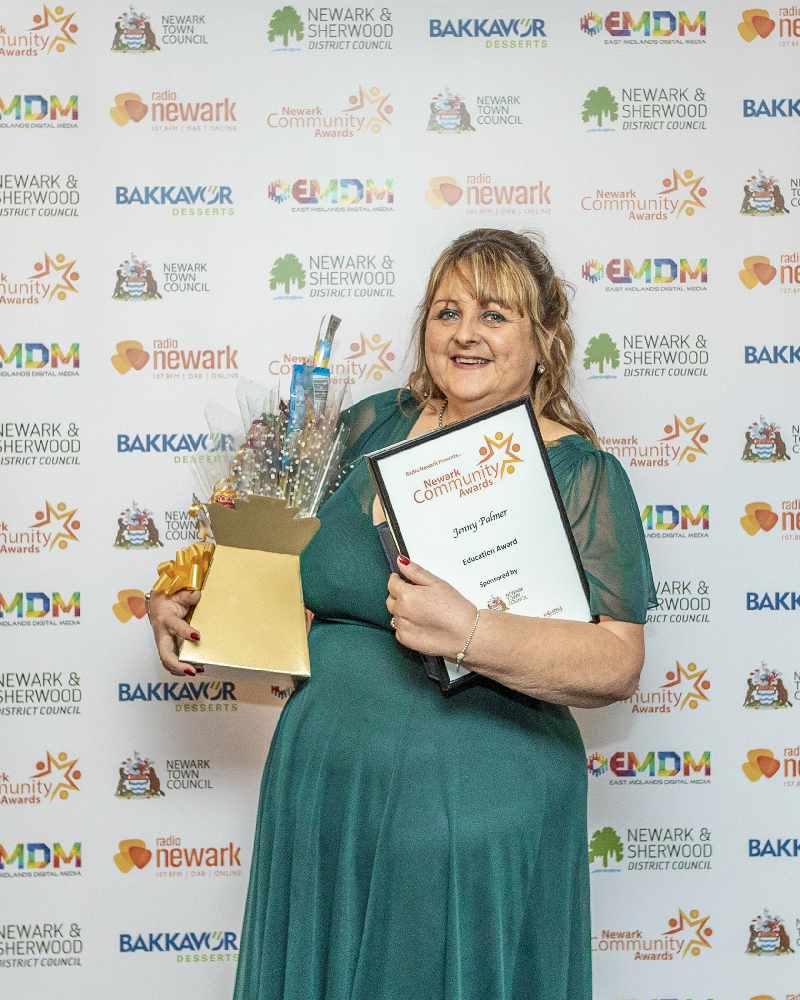 Education Award
Sponsored by Newark Town Council
Jenny Palmer, from Newark College was recognised for her commitment to her students with the Education Award. Jenny's nominee and colleague Penny Taylor said that "students know they can go to Jenny and she will help them as much as possible." Speaking after collecting her award, Jenny thanked her co-workers, "I've gone through a very personal tragedy in the past six months and if it wasn't for my colleagues I wouldn't be here today."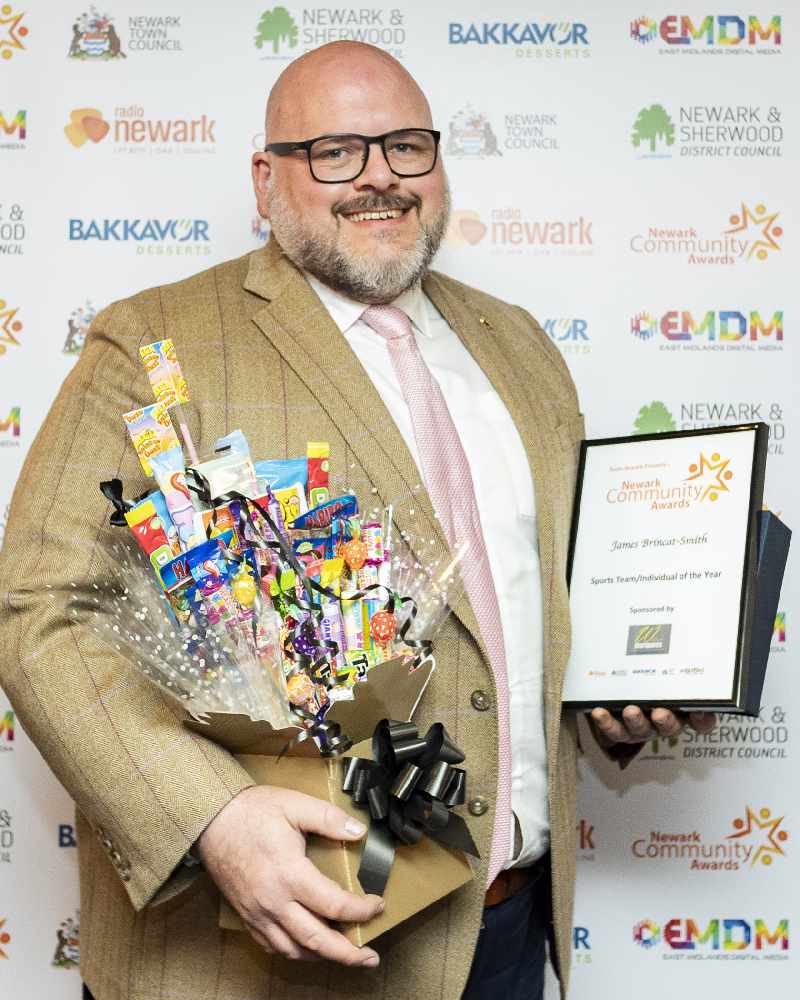 Sports Individual of the Year Award
Sponsored by Every Occasion Events
The Sports Individual of the Year was named as James Brincat-Smith, a powerlifter with five British championships and the current world number three. In his acceptance speech he encouraged people "to find your why" and to reach out for mental health support if needed.
Citizen of the Year Awards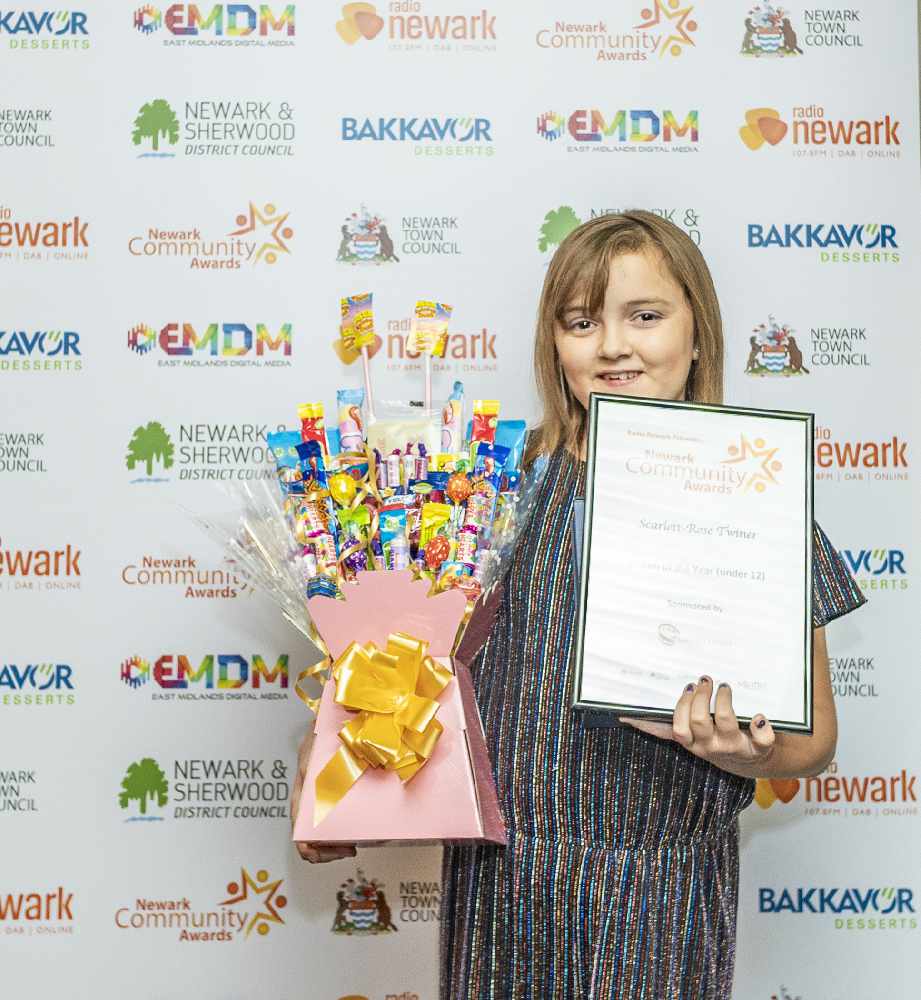 Sponsored by Magnet Expert
The Citizen of the Year Award for under 12's was presented to Scarlett Rose Twiner. Scarlett was nominated by Craig Twiner, and was overwhelmed to receive the award. She said: "I'm so shocked, I'm shivering. I'm so happy to get this award from Radio Newark because I am in radio club at school. I didn't think I would be good at it and I thought I would be shaking all over the keyboard! I would like to do the recording at the radio when I grow up. So I am very happy, I love this."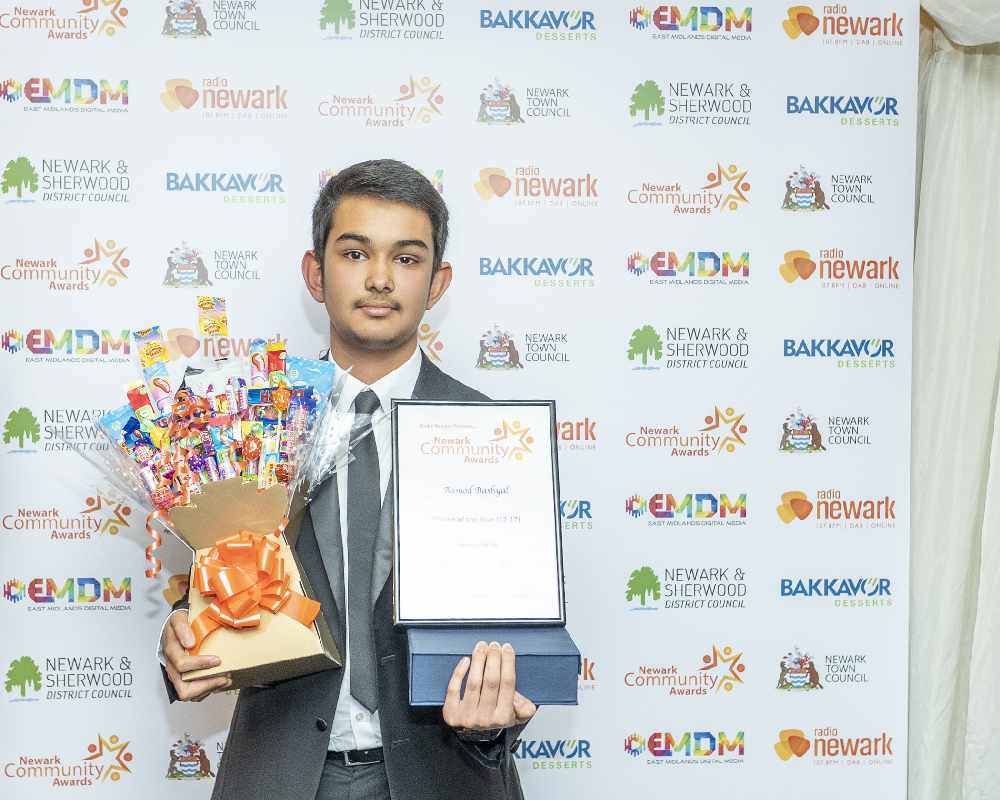 Sponsored by Sentiment 360
16-year-old Aamod Bashyal won the Citizen of the Year Award for the 12-17 category after being nominated by his teacher Tracey Butterfield for balancing working with his studies. The Magnus pupil described winning the award as "nerve-wracking but good to be recognised", adding that he now felt even more motivated going forward and thanking Mrs Butterfield for the nomination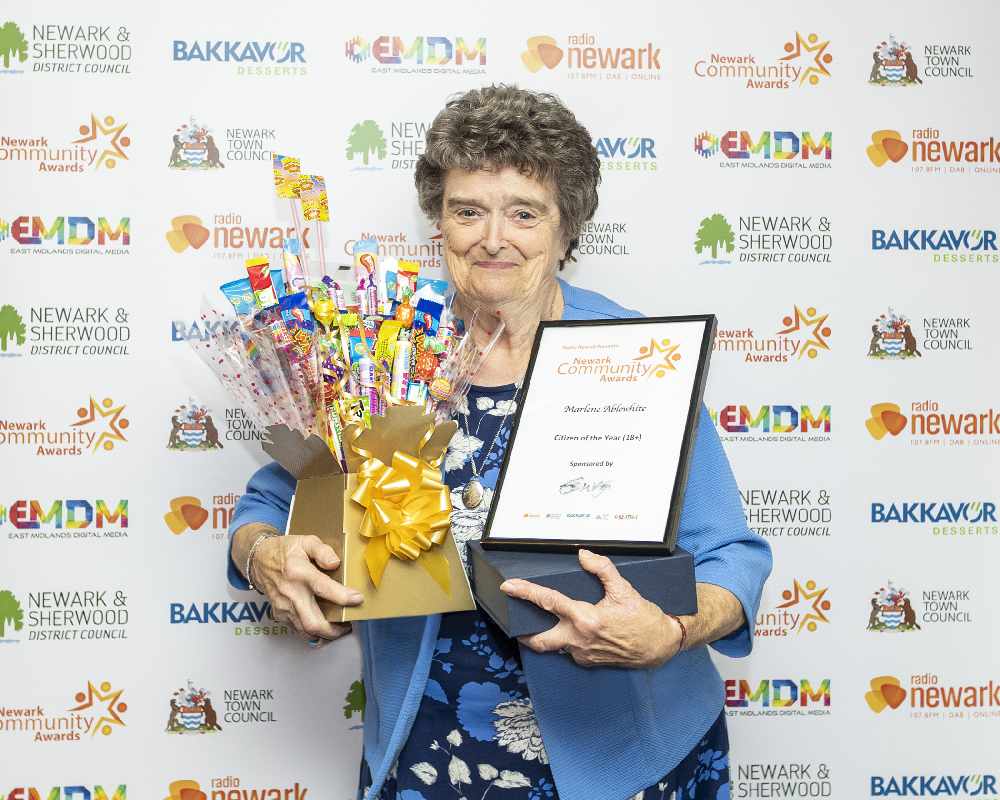 Sponsored by Envy Signature Salon
Marlene Ablewhite was presented with the 18+ Citizen of the Year Award, for the work she does to help those with learning disabilities. Marlene was shocked to be nominated by her ex daughter-in-law, Julie Ablewhite, and was amazed to come back home from her holiday to find a letter saying she would be receiving the award. She said: "I love the idea that I can give my time to help other people, and in return they give something back to me. I have a real desire to help people with learning disabilities."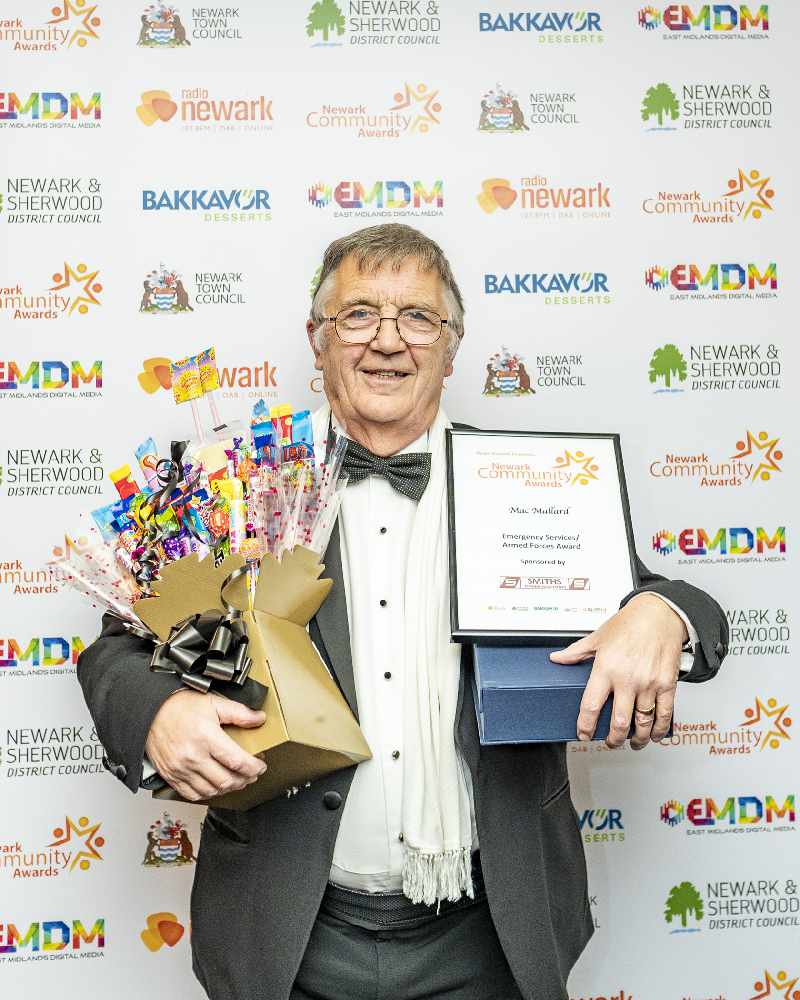 Emergency Services/Armed Forces Award
Sponsored by Smiths Timber Merchants
Mac Mallard was 'staggered' to be awarded the Emergency Services and Armed Forces Award for his work with Newark Patriotic Fund. Nominee Keith Girling described Mac as a "linchpin" to the charity. Mac thanked the Patriotics team and his wife, adding that he'd "met some absolutely fabulous people" and welcoming any veterans to join a meeting on Saturday mornings at Newark Town Bowls Club.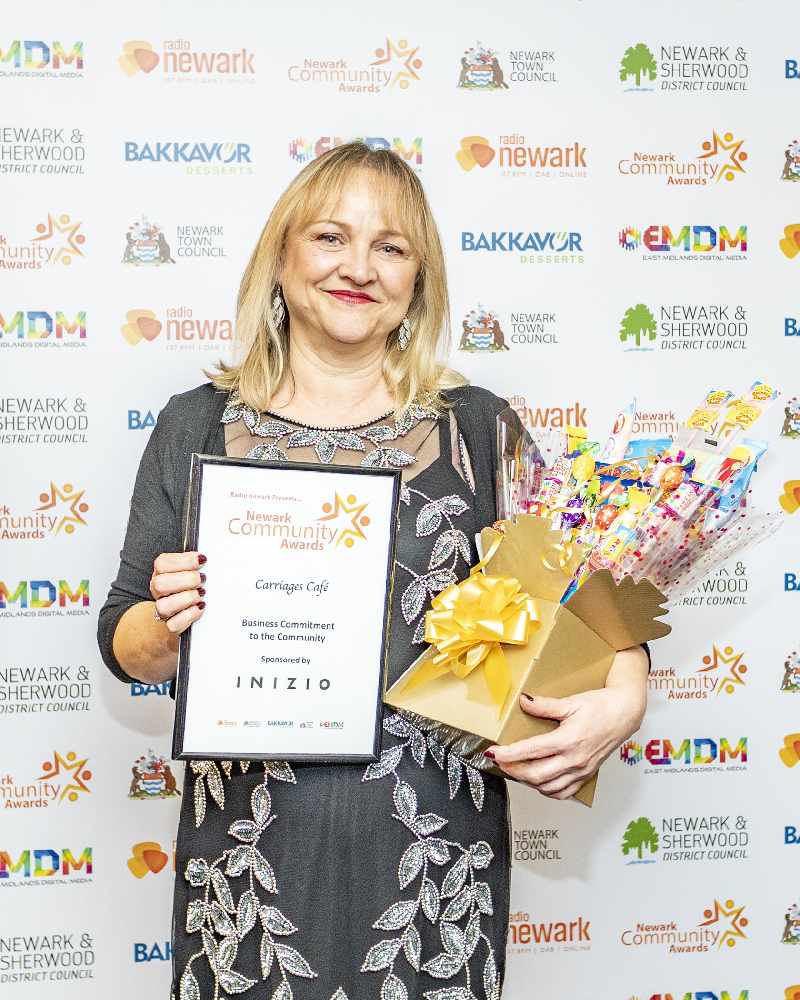 Business Commitment to the Community Award
Sponsored by INIZIO
Winning the Business Commitment award for their community events, Carriages Café owner Wendy Baird thanked her team and said, "It just feeds itself, people hear about us and approach us for support and generally we do."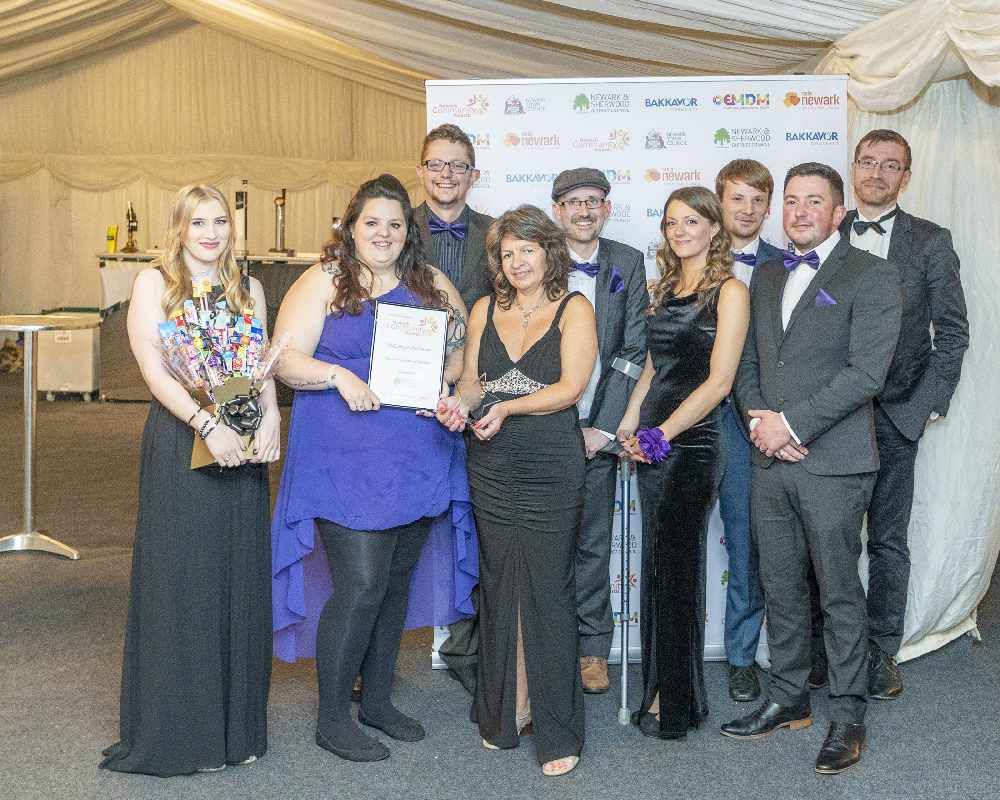 Community Group of the Year
Sponsored Newark & Sherwood District Council
The Help Us Grieve (HUG) Singers were presented the Community Group Award after being nominated by one of the HUG founders Amy Everett who thanked them for their dedication to the charity. Fundraiser and HUG singer Matthew Ash described the award as "fantastic" and said it was an opportunity to help people discuss the difficult topic of miscarriage and baby loss, one of the aims of the charity.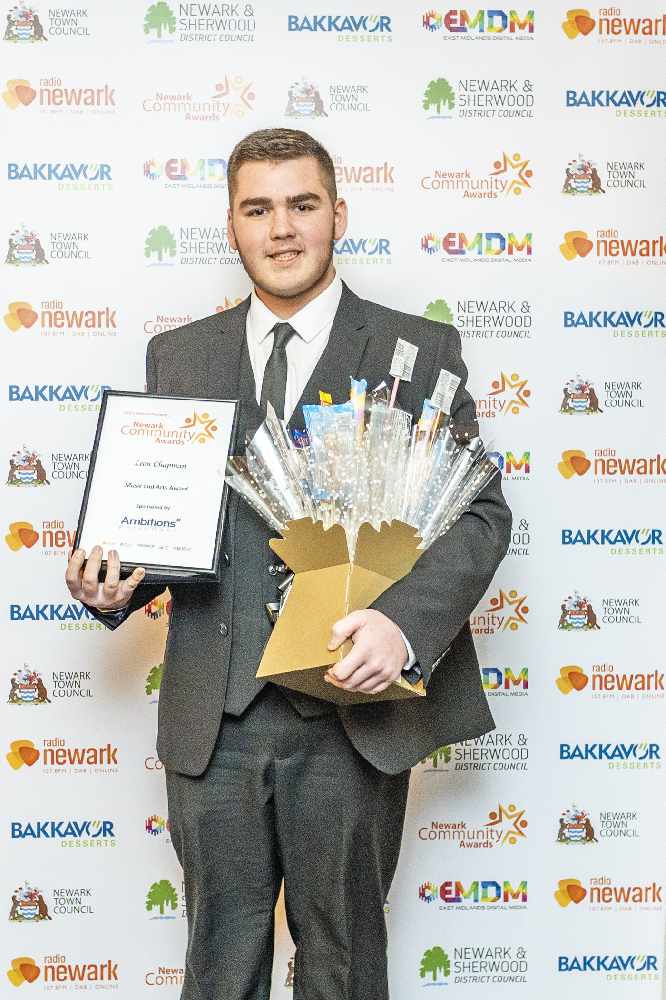 Music and Arts Award
Sponsored by Ambitions Personnel
Leon Chapman received the Music and Arts Award after being nominated by Edward Eley. Leon is bass player in his band 'The Timeouts,' with the name being inspired by the timeout cards they would use at school when needing a moment to cool down. He shared that he was shocked to have been nominated for the award, and even more surprised to win. He said: "I just want to make a living from my music, I want to make enough money to do what I love for a job."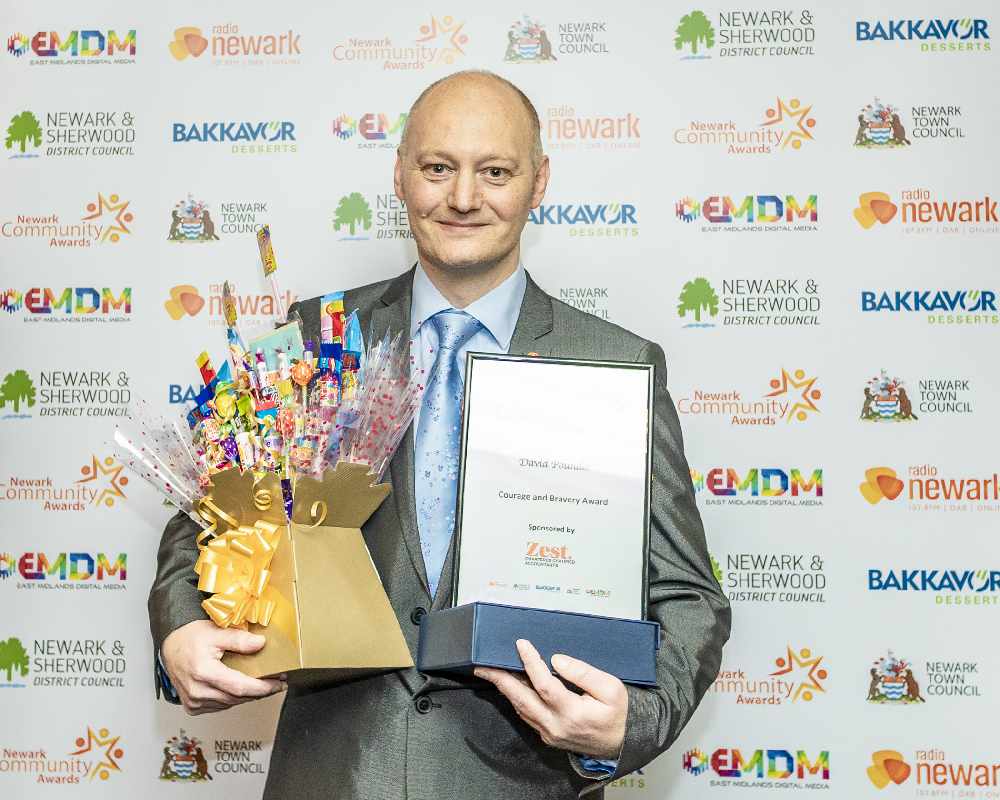 Courage and Bravery Award
Sponsored by Zest Accountants
Receiving the Courage and Bravery Award was David Pounder, who put aside his own safety to defend a woman who was being attacked. He said: "You would expect everyone in that situation to do the same thing. I believe that anybody walking past, hearing that horrific and terrifying incident, would do exactly what I did." David also thanked those in the community who helped out with him, and insists it wasn't all his doing. His family are extremely proud, with David's young son sharing: "Not all super heroes wear capes."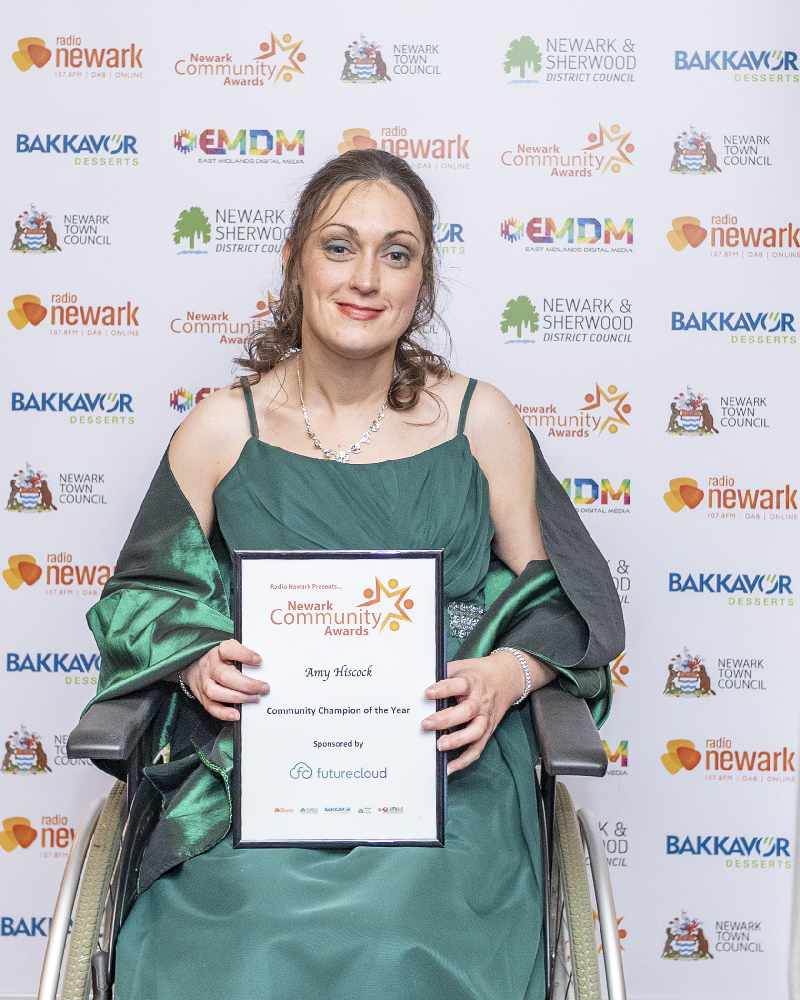 Community Champion Award
Sponsored by Future Cloud
Winning the Community Champions Award was Amy Hiscock, who was nominated by Claire Sarris. Amy shared that receiving the award was an "honour", but added it was even more of an honour to support the people she gets to support through her work. When speaking about Claire nominating her for an award, Amy said: "I can't believe she did it! I was so glad to meet her, and she does so many great things in the community as well. The fact that she thinks the same about me is such an honour."
Lifetime Commitment Award
Sponsored by Bakkavor Desserts
Jane Brown was presented with the Lifetime Commitment Award for her work with children in the community. She says it all started when her eldest daughter moved to Barnby Road Academy, when she walked into a parent-teacher association meeting and was voted in as chair. Jane now co-runs Newark Firecrackers Cheer Squad, which has over 60 members. She said "I'm amazed that they managed to keep the award quiet, I'm quite a suspicious person!"
The judges also selected nominations for Special Recognition Awards where they felt someone deserved to be recognised for their contribution to the community.
Congratulations to:
Carol Preston - Lifetime Achievement Award
Janice Holmes - Citizen of the Year (Over 18 category)
Ethan Harpham-Fox - Citizen of the Year (Under 12 category)
Paul Andrew - Community Champion
Active4Today - Business Commitment to the Community
Newark in Bloom - Community Group
Melissa Taylor - Courage and Bravery


Take a look at the Newark Community Awards here:
Have you seen a photo you like in our album above?
You can purchase high quality, full colour prints of any of our photos right here.

Thank you Liz Hobbs Group for providing our audio/visual equipment and tech for the ceremony!

Thank you Newark Army Cadets for helping maintain order and keeping our tables clean and tidy throughout the night. Vicky visited them on Monday 25th November to present a cheque donation as a thank you for all their hard work.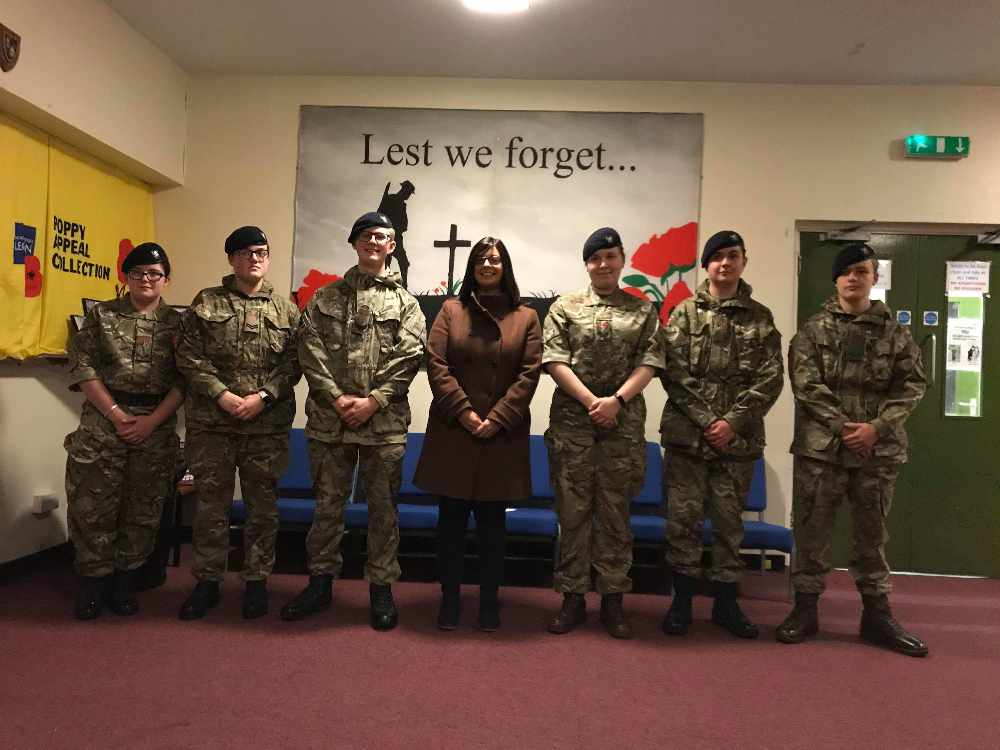 Have any questions about the Radio Newark Community Awards? Feel free to drop an email to info@radionewark.co.uk or seeing as we're in the business of talking, give us a bell on 01636 550 533.