Radio Newark's Charity of the Year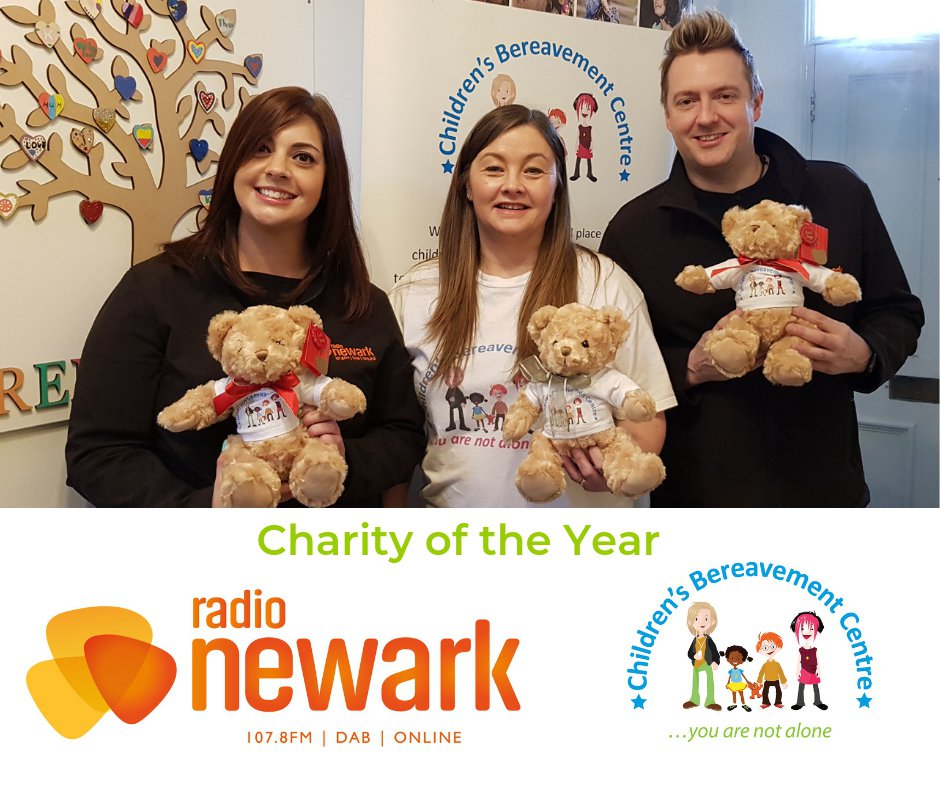 There are so many great charities out there... Fact!
In recent months, Radio Newark has received many requests for help and support from charities and whilst they are all fantastic causes, we simply are unable to support them all.
As a result of this, Radio Newark has made the decision to pledge its active support to one charity each year. This year, we are pleased to announce that we are working with the Children's Bereavement Centre on Kings Road in Newark.
If you now find yourself asking the question "Who are the Children's Bereavement Centre and what exactly is it that they do?", we've done our best to outline some key information for you below.
Sadly, in the UK one parent dies every 22 minutes...
The Children's Bereavement Centre is a local registered charity providing early intervention support for children and young people, age 3-18, who are experiencing life-changing trauma due to the death or terminal-illness of someone they love.
Based in Newark the charity has been providing its unique range of specialist support in Nottinghamshire and parts of Lincolnshire for 16 years. During that time we have helped thousands of children and their families and years later we remain the only specific specialist bereavement service for 3-18 year olds in the area and we continue to fill a vital gap in local service provision.
We offer a wide range of specialised support to suit individual and families' needs including counselling, play therapy, filial therapy (for the whole family), workshops at particularly difficult times of year such as Mother's Day, Father's Day or Christmas, drop-in peer groups and a 2-day residential camp.
Your support means so much to a child at the Children's Bereavement Centre...
Just 4% of the funds we need to offer our specialist support comes from statutory funding. The rest we have to raise ourselves year on year helped by the kindness, generosity and support from businesses and people like you.
So, you can see every penny really does count so your support as part of Radio Newark's Quids for Kids campaign really will help. So whatever activity your school or workplace is doing on Friday July 12thplease let us know as we would really like to hear all about and share your exciting plans.
£4 could pay for a memory book – the children put all their memories and photographs of the person they have lost into these books so in the years to come they will always remember those special moments

£6 could supply a comfort bear – this bear is a connection for the child to the Centre for when they are feeling vulnerable.

£10 could help to pay for a child to attend an activity or workshop

£25 will pay for one play therapy session for a child.

£200 will pay for 8 sessions of one to one bereavement support for a young person.
For more information, please visit the Children's Bereavement Centre website www.childrensbereavementcentre.co.uk.