Fernwood Roadworks Latest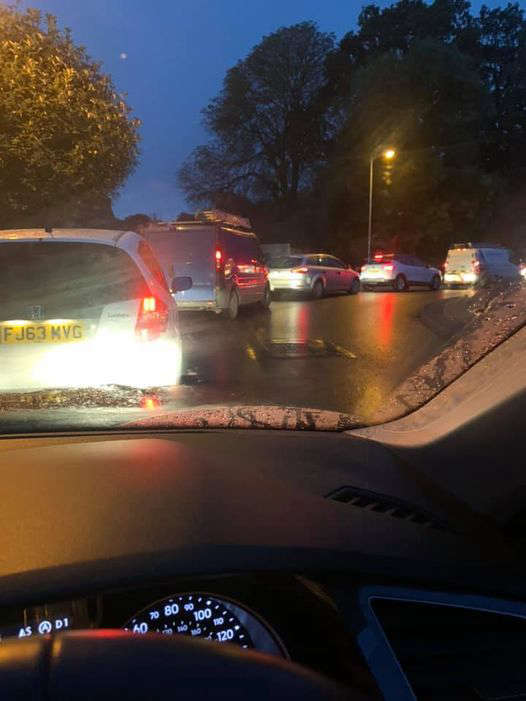 The troublesome traffic lights at Fernwood's Tawny Owl roundabout that have caused traffic chaos this week have had their times reduced after another morning of frustration and delay for motorists.
Via East Midlands confirmed to Radio Newark this aftermoon that the working time for the lights is to be reduced to 9am-4.30pm with immediate effect - and they won't operate at all at weekends.
The work, which is scheduled to last until November 19, involves the widening of the northbound entry and exit to the roundabout in preparation for future growth in the area.

The second phase of the project, due to start in two weeks, is likely to involve 24 hour working.

At its worst this week traffic queued as far as Sainsbury's on London Road in Balderton, and the southbound exit sliproad at the A1 Balderton/Claypole turn at times tailed dangerously to the A1 itself.
Fernwood residents had reported delays of up to thrity minutes trying to get off the estate.

There were calls for the reopening of Hollowdyke Lane to provide temporary relief, but Via said that wouldn't be possible as Hollowdyke Lane is subject to a ten year closure whilst new housing is built and is "not in a suitable condition to open."

Johno Lee, county councillor for Balderton which includes Fernwood and Coddington, said:

"I would like to say a big thank-you to Via East Midlands and the developer for so quickly finding this compromise, something I'd been asking for. And a big thank-you to residents as well for their patience.

"We're not out of the woods yet, but hopefully the changes will ensure people are able to get to work and their children to school on time."
Fernwood resident Lester Fernandes said: "The roadworks were a nightmare for the first day, and there should have been coordination with Highways England to mitigate the very dangerous queues on the A1. But the contractors have been quick to respond to the problems.

"Those of us who live on Fernwood simply want a speedy end to the works and better traffic flow as more and more people move into the area."

There will be more on this story on Friday's Radio Newark Breakfast Show with Fernwood resident Ian McGregor, and regular updates during the weekday breakfast and drive shows as always.
Listen to Radio Newark LIVE here.
Ask Alexa or download the FREE Radio Newark app.
You can also tune in across Newark on 107.8FM
Meet Radio Newark's new breakfast host Ian McGregor