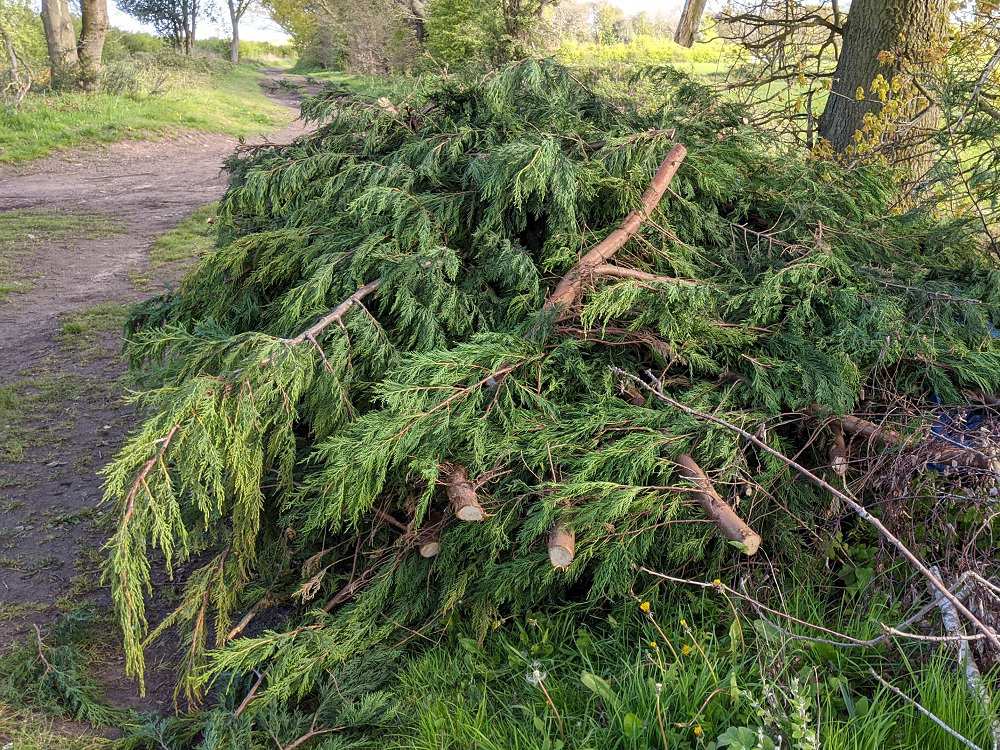 A BRAZEN litter lout caught fly-tipping was hit with a £400 penalty after 600 kilos of conifers, plus a child's sledge, were dumped in Syerston, near Newark.
A passer-by witnessed the incident while dog walking last month on Longhedge Lane and reported it to Newark and Sherwood District Council.
The Council took swift enforcement action after photos taken on the witness' mobile phone identified the vehicle and individual involved in the fly-tip.
Newark and Sherwood District Council's anti fly-tipping campaign, Not in Newark and Sherwood, was launched in late 2019 with the aim of reducing the number of fly-tips in the district.
With the end of lockdown now in sight and services able to return to focussing on the priorities residents have identified, the Council plans to employ a number of interventions to crack down on more offenders.
The Council will be working with partners to make the legal disposal of waste as easy as possible, while making the illegal disposal as difficult as possible.
Among other activities, more CCTV cameras in hotspots are being installed, whilst other significant hotspots are being considered for measures to prevent entry for vehicles.
Councillor Roger Jackson, Chairman of Newark and Sherwood District Council's Leisure and Environment Committee, said: "Fly-tipping is a real stain on our district but we are absolutely determined to confront the issues and deal with those who are responsible. The Council won't tolerate fly tippers and litter louts and I'm delighted that this offence has resulted in a fine for the person involved.
"In the last year, we have seen a number of successful prosecutions for fly-tipping offences and we will always seek the toughest punishments possible where the evidence supports a prosecution. If you've waste to dispose of, do it properly – take it to the Household Waste Recycling Centres in Newark or Bilsthorpe, or use the Council's low-cost bulky item collection service.
"This case also serves as an example that we would always appeal to the public to be our eyes and ears too in reporting suspicious activity or helping identifying the cowboy waste operators who are spoiling the environment. Give us a call on 01636 650000 or visit our website."
If paying someone else to remove your rubbish, the District Council advises residents to always check for a valid waste carrier's licence which can be done easily on the Environment Agency website.
If someone offers to remove your waste you must make sure that they have the appropriate licenses to remove it so it will be disposed of responsibly. If you use anybody else, you run the risk of waste being fly-tipped and it will be your responsibility.
To use the Council's bulky waste collection services, visit: http://www.newark-sherwooddc.gov.uk/bulky/ or for electrical waste, visit: http://www.newark-sherwooddc.gov.uk/wasteandrecycling/electricalwaste/
Report fly-tipping to Newark and Sherwood District Council here: https://www.newark-sherwooddc.gov.uk/transactions/report/