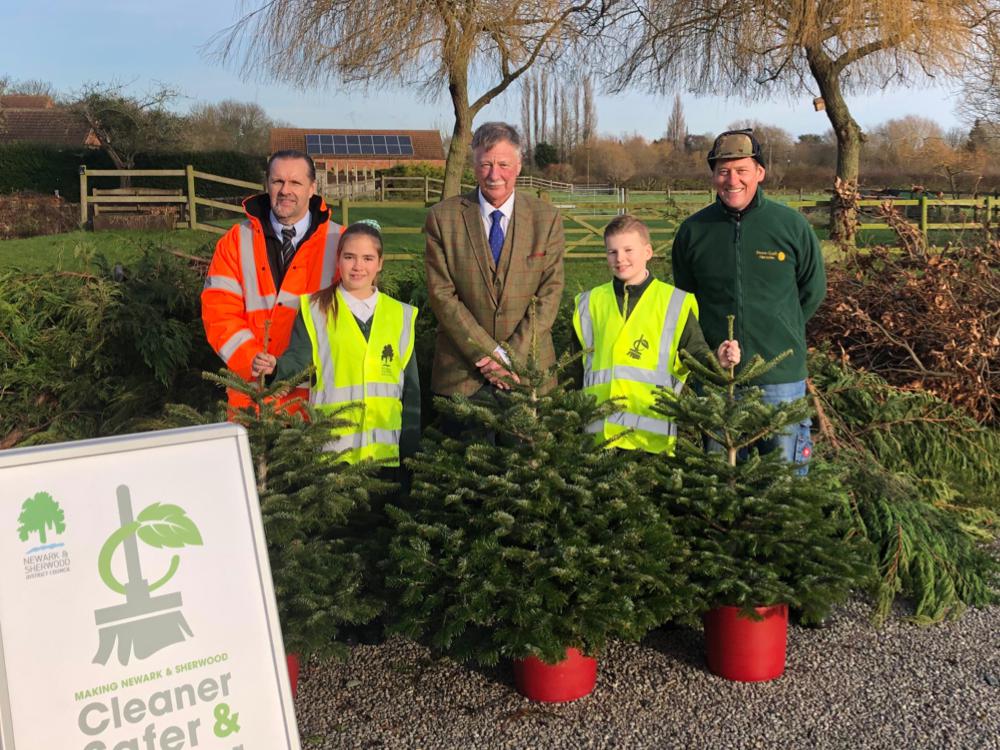 Andy Kirk, the council's Business Manager for Waste and Transport, Isabelle Marshall (10), Councillor Roger Jackson, James Harris (11) and James Richardson from Devon Croft Nursery.
Residents in Newark and Sherwood can recycle their Christmas Tree for a fee which goes towards replanting trees in the area as part of a green initiative by NSDC.
Trees collected will be chipped and used for path surfacing if suitable or as a mulch on shrub beds to keep weeds at bay.
Newark and Sherwood District Council's Waste Management team will be collecting trees for £5 from January 6. Collections can be booked at www.newark-sherwooddc.gov.uk/christmas/christmastreerecycling
Council leisure and environment committee chairman Councillor Roger Jackson said: "We need to improve our recycling rates throughout the district and our Christmas tree collection service is certainly one way of doing this and will save residents the trouble of their disposal when the festive season is over."
Chuter Ede Primary School in Fernwood, near Newark, is one of many schools in the district that encourages recycling and to promote the Christmas tree scheme, head boy and girl James Harris (11) and Isabelle Marshall (10), joined Councillor Jackson and Andy Kirk the council's Business Manager for Waste and Transport at Devon Croft Nursery, Farndon Road, Newark.
James and Isabelle said: "We feel that it is important to educate the young generation about recycling and what an amazing way to spend money on re-generation. Even though this is only a small step to saving the planet, if everyone gets involved we can make a big difference, so please recycle your Christmas trees."

James Richardson, proprietor of Devon Croft Nursery, said: "We've sold just under 400 Christmas trees this year and our customers are always asking what they should do with them when the holiday has finished. We would encourage them to use the service offered by the district council to ensure that they are recycled.

"We recycle as much as we can - chippings are good for garden beds and we compost appropriate green waste."
The district council has also been running a free tree scheme, handing out thousands of trees to households across the district as part of its strategy to protect, promote and enhance the natural environment.
Households are also encouraged to be greener in the New Year by recycling their grass cuttings, trimmings, weeds and plants through the council's district-wide garden waste scheme.
Any household in the district with a garden and enough space to store a brown bin can apply for the scheme. The annual £35 fee includes use of the brown bin itself and an all year-round collection service – fortnightly between March and November and monthly from December to February.
For more information on the garden waste collection service, please visit: www.newark-sherwooddc.gov.uk/gardenwaste/