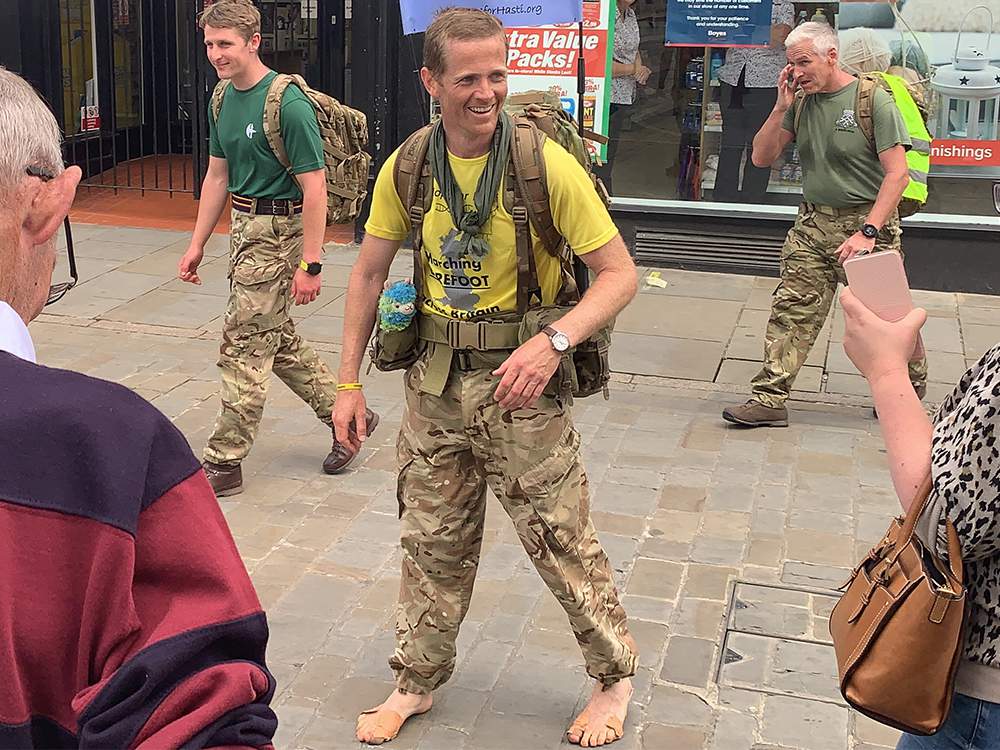 In an effort to raise money for research into a lifesaving gene therapy treatment, that could save his daughter, Christopher Brannigan has been on a treacherous hike across the UK completely barefoot.
Chris arrived in Newark today, after starting his 700 mile barefoot hike from Land's End to Edinburgh on July 6 2020. He has been lugging 25kg of kit on his back and staying over night in his tent, to keep costs as low as possible.
His daughter, eight-year-old Hasti, suffers from a rare genetic condition that currently has no treatment or cure. In March 2020, Chris set up the 'Hope for Hasti' charity in hopes of raising £400,000 to fund research into treatment for her condition. This fundraising is vital, as mental decline will start for Hasti as she hits puberty.
Newark welcomed the amazing Chris Brannigan this evening, who is walking barefoot from Lands End to Edinburgh to raise funds for research into CdLS, a rare genetic condition that his 8 year old daughter Hasti suffers from. He is aiming to raise £200,000 - can Newark help him get there? Listen to the Breakfast Show with Matt, tomorrow morning after 8am to find out how you can get involved...... https://www.radionewark.co.uk/news/local-news/barefoot-across-britain-dad-comes-to-newark/

Posted by Radio Newark on Wednesday, July 29, 2020
On his Just Giving page, Chris shares his thoughts on his journey and Hasti's condition. He said: "I know it's madness and, if I'm honest, I'm terrified of failing. It is going to be painful and I already have a knee injury, but I am a dad and I have to fight for my little girl Hasti and all the other forgotten children with rare disease."
You can keep up with Chris and his journey on the @HopeforHasti Facebook and Instagram pages.
Chris will be joining the Matt Colbourne Breakfast Show tomorrow morning after 8am to provide full details on his journey and the Hope for Hasti charity campaign.
If you wish to donate to the Hope for Hasti charity, you can do so safely on the Just Giving page: https://www.justgiving.com/fundraising/barefootacrossBritain?fbclid=IwAR2aKwadmYvARNvrqu-rg4_QImSiK939Vun5NAO8RAlvnGGqUnAMdH0EQA4