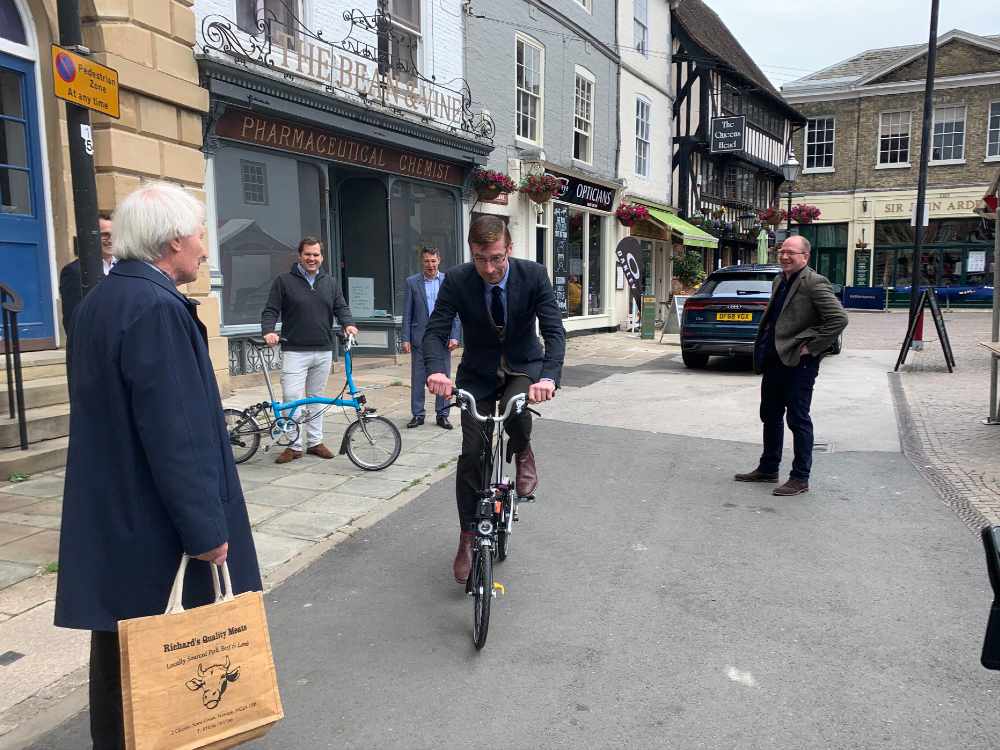 Leader of the NSDC, Councillor David Lloyd, testing out the new bikes with Robert Jenrick, MP.
Robert Jenrick, Newark MP and Housing Secretary, appeared in Newark Market Place this morning to announce a new bike rental scheme for the town.
The scheme was announced thanks to a MoU agreement made between Newark and Sherwood District Council and Brompton Bikes, the manufacturer of the iconic folding bikes. For £3.50 a day residents, as well as visitors, can borrow a bike and use it to travel across our town.
It's hoped that the low prices of the rental bikes will encourage people to switch to peddle power when travelling to work, college and shopping areas, whilst reducing some of the congestion on our roads.
Jenrick shared with Radio Newark his high hopes for the new scheme: "I think it's a really exciting proposition for the town. They're going to bring bikes, a bit like the 'Boris bikes' in London, and they'll be available in a couple of locations around town,"
"I think it's something that will give the town a fun, young vibe and encourage people to come in and make use of it."
Lockers will be in place around Newark for the pick-up and drop-off of the bikes, and residents can rent them for as long as they wish.
Tom Cartledge, from Benoy Architecture, shared more about the organisation of the scheme. He said: "It was made available for Newark and another 100 towns across the UK to apply for up to 25 million pounds. We identified four key areas the town wanted to look at: residential, connectivity, further education and the whole brand of the town.
With the connectivity, what came out very quickly from the public was the idea that we wanted to get people out of cars and start to use kinetic energy and not carbon footprint. We're looking at a town wide rental scheme for the same price as using public transport."