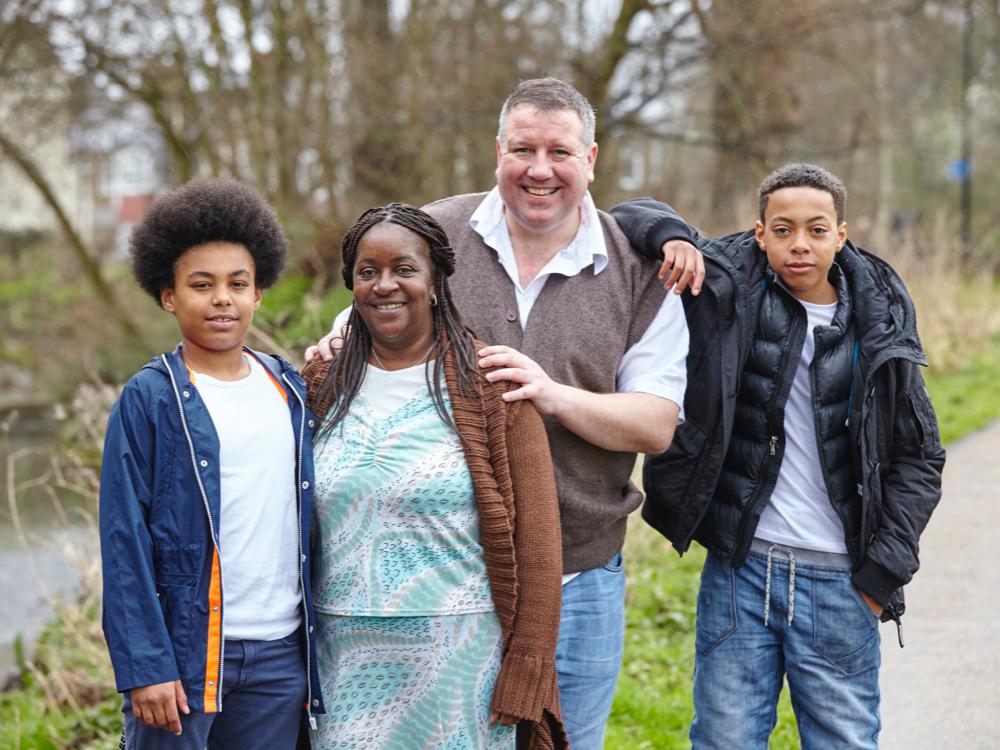 The campaign also focusses on potential parents from Black, Asian and Minority Ethnic backgrounds as children from these groups traditionally wait longer to match with a family.
Nottinghamshire County Council is supporting a newly launched nationwide campaign #YOUCANADOPT, which aims to dispel myths around who is eligible to adopt and highlight that, especially during the COVID pandemic, there are still children out there who are looking for their new family.
The #YOUCANADOPT campaign also aims to target potential parents from Black, Asian and Minority Ethnic backgrounds, as these children traditionally wait longer to be matched with a new adoptive family. The campaign also encourages potential adoptive parents to consider adopting older children, sibling groups and those with complex health needs or a disability.
The adoption process has changed over the years and there is a lot more support available than there used to be. The campaign wants to support people to feel confident that they are capable to adopting.
Adoption East Midlands is a Regional Adoption Agency which delivers the Local Authority adoption services for Nottinghamshire County Council, Nottingham City Council, Derby City Council and Derbyshire County Council.
In the 2019-20 financial year, Adoption East Midlands placed 129 children in adoptive homes offering lifelong support to those children and families. Each year the regional adoption agency has between 150 and 200 children to find adoptive homes for. Since joining Adoption East Midlands, Nottinghamshire County Council has seen several positive adoption success stories across the county.
Councillor Philip Owen, Chairman of the Nottinghamshire County Council's the Children and Young People's Committee, said: "To help people realise adoption could be something for them, the #YOUCANADOPT campaign aims to break down barriers and misconceptions about who is eligible to adopt.
"We're supporting this campaign to help to promote adoption and encourage people from a variety of backgrounds, including single parents, people from all religions, people from the LGBTQ+ and Black, Asian and Minority Ethnic communities to consider adoption.
"Adoption has changed, and the chances are that, if you want to adopt, you can. I'd urge anyone interested in adoption, to take the first step and enquire."
Adoption East Midlands offers excellent packages of support to adoptive families including social worker support during the assessment process and afterwards; a programme of activities for children and young people; and ongoing training and development.
Shelagh Mitchell, Group Manager at Adoption East Midlands said: "Adoption East Midlands, working on behalf of our four Local Authorities, we seek to provide the best possible life chances for adopted children, and those needing adoptive families, from all four areas. Most of our adopters are linked with a child from our local authorities, and this is usually within three months of being approved as adopters. We aim to place 80% of our children, with our own adopters.
"We welcome applicants who can meet the needs of children from diverse backgrounds and we will support your family throughout. Over the past 18 months, we've been refining our adoption support offer to reach as many families as we can, with the right support, at the right time."
The number of adoptions in England has fallen by a third in the past four years, however, there is a need for people to adopt in Nottinghamshire. If you're interested in adoption, please call the Adoption East Midlands team 0115 804 4567 or email enquiries@adoptioneastmidlands.nottscc.gov.uk
For further information visit, www.adoptioneastmidlands.org.uk