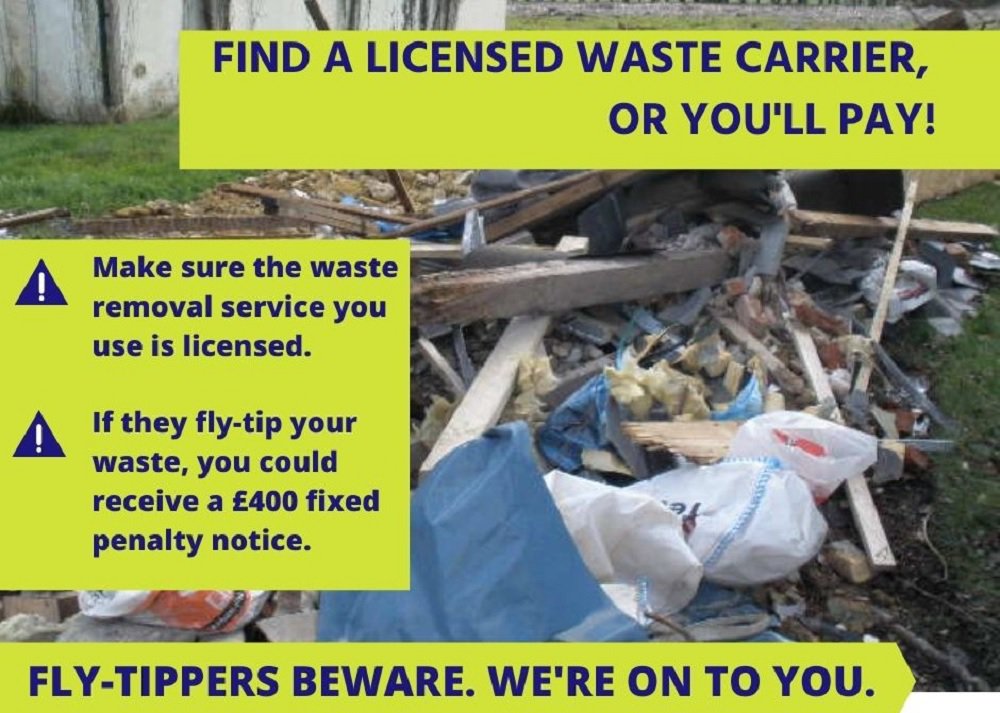 USING a legal and registered waste removal service: perfectly fine. Paying a waste cowboy for a tip run: face a massive fine.
That is the message of Newark and Sherwood District Council's anti fly-tipping campaign, Not in Newark and Sherwood.
The campaign was originally launched in late 2019 with the aim of reducing the number of fly-tips in the district, with the equivalent weight of 30 double decker buses being dumped in Newark and Sherwood every year.
With lockdown restrictions having come to an end and services able to return to focusing on the priorities residents have identified, the Council is employing a number of interventions to crack down on more offenders.
Not in Newark and Sherwood follows on from the District Council's highly successful Cleaner, Safer, Greener initiative which was aimed at creating a greater sense of pride in the environment and tackling environmental crime.
Working with partners including the County Council and Police, the District Council plans to make the legal disposal of waste as easy as possible, while making the illegal disposal as difficult as possible.
Among other activities, more CCTV cameras in hotspots are being installed, while other fly-tip hotspots have been ear marked for closure to entirely prevent entry for vehicles.
A pilot trial, allowing larger vehicles to the Newark Household Waste and Recycling Centre is set for the coming months, to make it even easier for individuals to get rid of waste, legally.
Councillor Roger Jackson, Chairman of the District Council's Leisure and Environment Committee, said: "Four incidents of fly-tipping every day is a real stain on our district but we are absolutely determined to confront the issues and deal with those who are responsible. We will be embarking on a wide range of actions throughout the campaign, as well as continuing with the toughest enforcement action on offenders.
"In the last year, we have seen a number of successful prosecutions for fly-tipping offences and we will always seek the toughest punishments possible where the evidence supports a prosecution.
"The message is this: if you've waste to dispose of, do it properly – take it to your nearest Household Waste Recycling Centre, or use the Council's own low-cost bulky item collection service."
During the financial year 2020-21, the Council removed 1,854 fly-tips with a combined weight of more than 500 tonnes.
Since the start of April 21, 491 fly-tips had been removed, weighing more than 160 tonnes.
Fly-tipping, the illegal disposal of household, industrial, commercial or other "controlled" waste without a waste management licence, has been highlighted as a particular problem for Newark and Sherwood because it is covered by large areas of open countryside. In many cases the Council suspects offenders are rogue waste operators who work for cash and do not operate with the necessary licenses.
If you witness someone fly-tipping please leave the evidence where it is and report it to the Council at http://www.newark-sherwooddc.gov.uk/transactions/report/ or call 01636 650000 as soon as possible. Please make a note of any vehicle registrations and any other identifying evidence.
Fly-tipping is a crime under the Environmental Protection Act which carries a possible fine of up to £50,000 and/or up to five years in prison.
If you need to find legitimate registered waste carriers in your area, please use the Environment Agency's register: https://environment.data.gov.uk/public-register/view/search-waste-carriers-brokers

Alternatively, use the District Council's bulky waste collection service for which there is a small charge, or for larger quantities we can provide you with an individual quote. For bulky waste go to http://www.newark-sherwooddc.gov.uk/bulky/ or electrical waste http://www.newark-sherwooddc.gov.uk/wasteandrecycling/electricalwaste/