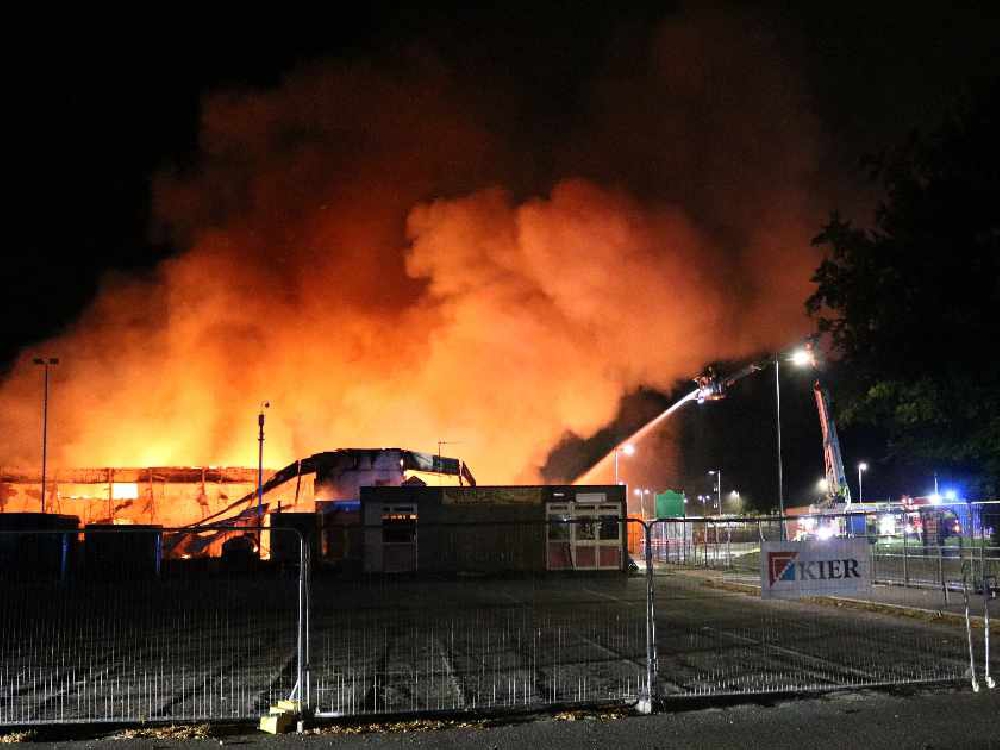 The former Grove Leisure Centre in Balderton fell victim to a fire on Friday night.
London Road was closed in both directions as more than 10 fire crews attended the blaze. Explosions could be heard from inside the complex.
Fire crews put a cordon in place to prevent the public from getting too close to the fire. The fire could be seen from Coddington, Barnby and North Muskham.
Radio Newark's Mick Bradley & Matt Colbourne were providing LIVE video coverage of the event, which can be viewed here.
Mick said he could not see much of the structure of the centre still standing following the fire, however the new school looked to be unaffected. The fire seemed to be centred around the old swimming pool area, with other buildings appearing unharmed at first.
Fire crews appeared to have the fire under control at around 9.50pm, however flames grew and the fire moved to the sports hall. The sports hall later collapsed.
All Warriors games tomorrow at Newark Academy grounds have been cancelled.
Newark Academy tweeted to say that presently they will be open on Monday morning, however water and gas supply may be affected. Further updates will be provided.
Nottinghamshire Fire and Rescue tweeted "UPDATE: We're starting to scale down at the fire in #Balderton. A fire investigation is set to commence first thing in the morning."
The fire service asked residents nearby to keep their windows closed as a precautionary measure.
You can see a selection of our photos from the evening here.