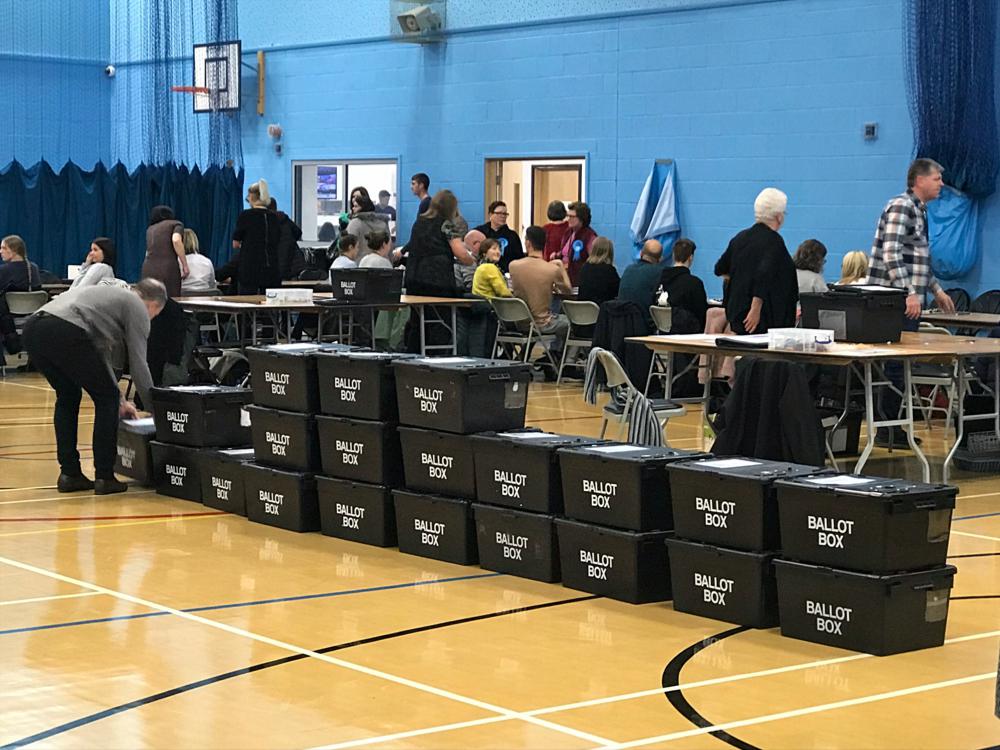 Radio Newark are bringing you all the latest from the Newark Sports and Fitness Centre, for the 2019 Newark Constituency count.
06:00
The count has now been cleared away and that concludes our coverage for this evening. Thank you for following.
04:30
James Baggaley, Labour and David Watts, Liberal Democrats were not available for comment after the results.
Our interview with re-elected MP Robert Jenrick, Conservatives is available here: https://bit.ly/36wDghU
Watch: Green's Jay Henderson celebrates a 'good' result for The Green Party despite losing his deposit for gaining less than 5% of the vote.
03:50
Robert Jenrick holds the Conservative seat for the Newark constituency, drawing the election in Newark to a close.
03:20
The Conservative party have taken the Gedling seat away from Labour, as Tom Randall (Con) grabs a majority of 679 over Vernon Coaker (Lab). Labour have gained Nottingham East from Change UK.
02:40
More Nottinghamshire results: Alex Norris holds the Labour seat for Nottingham North.
02:25
Another Nottinghamshire result: Lillian Greenwood holds Nottingham South for Labour.
02:10
The Nottinghamshire seat of Rushcliffe has been held by the Conservatives. A perhaps surprise hold as Ruth Edwards continues for the Conservatives following father of the house Ken Clarke stepping down and this seat becoming a Labour target.
02:05
All of the candidates are now present at the Newark Sports and Fitness Centre, as the count continues.
01:50
Turnout announced as 72.54%
Out of 75,850 on the electorate, 55,018 voted.
Down from 2017, which was 73.09%.

01:40
Watch: James Baggaley, candidate for Labour, shares with us the main issues he's keen to address in Newark.
00.55
Watch: Green Party candidate Jay Henderson says what he thinks should be the top priority for the next Newark MP.
00:45
The official count is beginning to get underway here at Newark Sports and Fitness Centre.
00:20
Watch: We spoke to Liberal Democrat Candidate, David Watts on what he believes are the main issues to be addressed in Newark.
00:15
Verification has finished here at Newark, counting to commence at 00.30 after a short break.
23:16
Some polling officers have reported 'queues out of the door' today at Newark polling stations, saying it was one of the biggest turn outs they had ever seen.
22:40
Verification is currently taking place. The number of votes are being counted to get an idea of voter turnout.
22:30
Ballot boxes are currently arriving at the Newark Sports and Fitness Centre, for the count to get underway.
Updates as they happen.