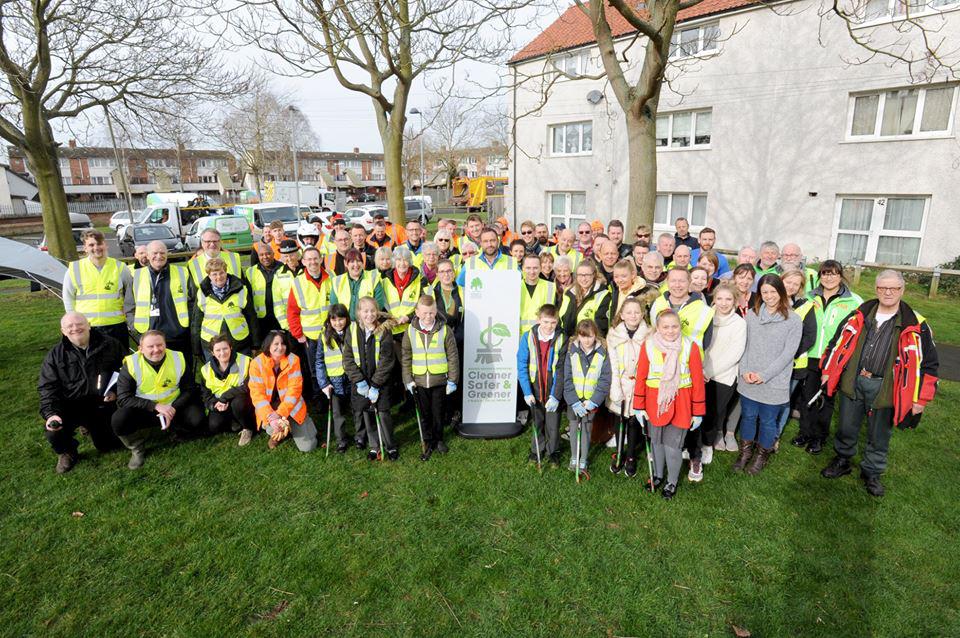 A THIRD Day of Action to help make the community of Hawtonville in Newark Cleaner, Safer and Greener has been described as a 'fantastic success' with the weight equivalent of more than five hippopotamuses collected in waste.
Up to a 100-strong team of community volunteers, staff from Newark and Sherwood District Council and its partners spent a day on the estate as part of the clear up, which yielded more than 20 tonnes of rubbish.
They were involved in an extensive programme of works including a community litter pick, street cleaning and action on fly tips. Overgrown hedges were pruned by the council's grounds maintenance team and 150 shrubs and trees were planted by local schoolchildren.
Street surgeries with the ward's councillors were held throughout the day and the council's public protection team joined police and community volunteers in running a day-long operation to check on speeding traffic.
Local residents joined Via East Midlands regarding street lighting priorities and were able to report issues of concern and the council's community safety team led 'drug walks' with the charity Change Grow Live (CGL) which works to combat drug and substance misuse. The Via East Midlands team cleared out gullies, planted seven new heavy standard trees, maintained other trees to clear the highway and replaced damaged streetlights with new, energy efficient LED models.
Community protection officers were specifically on patrol in the area to deal with issues such as anti-social behaviour, street litter and dog fouling. Environmental health officers carried out checks on scrap metal dealer licenses and under-age alcohol sales. Bike safety and security advice was offered by Via East Midlands to passing cyclists and local residents and on the following day at the Newark Sports and Fitness Centre.
Thank you cards were handed out to residents with well-maintained gardens and in the evening a cinema presentation was hosted for more than 60 people who watched the Hugh Jackman film The Greatest Showman.
The district council partnered with iMAGESKOOL and Nottinghamshire County Council's Hawtonville Youth Service to transform a shelter close to Hawtonville Community Centre. iMAGESKOOL owner James Mayle worked with young people from the estate to design and create a brand new graffiti art concept with great success.
Special magnets with important contact details as part of the Report it campaign were handed out. The campaign is aimed at ensuring local people report crime, anti-social behaviour or other matters of concern.
A number of agencies were based in the community centre for the day to offer advice and support on a range of issues, such as bike safety, domestic abuse and drugs, to residents. The police-council initiative Operation Jericho, to counter the illegal use of off-road bikes, was run from Friday to include the weekend.
Council deputy leader Councillor Keith Girling said: "It was a cracking day. Community engagement was fundamental to the success of the Day of Action. It was great to see young local schoolchildren taking pride in their environment and getting involved in making a difference to the local area.
"This was a tremendous effort from all our volunteers, staff and partners and we are so grateful to everyone who took part. Going forward we need to try to maintain these high standards for all our communities and we all have a responsibility to do that.
"The Cleaner, Safer and Greener campaign has been about education as much as it is about action and we can all do more to look after the places where we live to ensure that it stays Cleaner, Safer and Greener. It has also been about enforcement and we can and will seek to punish those who show no regard for their environment. "
Volunteer, the Reverend Nathan Falla, said: "It's really important for the community to get together in helping to clear up the neighbourhood and demonstrate that we care and it has been absolutely fantastic to see the number of people from the community who have volunteered to take part."
William Gladstone Church of England Primary Academy Year Three teacher Emma Barnaby led a team of pupils, who are all members of the school's parliament, in picking up litter and planting hawthorns and blackthorns, said: "The children had been really looking forward to it. They have been already tidying up the area outside the school and are delighted to be joining in the Cleaner, Safer and Greener campaign."
Year Six pupil Reece Crawford (10) said: "It's great to be helping to look after the environment and to be planting for the future."
Volunteers, district council staff and members joined in the community effort, which also included participation from Nottinghamshire County Council, Newark & Sherwood Homes, William Gladstone School, Idverde UK, Nottinghamshire Fire and Rescue Service
Via East Midlands, Change Grow Live, Reach Learning Disability and Woodhead Homes.
As part of the work on the day and in support of the Day of Action the council removed:
5.5 tonnes of bulky waste

2.5 tonnes of litter

15 white goods
1 large fly tip weighing 2 tonnes

10 tonnes of street sweeping in the days before today

1 tonne of mixed cuttings and prunings

11 tyres
The council has also:
Installed new litter bins

Planted 150 mixed hedge trees

Undertook speed checks on 156 vehicles in the Hawtonville area. 13 were noted as speeding and four were stopped and given warnings by police

Issued three community protection warning notices

Challenged a number of under-16s who were found littering

Conducted alcohol sale licensing checks on six retailers in Hawtonville – all passed

Conducted scrap metal dealer licence checks and two follow ups taking place

Spoken to 80 young people regarding the dangers of drugs

Handed out 'thank you' cards to residents with well-maintained gardens.