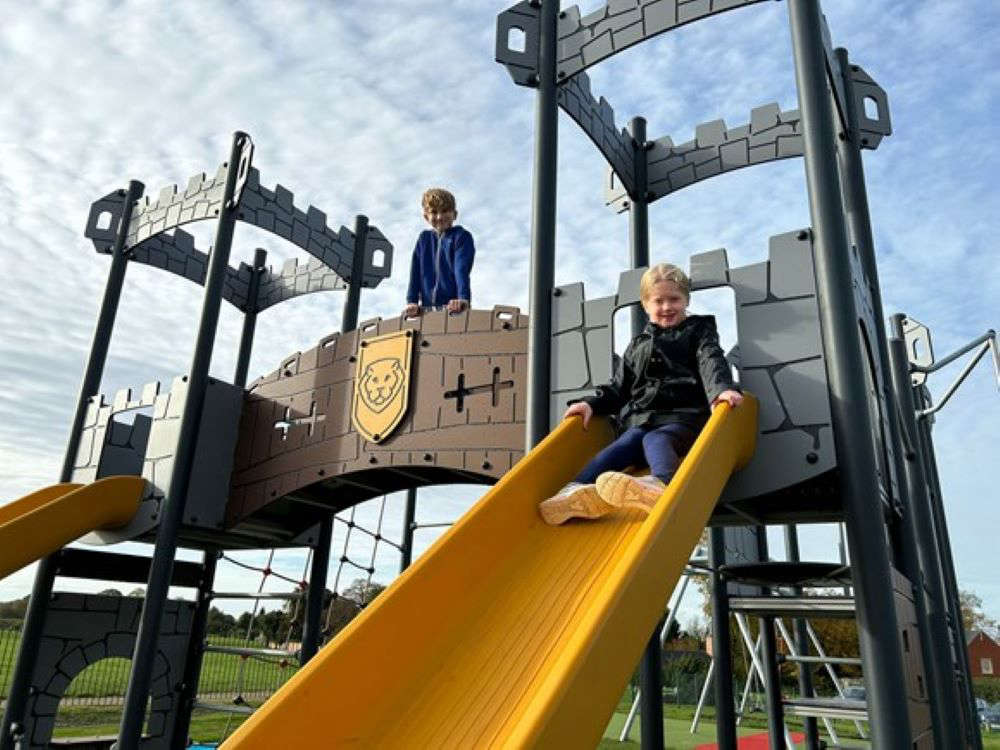 Newark and Sherwood District Council is pleased to announce that the new play park areas at Sconce and Devon Park are now open! The Green Flag Award-winning park now features a castle-themed play area, a magical space for children and their parents and carers to enjoy! Having safe and fun places on your doorstep to take children is one of the many benefits of our district's beautiful parks and green spaces, and this area was built with fun and imaginative play in mind, and as a nod to Newark's Civil War history.
A brand-new Fitness Zone is now also open to the public, a welcome addition to the already popular destination for fitness and well-being activities such as walking, park runs, and personal training classes. The zone is available for all park visitors to use for free and is a fantastic space for those who want a change of scenery from their usual gym or as a welcoming space for those who want to exercise using equipment but may not have access to a traditional gym setting.
Both areas were developed with the local community at the heart of the decisions following a public consultation hosted during the planning phase of the development. The District Council spoke with residents and heard their thoughts about the proposals, and the feedback and ideas shared helped the Council to shape the plans to best improve the local area.
Sconce and Devon is one of ten play parks to be invested in as part of the District Council's commitment to modernise, develop and extend a number of the district's play park areas and equipment during 2023. Lincoln Road Recreation Ground Play Area in Newark, Grove Street Play Area in Newark, Cleveland Square in Newark, Thorpe Oaks Play Area in Coddington, Vicar Water Country Park in Clipstone, Mead Way Play Park in Balderton, Hillcote Drive in Clipstone, Old Tannery Drive in Lowdham, and Turner Lane in Boughton are being improved with the installation of new equipment, refurbishment of current equipment and removal of aging equipment.
Councillor Celia Brooks, Chairman of Newark and Sherwood District Council, visited the park on its first day and commented, "It was lovely to see our local children and their families enjoying the new equipment in the park. You helped us develop these plans at our public consultation so I hope you can all enjoy these spaces knowing you helped create them for the community."
Councillor Emma Oldham, Portfolio Holder for Biodiversity and Environmental Services at Newark and Sherwood District Council, said: "It is so exciting to see the wonderful new play areas open at Sconce and Devon Park and I hope everyone that helped us shape these plans enjoys seeing their thoughts and ideas brought to life! I'm so happy to see so many of you already out enjoying the play park and the fitness zone, especially despite the colder weather kicking in!
"We have invested into the play parks around our district because we know the important role they play in our communities as somewhere safe and free for families to get out in the fresh air and let our children and their imaginations run free! I can't wait to see all ten-play park open and looking better than ever and becoming more accessible for all."
The developments support the District Council's ambition to be greener, with materials for the projects being sourced from recycled goods. Materials such as used textiles, food packaging waste, and used plastic bags, for example, will be used in the improvements. This sustainable sourcing of materials was successfully implemented for the recent development of the Queen Elizabeth Memorial Garden, in which a number of features were built using recycled materials including new bin stores and bug hotels made from fly-tipped wood that had been cleared from illegally dumped waste around the district.
The District Council is committed to developing an ongoing cycle of investment into its local play parks and it is hoping that the improvements could also help to improve similar sites in the district.
Results from the latest resident survey showed residents placing more importance on local parks and green spaces during recent times, and these investments will further the work the District Council has committed to within its Community Plan, including enhancing the district's natural environment to improve the health and wellbeing of local residents.
Watch this video to find out more: https://www.youtube.com/watch?si=Zw8OG4kAbW_vYHdO&v=P7RTJNr5AW8&feature=youtu.be