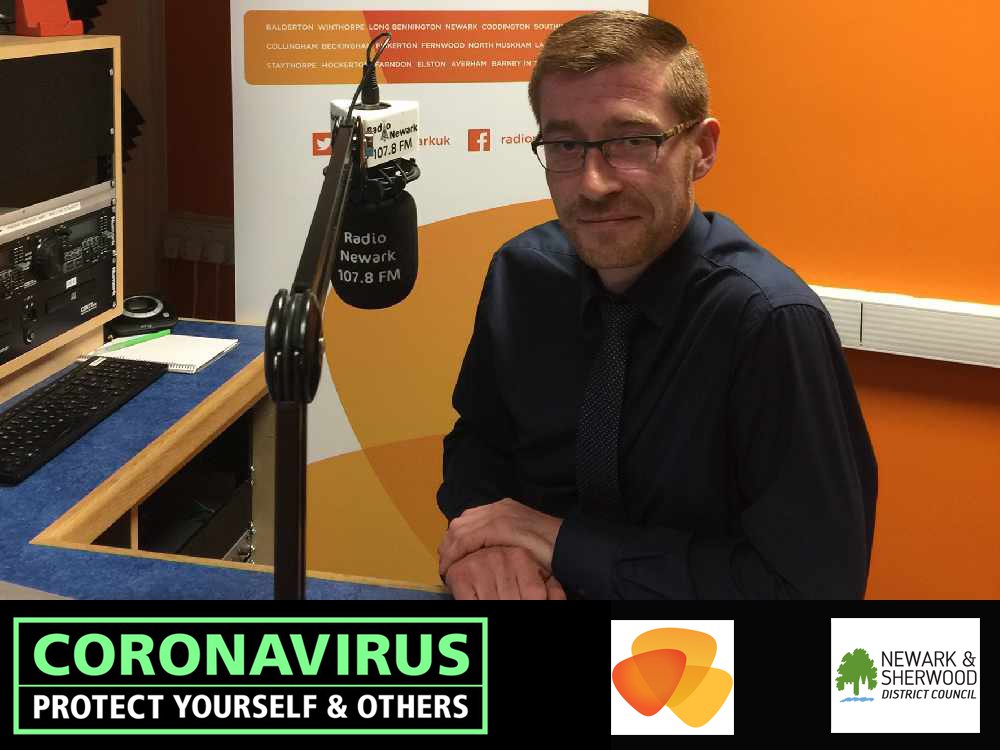 Councillor David Lloyd and Accountable Officer for Newark and Sherwood CCG Amanda Sullivan spoke to Radio Newark about their responses to Coronavirus, you can find our live blog below.
7.06pm - Amanda Sullivan says the NHS is currently trying to delay the transfer of the disease, hence the isolation policy. Everyone should be washing their hands regularly for at least 20 seconds with soap and water and using hand sanitiser.
Over 70s are asked to keep away from crowded places; younger people should be cautious of not passing the disease onto the more vulnerable. Anyone with a new persistent cough should remain isolated for 14 days and family members if they've been in contact too.
7.09pm - Soaps should not only be aimed at bacteria and need to include viruses as well.
7.10pm - Councillor David Lloyd asks business owners to look online for the grants and business rates information. They will be setting up a secure form to get business payment details if they don't need them.
He added that the £30million which is needed for this business relief will need to be borrowed by the council.
NSDC is also looking at becoming a delivery service to support supermarkets.
The council is also suspending debt chasing at this time. Main message is for people who are getting into income difficulty to get in touch with the council on 01636 650000. "Don't suppose, don't struggle and don't worry."
Within the council, staff are being re-deployed and re-skilled after the closure of theatres and leisure centres to work within departments that will experience higher demand.
7.15pm - Councillor Lloyd asks people to find as much information as they can on the NSDC website, as they will be experiencing a high number of calls and will be prioritising those who are in "immediate difficulty."
7.17pm - Two priorities for Amanda Sullivan, to keep people as well as they can and keep services going. Differences at GP practices: more telephone calls to check people's health and long term appointments may be moved to make room for urgent appointments.
Hospitals will also try to keep as empty as possible, to ensure there are beds available, especially in intensive care, so some non-time critical routine procedures may be put back.
Also planning for staff absence with GP practices, some practices may care for different patients to alleviate those with staffing issues. IT systems now allow GPs to see records of patients not at their own practice to help this.
7.22pm - Basic symptoms of COVID-19: 40% of people don't have symptoms, 50% have a fever (anything over 37.8) and persistent cough. Breathlessness can also be a symptom. Use the 111 service and they can advise what is required.
Medicines - paracetamol is the best to take to keep your temperature down but don't bulk buy. Amanda Sullivan says pharmacies can often be better to try when supermarkets have sold out and that Coronavirus is "a relatively short lived illness."
7.25pm - Councillor David Lloyd says all the eligibility criteria for the business relief is on their website: https://www.newark-sherwooddc.gov.uk/emergency/coronavirus/financialsupportforbusinesses/
The measures include:
A statutory sick pay relief package for SMEs
Nil Business Rates for 2020/21 for all businesses in the retail, hospitality, and leisure sectors.
A Small Business Grant of £10,000
An ability to access a cash grant of up to £25,000 for businesses in the retail, hospitality and leisure sectors with rateable values of less than £51,000.
Temporary suspension of planning regulations to allow all pubs and restaurants to operate as takeaways.
An ability for businesses to claim against insurance policies
NSDC will be contacting eligible business owners.
7.30pm - Help for freelance/self employed workers are being discussed between NSDC and local business groups. Councillor Lloyd says this may be, in the first instance, making the process for applying for benefits quicker. They will be following the government's lead with this, "What we will do is ensure the advice is there" and add that it will be done "as soon as possible."
7.32pm - Food banks - can people donate money? NSDC is working with town councils, parish councils and charities to identify who needs help and will be working as a hub to co-ordinate assistance. Part of this will be preventing fraud, where people are sending money to others to get supplies but not receiving them, NSDC is working to potentially be the payment processor for this to minimise the fraud risk.
"We have to protect the vulnerable."
7.35pm - Self isolation of the homeless and rough sleepers. Still working with those who are sleeping rough to support, please contact NSDC if you see anyone on the streets. Reserve funding has been increased to help this.
Councillor David Lloyd - "We will do everything we can to prevent people becoming homeless." NSDC is also looking at getting more accommodation.
7.40pm - How prepared is the NHS? Amanda Sullivan says nationally there has been a large increase of intensive care ventilators and ensure adequate oxygen supplies. Also an effort to free up beds in advance. People who are at serious risk from COVID-19 will be receiving letters with advice over the next week.
The trust will also be having conversations with staff about where they are best placed and levels of exposure to the disease. Retired staff are also coming back to assist.
7.43pm - Potentially a second wave of Coronavirus. Amanda Sullivan - still learning a lot about this disease. There will be a test coming soon that can test if people are immune which could help. "The critical thing is to delay the spread."
7.47pm - If you're struggling to find the information about what support NSDC and the government are offering Councillor Lloyd asks you to check their website and give them a call.
No plans for council tax relief, will help with payment plans and will not be chasing debts for the next few months but Cllr David Lloyd says the tax is needed for essential services.
7.50pm - Food deliveries in the case of a lockdown. NSDC is and will be working with local groups and charities to co-ordinate assistance throughout any restrictions. Cllr Lloyd is also working with smaller local shops as well as supermarkets. He also emphasises for people to get in touch with the council now, not before it's too late.
7.53pm - Police having to respond to customers at supermarkets and a general crime rise during the pandemic: "We must make sure everything is resilient." Cllr Lloyd asks people to think of the consequences of their own actions at this time.
NSDC is also aware that there may be an increase on bin collection demands as families spend more time at home. But are currently focussing on those who need urgent assistance.
7.58pm - Plea from Amanda Sullivan to "use services wisely", not to go to A&E unless need urgent care and use doctors appointments. www.nhs.uk offering advice as well, there are long waits on 111 due to high demand but best to call in first instance.