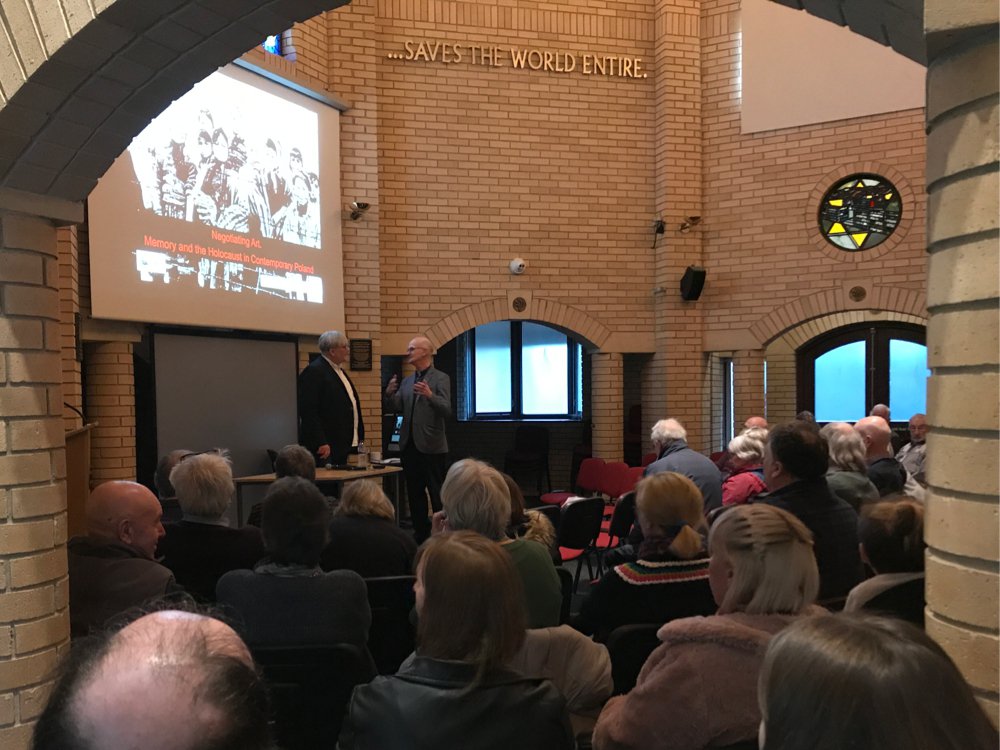 Audience watches an art talk at The National Holocaust Centre in Laxton.
The National Holocaust Memorial Centre at Laxton has marked 75 years since the liberation of Auschwitz with survivor talks and a candle lighting.
The centre also hosted an art lecture by Dr Roman Nieczyporowski of the Gdansk Academy of Fine Art who is currently on a UK tour of 'Negotiating Art, Memory and the Holocaust in Contemporary Poland.'
He said he had been impressed by the facilities in the Laxton countryside, "You're in London and you have so much to see, you are rushing and don't remember anything. Here, somewhere in the middle of nothing, you will remember forever. It's a perfect place."
Thousands of school groups have visited the centre since it was opened in 1995, with opportunities for visitors to speak to survivors of the Holocaust in person.
The centre is the first of its kind in the UK and houses several exhibitions alongside a hall, gardens and coffee shop.
Bill Niven, professor in contemporary history at Nottingham Trent University and an academic advisor to the centre spoke about why the centre is unique.
Experts have also set up a virtual reality experience in which visitors can speak to real life holocaust survivors and ask them questions.
Senior educator Sarah Wetton described it as 'key' for the learning experience in being able to speak to people who were there to learn lessons from the holocaust.
The centre also has outreach programmes about racism in football and encourages 'upstanders' - people who will speak out or stand up to racism and intolerance.
She continued, "It's really about creating those upstanders within our communities and breaking down the hatred we've got in society at the moment."

Senior Educator at the centre Sarah Wetton speaks about the 'homely' feel of the centre and why it's important to holocaust survivors.
Holocaust memorials took place countrywide on Monday 27th January, with royals attending services in Westminster and a memorial at the Nottingham Council House.