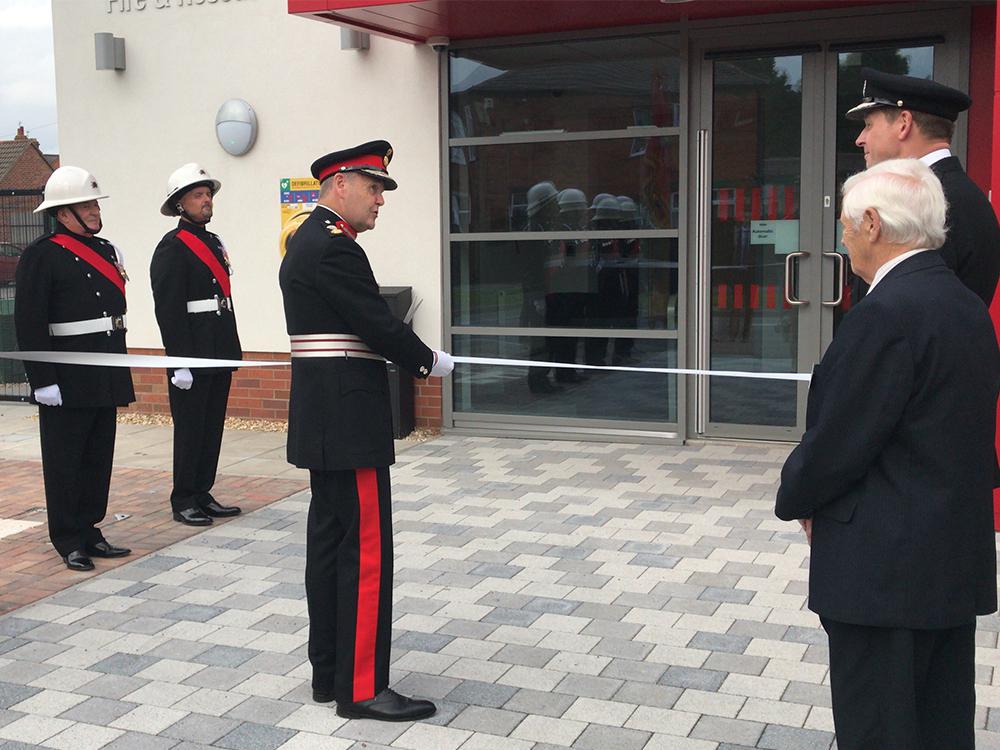 A new state-of-the-art fire station was officially opened by the Lord-Lieutenant for Nottinghamshire, Sir John Peace.
At a special ceremony, held at the station on Wednesday 5 September, the Lord-Lieutenant joined Chief Fire Officer John Buckley, retired firefighters and staff currently working at the station in unveiling a plaque marking the occasion.
The work, which has been carried out by Gelder Group, has seen the red brick buildings to the left of the station's appliance bay taken down to make way for the brand-new station and tower.
It replaces the old building, built in the early 1960s, and includes several energy-saving features, including intelligent lighting and solar panels fitted to the roof, both of which will reduce future running costs.
Ian Pritchard, the Service's Head of Procurement and Resources and the project lead, said: "It's very exciting that this project, several years in the making, is now complete."
"This is the first time that we've had a fire station remain fully operational whilst a new station was being built on the same site. This would not have been possible without the outstanding working relationship we have had with Gelder Group throughout the course of the project."
Tony Yardley, District Manager for Newark and Sherwood said: "I think the station shows the Service's commitment to serving the community in Newark for many years to come – with the station expected to have a life span of 50 years!"
The Service obtained planning permission to re-build the station towards the end of 2016 and demolition work began in May last year. Firefighters moved into the new building in April of this year.
Kevin Manterfield, major contracts director at Gelder Group said: "It's been a privilege to be involved in rebuilding Newark fire station and providing the necessary facilities the firefighters need to train. We hope they find their new home useful for the vital work they do."
The station is home to two fire engines and the Specialist Rescue Unit and approximately 60 members of staff.