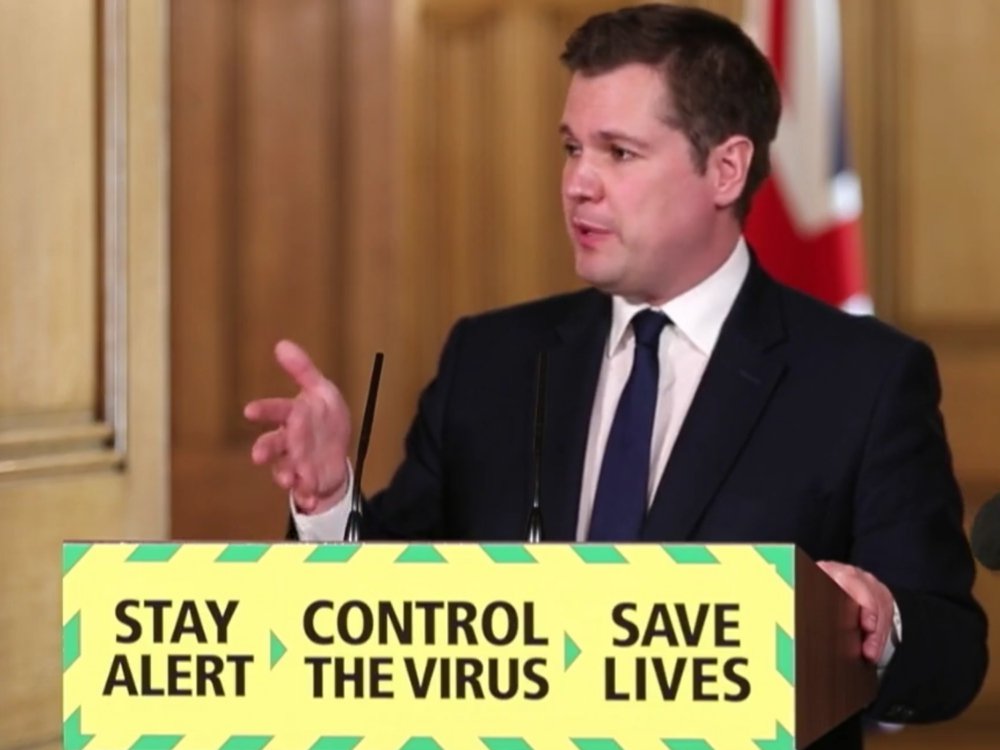 Robert Jenrick at the Coronavirus press conference yesterday (31st May).
Robert Jenrick was asked about his decision to grant a housing development planning application by a previous Conservative donor the day before a new levy came into place.
According to media reports the MP, who is also Housing Secretary, went against advice of the government's planning inspector and signed off the planning permission on the 13th January 2020 for over 1500 apartments on the Isle of Dogs in East London.
A local council imposed 'community infrastructure levy' (CIL) came into place on the 14th January 2020 and media reports estimate this would have cost developer Richard Desmond around £40 million.
Labour run Tower Hamlets council legally challenged Mr Jenrick's decision in March, with the Mayor of Tower Hamlets John Biggs saying the council had "concerns" over how the decision was reached and its timing.
Earlier this week the decision was quashed as, according to the BBC, "Rather than disclosing the correspondence, the Housing Secretary's lawyers conceded the timing of his decision "would lead the fair-minded and informed observer to conclude that there was a real possibility" that he had been biased", with the government accepting the decision was unlawful.
A statement from the Department for Housing, Communities and Local Government denied any 'actual bias in the decision' but confirmed that the decision would be re-determined.
In yesterday's (31st May) coronavirus briefing, which was taken by Robert Jenrick, Daily Mail journalist John Stevens asked for a reaction to reports that Mr. Jenrick had been on a table with Desmond at a Conservative party fundraiser weeks before his decision.
Robert Jenrick's response is below:
"We want to build more homes in this country. We have a housing crisis, we need to get the country building ­— that's absolutely at the heart of the mission of this government and I think when we come out of this pandemic it will be even more true that we want to see decent affordable homes in all parts of the country and that is what I want to do as Housing Secretary.
In response to the planning application that I think you're referring to, that was judged on the merits and would have allowed hundreds of affordable houses to be provided in one of London's most deprived boroughs which would have been extremely valuable.
There was no bias in that decision but to ensure complete fairness and no inference of that whatsoever we offered to redetermine that decision in the usual way and others parties to the application agreed to do that. And so I think that was the right way to move forward."
More information on the court case and decision is available on the BBC News website.