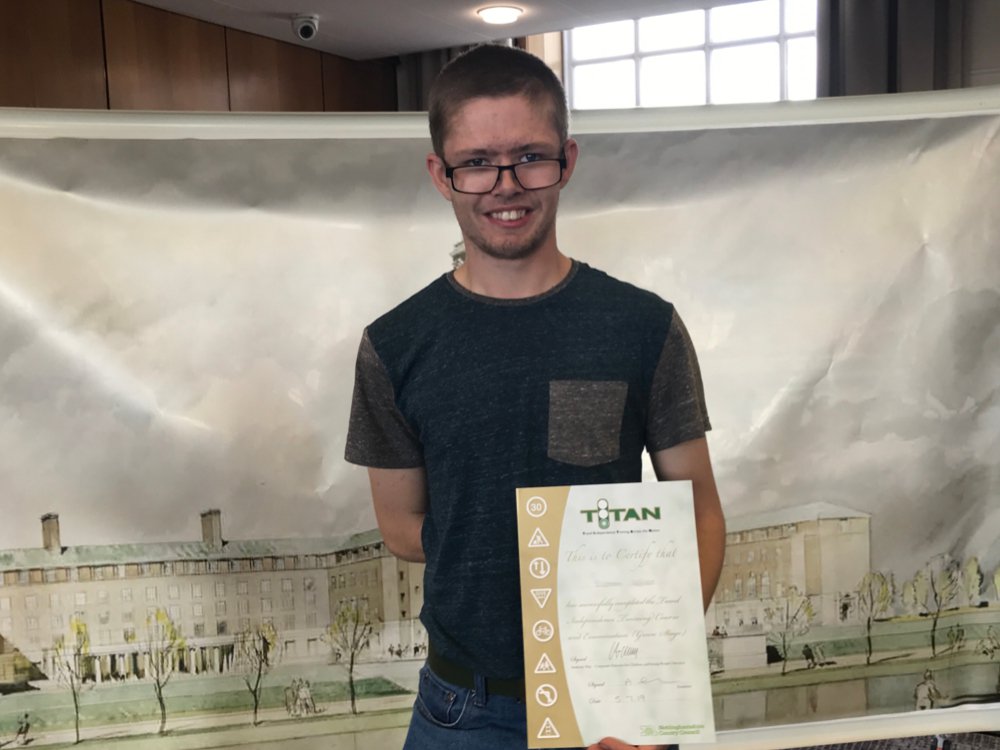 Independent traveller Jake, 18, a pupil at Newark Orchard School after receiving his award
A Newark student has won an award for being an independent traveller as part of a scheme to give pupils with special needs the skills to travel from home to school or college each day.
Jake, 18, a pupil at Newark Orchard School won the certificate at a ceremony held on Friday 5th July at County Hall in West Bridgford. He explained why he got involved in the scheme, "I decided to take part in the programme so I could get around more easily and it's really helped me because now I feel confident enough to get on buses on my own."
Pupils aged 16 and over who graduate from the scheme celebrate their new independence with a trip to Skegness, travelling on their own by bus to meet the course tutors there and spend a week in the Butlin's seaside resort. This will be a highlight for Jake, "I'm really looking forward to going to Skegness with my course mates and I'm going to miss the course now it's over."
Nottinghamshire County Council's independent traveller training scheme helps boost young people's confidence and self-esteem by preparing pupils with special needs with the skills they need to make their own way from home to school or college each day. This includes using public transport, identifying hazards and using landmarks to make the journey safely.
The awards ceremony was also attended by school support staff, parents and representatives from local transport operators who help support the scheme.
Paul Housley, Travel Training Coordinator at Newark Orchard School sad just how important the scheme is, "We're incredibly proud of all the students. They are always really keen to do the course and it's great to see their confidence grow. It also means a lot to know you are helping them gain the independence to be able to socialise with their peers who might live quite far away in another town or village."
It is hoped that the experience and the skills of being a more independent traveller is helping other young people to further education, work experience and increasing their chance of employment.

Pupils from Arnold Hill, Derrymount and Christ the King in Arnold, Ash Lea school in Cotgrave, Newark Orchard, Carlton Digby, Brakenhill in Kirkby and Foxwood Academy in Bramcote are among the 120 pupils at 15 schools and colleges currently participating in the scheme, with over 20 staff from schools, colleges, the voluntary sector and transport companies trained to coach the students taking part.
Vice Chairman of the Council's Communities and Place Committee, Councillor Phil Rostance, who presented the awards said "This scheme is a fantastic way to support young people to be more independent. Most of us will remember the sense of freedom of travelling to school on your own. It can be a real milestone of independence."
He continues, "Newark Orchard School, who recently received a 'Good' rating from OFSTED, rated the Travel Training scheme as 'Outstanding' which is a fantastic achievement for the school and the County's Travel Training team."
Since 2011 over 500 students have received independent travel training with many becoming fully independent and travel to school, college, training or work placements using public transport or walking.