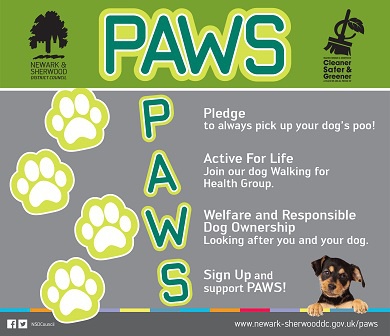 Artistic schoolchildren have been designing posters to help highlight the hazards and dangers of dog fouling as part of a district-wide campaign.
William Gladstone Church of England Primary Academy in Newark is the latest school to join the PAWS scheme, an initiative to spell out the importance of clearing up dog mess.
Every primary school in Newark and Sherwood has been invited to take part in the scheme, which was launched by Newark and Sherwood District Council last year as part of its Cleaner, Safer and Greener campaign, which aims to make communities more pleasant places to live, work and visit.
Representatives from the district council's public protection team visited the school in Hawtonville to launch the PAWS poster competition and deliver an educational presentation on all aspects of dog ownership.
The aim of the school assembly was to raise awareness among children – both those with pets and without – on the commitment and responsibilities involved in owning a dog and cleaning up after them.
Pupils were also tasked with designing a poster, encouraging dog owners to clean up after their canines.
The winning posters, designed by year 1 pupil, Paddy Price and year 5 pupil, Natalia Jurkiewicz, will be put up around green areas close to the school.
Eight children from the school, who are all members of the pupils' parliament, also volunteered on the district council's Hawtonville 'day of action' on March 8 - which was hailed a huge success – to help litter pick around the Hawtonville Youth Centre field and plant new hawthorn and blackthorn trees.
More than 100 members of staff and community volunteers took part in the day, which involved an extensive range of activities including litter picking, foliage trimming and pruning, street sweeping, bulky waste removal and the installation of new litter bins.
William Gladstone Year Three teacher Emma Barnaby led the team of pupils, who are all members of the school's parliament. She said: "Both litter and dog mess are issues that directly affect our pupils. They were really excited to help especially knowing that they are making a difference to their local area.
"Many of our pupils have been frustrated when they have been outside and ended up with dog mess on their shoes so they have been particularly keen to help raise awareness of the issue and why it is so important to cleaning up after them."
District council deputy leader Keith Girling said: "It is fantastic to see young children taking pride in their local environment and getting involved in both the day of action and the PAWS scheme.
"Dog mess is an eyesore as well as a health hazard and it is a major concern for the community. We hope that educating children from a young age on the responsibilities of owning a dog will lead to a cleaner and safer community for all generations."