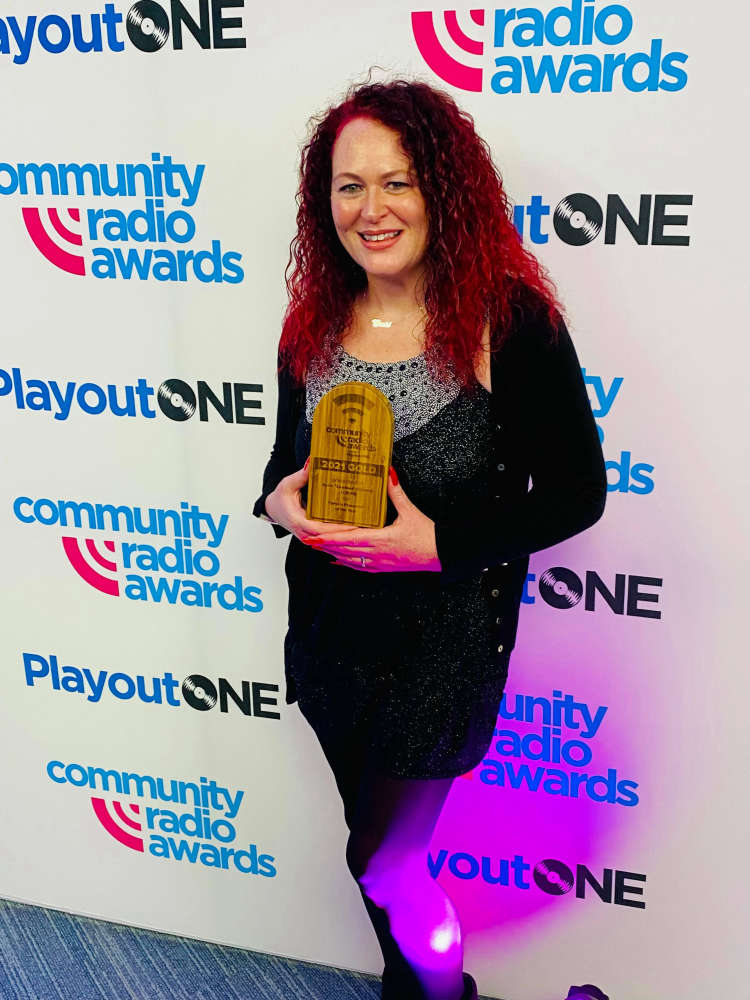 Radio Newark's Suzie Stevens has been recognised at the 2021 Community Radio Awards, held in Coventry on Saturday 23 October as part of the UK City of Culture celebrations.
A national programme open to all Ofcom-licenced community radio stations in the UK, this year's awards were sponsored by PlayoutONE and attracted more than 430 entries in a wide range of categories from stations across the country.
Known to listeners across Newark and beyond as Suzie Sparkles, the Sunday breakfast show presenter was doing exactly that as she stepped onto the podium to accept the gold award for Female Presenter of the Year, the culmination of an intensive judging process to recognise those producing great quality content and engaging with their communities.
"What an incredible evening – I've laughed, cried, smiled and felt inspired, surrounded by so much talent, all of whom volunteer their precious time!" said Suzie.
"It's amazing to be recognised for something I am so passionate about. Thank you to everyone who tunes in to support community radio - you are truly appreciated and we welcome you with open arms. You aren't a RAJAR figure to us, you're part of the community radio family and greatly treasured!"
Martin Steers, the awards chair, said: "As ever, the judges tell me how impressed they are with the output of our sector and how, year on year, it steps up a level.
"It's the second year of awards within a pandemic but community radio stations have proven their value at the heart of their local areas.
"The recognition for Suzie Stevens is well deserved and we hope her success encourages others to engage, represent and support their communities."
In a video played at the start of the awards, Secretary of State for the Department of Culture, Media and Sport Nadine Dorries said : "It's so great to see such a huge variety of nominees, and you all thoroughly deserve your nominations."
Suzie's show on Radio Newark airs from 7am to 10am every Sunday morning – to join her and share some of that sparkle, tune in to 107.8FM or listen on the free apps, on Alexa or online at www.radionewark.co.uk