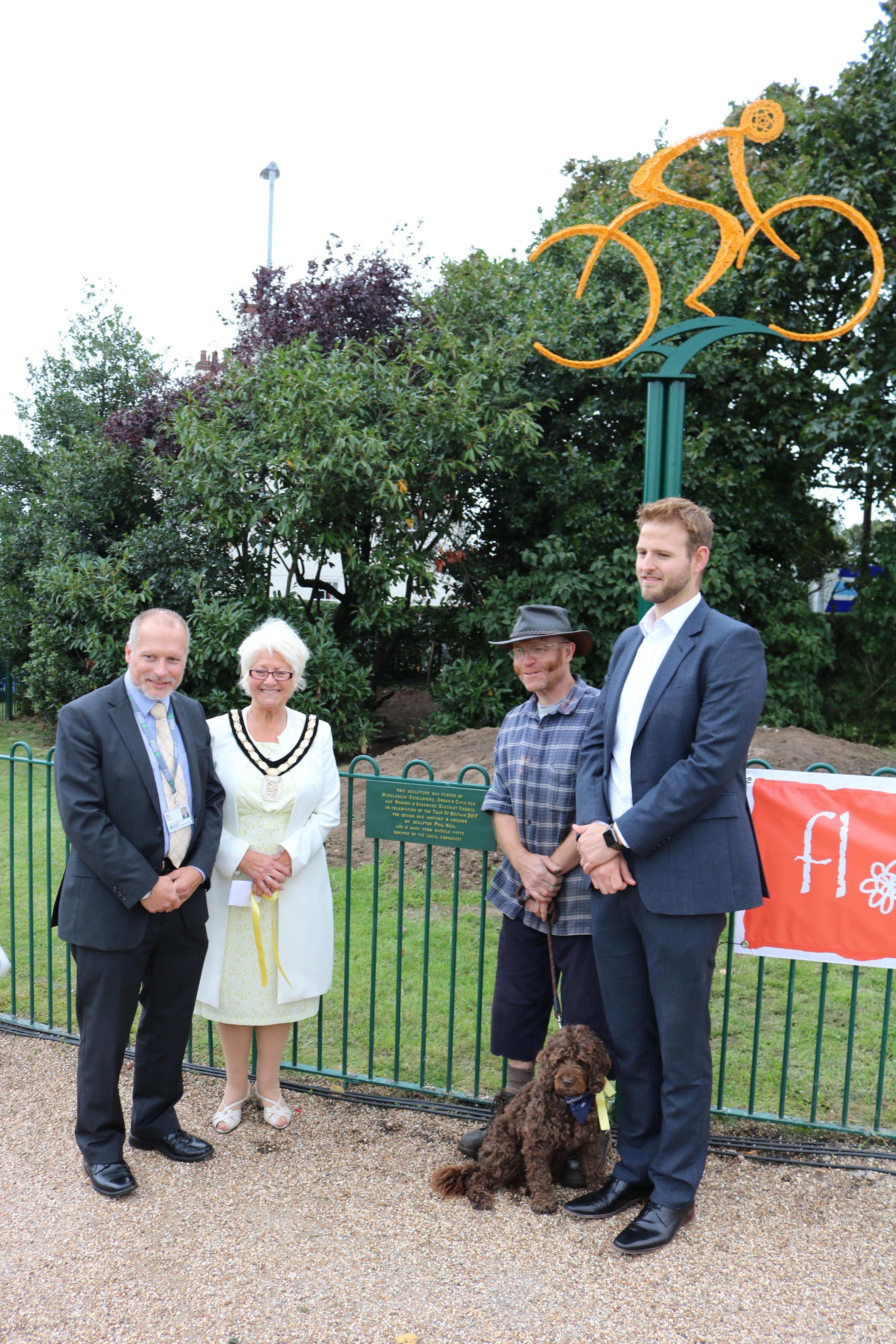 The five-metre high sculpture of a cyclist has been installed by the arrangement of Newark and Sherwood District Council and sponsorship through Urban&Civic to mark the finish of Stage 4 of the Ovo Energy Tour of Britain and create a long-lasting legacy for the landmark event.
The sculpture, which has been designed by sculptor Phil Neal, has been made from recycled bike parts donated by the general publicand from local cycling businesses. The sculpture is set against the backdrop of trees and shrubs in the corner of the existing children's playground, marking the finishing area of the race.
It fits in with the current play equipment and the saffron yellow colour, the adopted colour for the Nottinghamshire hosting Stage 4 of the Tour of Britain. The sculpture creates the impression of a 'floating' yellow bike during the summer period while remaining easily distinguishable during the dark winter months.
We spoke to Phil Neal, the sculptor at the unveiling, " I feel very proud to be asked. I'm passionate about cycling and recycling and it's [the sculpture] all make out of old bicycle gears. It took about 6 weeks and lots of degreasing and welding."
Urban&Civic is the developer of Newark's newest neighbourhood, Middlebeck, and is keen to support the town and raise awareness of the new place it is creating. Green spaces, landscaped parks, cycleways and the outdoor living are all part of what Middlebeck will offer its future residents, with extensive landscaping already under way.
Linda Tift, Chairman of Newark and Sherwood District Council said "It's absolutely an honour for Newark and sherwood and what a great place to end up!"
Neil Mison, Councillor of Newark and Sherwood District added: "Thank you to all the officers that have been involved in setting this up- the commitment and effort has been fantastic."