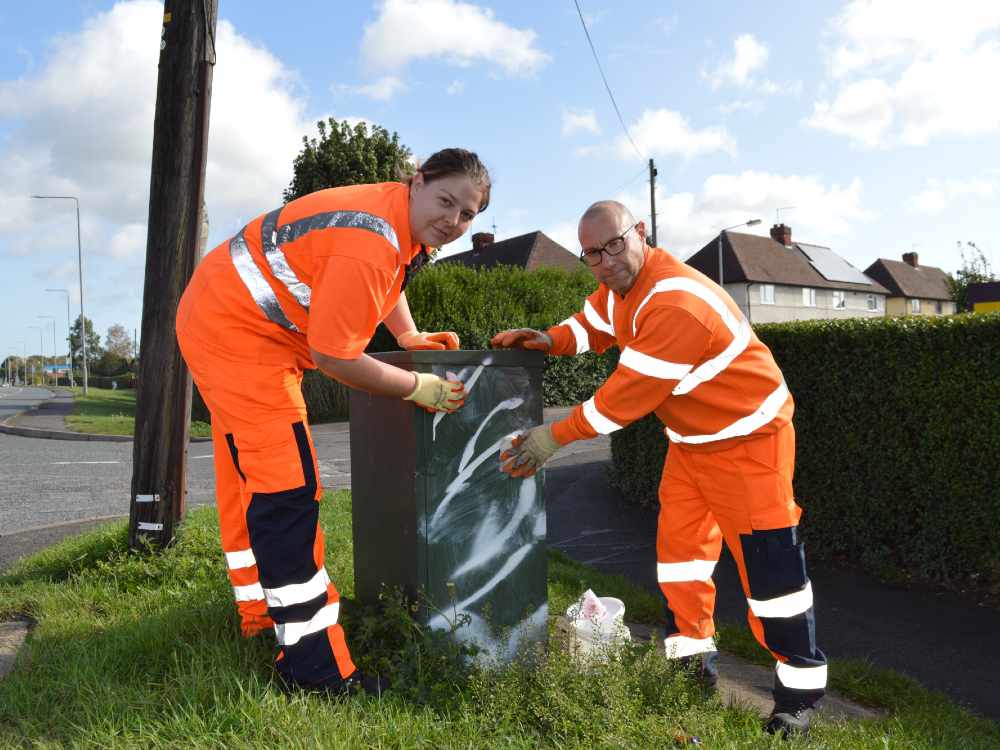 The Cleaning Team hard at work.
Vandals responsible for a spate of graffiti in Newark have today been warned they will face the consequences of their actions.
Scrawling spray can messages on public property is an offence and Newark and Sherwood District Council is urging anyone who may have any information as to identifying offenders to get in touch as soon as possible.
Since the start of 2019, bollards, signs, walls, post boxes and bridges have been hit by a string of vandalism including the persistent offensive scrawling of the letters "UDC" and "Nate", new instances of which have recently been daubed along Lincoln Road and Jubilee Bridge in Newark.
The council recently announced a district-wide blitz to tackle the blight of anti-social graffiti which commenced this week with the removal of unsightly scrawls on Lincoln Road.
Such graffiti is illegal according to UK law, as it comes under the Criminal Damage Act 1971 and can create negative impressions of an area, attracting anti-social behaviour and crime.
Councillor Roger Jackson, leisure and environment committee chairman, said: "Through this new policy and programme of action we are dealing head-on with all aspects of the problem of graffiti. We will deal with the mess and the perpetrators to clear our communities of this ugly crime which harms the image of a number of our communities.
"We will also continue to look at projects and workshops, particularly in relation to murals and public art which make such a positive contribution to communities such as the one in Hatchet's Lane in Yorke Drive in Newark and the teen shelter in Hawtonville."
Inspector Heather Sutton, district commander for Newark and Sherwood Police, said: "Graffiti continues to blight our district. The small number of people responsible for this offence are having huge negative impact on our community. Someone must know who is responsible, and help us put a stop to this. Please report any information to Nottinghamshire Police via 101, to crime stoppers via 0800 555 111 or by completing their anonymous online form."
A designated cleaning team have a special focus on clearing away all graffiti throughout the district in a concerted three-month campaign. Following the clean-up, a new scheme agreed by the council's leisure and environment committee will ensure deviant 'artwork' be removed from private property free of charge for the next two years.
The programme is a response to the recent increase in the spray-can menace and builds on the work carried out, and the issues raised, by the authority's Cleaner, Safer and Greener initiative.
The worst cases of graffiti, which are of a sexual nature, racist or otherwise offensive will be removed within 36 hours of being reported where possible while other cases will be dealt within a 14-day timeframe.
Street cleaning and public protection teams will be working across the district to deal with problem spots over the coming months.
The council has been working hard to combat anti-social behaviour and to instil a greater sense of pride in towns and villages across the district and has worked with the police on several occasions to co-ordinate restorative justice arrangements for young people responsible for vandalism and anti-social behaviour.
In May, four young people responsible for two separate spates of graffiti around the Winthorpe Road area of Newark were asked and agreed to remove either their own graffiti, or graffiti in a specific nearby spot if that was not possible.
The council and police identified a number of young people responsible for the graffiti and co-ordinated the restorative justice arrangement to deal with both incidents.
The council's public protection team, which was established earlier this year, will be the first point of contact when dealing with reports of graffiti. They will be undertaking an extensive exercise to log information about grot-spots around the district to include 'tags' used, the property owner and approximate cost of removal.
Officers will also record the approximate time the offence took place and ascertain whether there is any CCTV footage of the incident.
Once this information has been gathered the graffiti cleaning team will move in to remove it as soon as practically possible.
Although the council does not have a duty to remove graffiti from private properties it will continue to work with owners to offer advice and removal services. Clearance from private and commercially owned domestic premises is subject to owner approval.
Enforcement action will be taken through issuing a fixed penalty notice against offenders or alternatively, they may be actively pursued either in the courts or through the system of restorative justice.
Meanwhile the council's on-going work with its partners on diversionary art projects and workshops, specifically on murals and public art which make a positive contribution to the appearance of a community and discourage 'tagging' will also be continued.
The new graffiti policy will run up to March 31, 2021 when it will be reviewed.