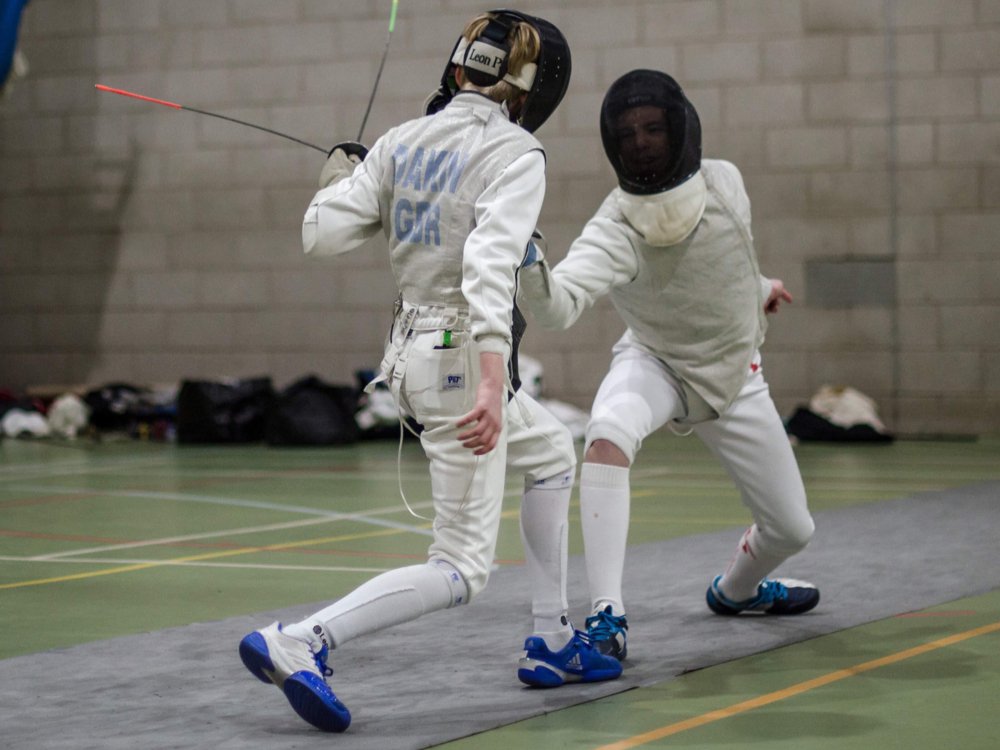 More Gold
In a belated report from last Sunday, both Arthur Eakin and Ethan Dakin struck gold in the latest competition in the Yorkshire League in U14 and U12 men's foil, respectively.

Ethan started his poule with a loss but then got into gear, winning the remainder of his matches. He was ruthless in the DEs, including a 10-0 victory in the semi-finals and a 10-5 win in the final over his usual main rival in the competition, Nathan Mooney.

Arthur had a similarly good day. He won all his poules fights and was seeded second for the DEs. In L8 he beat his unfortunate opponent 15-0. He met Robert Hind from Sheffield Hallam in the Semi Final and won convincingly 15-2.

It was another Finn Zaffino and Arthur final which was always going to be a closely fought match - Finn competes for Barnsley but he and Arthur are regular sparring partners at Sheffield Buccaneers. Finn went up 4-2 fairly quickly and held on to his 2 point lead to finish 7-5 at the end of the first period. Arthur pulled it back, winning 4 points to go ahead 9-7 and finished the second period just ahead at 13-12. Arthur went up 14-12 after the break but Finn won the next 2 points pulling it back to 14 each. Arthur kept his composure with a pressing attack to get the winning hit.

Two of our university fencers were in action yesterday. Ed Howlett was taking part in his first Premier league match for King's London 1sts, away at the University of Bath. The team was much depleted, with Ed having to pitch in to fence epee. King's lost that leg 40-44. Ed was anchoring the foil team, with an epeeist and a sabreur. At the start of each of his matches King's were behind. Ed turned the tables to defeat Matt Cowley 8-2 and Ashley Dawson 8-3. Going into the final match with King's 38-40 down, Ed turned on the style, with a fine 7-2 win over Jack Davies to ensure the foil leg finished in a 45-42 victory. The sabreurs were then defeated, resulting in an overall loss for King's, but it is likely to be a different story with a full team in the home leg. Older brother Roderick was also fencing away, against Bradford University for Sheffield University 2nds. He was anchoring for foil, winning 6-0 in the second leg, having a slight meltdown in the 5th, with a 5-8 loss, and coming back at the end to beat the Bradford anchor 5-0. Sheffield won the foil 45-24 and the match as a whole.