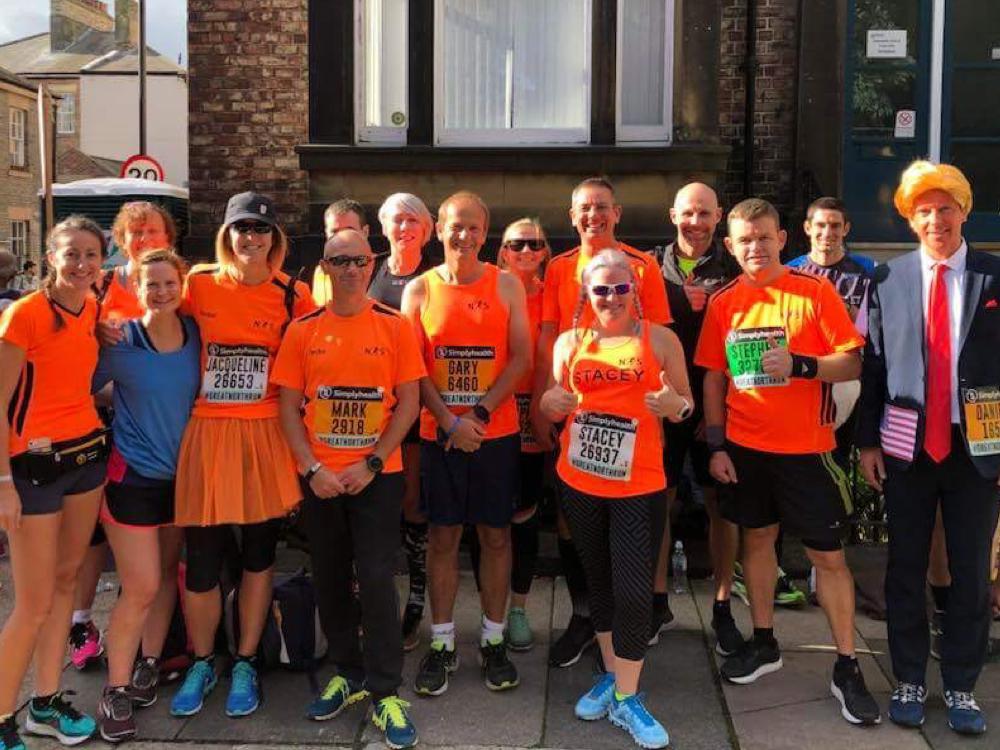 Newark Striders
Jason Cobb got the weekend off to a great start with a fine performance in his first big triathlon event, the Vitruvian at Rutland Water. He covered the 1900 M swim, 85 KM cycle and 21KM run in a total time of 5:58:45 with the Half Marathon element 2:19:12.
On to Sunday and 19 Newark Striders were amongst the many thousands of starters in the Great North Run. Jan Bailey covered the 13.1 miles in 1:23:42, crossing the special 'elite' finishing line in 165th place overall. Gary Tasker was the next in with 1:35:37, then Mark Jackson 1:40:15 and Simon Palmer 1:50:27. The crowd cheered loudly (albeit for Olly Murs) as Graham Welsh ran down the finishing straight to finish in 1:55:43, with Philippa Clarke our first lady finisher, 1:55:49.
Dan Stephen was the only Strider in full fancy dress, running for charity and completed the course in 2:01:10. Bev Hancock recorded 2:04:30, Stephen Tomlinson 2:09:16 then Nicola Bradley, also running for charity 2:14:30. Jacqui Jackson, running her 10th and final GNR, bowed out with a time of 2:18:03. Stacey Atkins was next 2:21:56, followed by Karen Illsley 2:29:17, Tracey Mayfield 2:36:25, Alison Shiels 2:38:02, and Anthea Moisey 2:47:41. Bernie Divall wasn't going to let sore feet beat her, raising money for a good cause in 2:50:46 alongside Heather Green 2:50:47, then Hollie Dunning 2:59:41.
Also in Half Marathon action were Richard Spurr and Steve Martin. Richard completed his first ever HM, the Colchester Stampede, setting a great PB of 1:42:26. Meanwhile, Steve was in the Vale of York HM and also earned a new PB of 1:42:36.
Finally, on to 10K news, starting with the Leicester 10K where it was PBs galore. Simeon Forrest 47:21 PB, Cate Driscoll 53:09, Tom Jordan 54:33 PB, Nicki Padgett 56:04, Catherine Davies 57:28 PB, Sarah-Jane Cobb 1:00:26 PB, Thomas Cragg 1:08:23 PB. Lewis Hopkinson was in South Yorkshire for the Bawtry Forest Trail 10K, he came 7th with 41:15.