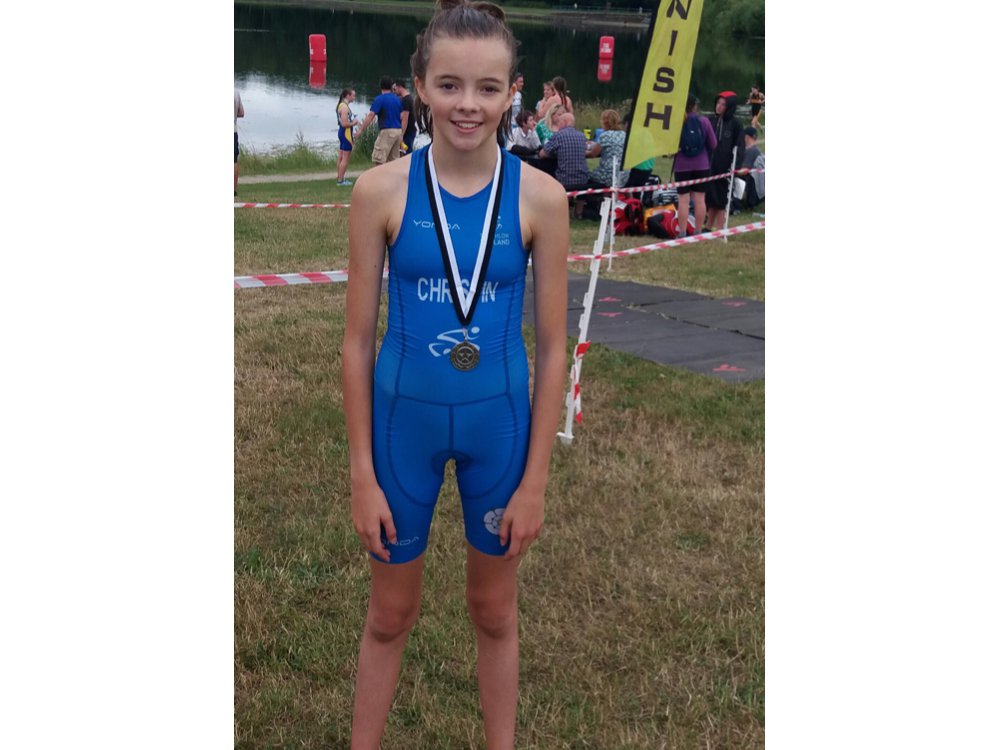 Our Pocket Rocket goes National
Yesterday (21st July) Amelia Chrispin competed in the Hetton Junior Triathlon. This triathlon was an open water, high performance draft legal event so attracted a very good field of athletes from as far as Southampton all the way up to Scotland. This event was also being used by many Regions as a National qualifier, Amelia's included. Amelia, after 4 previous qualifying races was in a very tight group of 4 other Yorkshire athletes knowing she had to beat them to 100% secure a qualification spot.
Although overcast, the weather was still quite warm and a wetsuit ban came in force just before the start of the 300m lake swim. As usual the swim had its usual frenetic start, but Amelia managed to stay out of trouble and left the water in good position with a large group of athletes.
She grabbed her bike and left transition for the start of the 4 x lap 7.km bike course in around 15thposition. Amelia worked well on the course with 2 other girls and they set a good pace taking turns at the front of their mini pack.
Amelia set off on the unusually short 1.8km run in determined mood and caught and passed five other athletes, crossing the line in a fantastic 8th place, in her first year of the 13/14-year-old Tristar 3 group.
She was ecstatic, she had beaten the other 4 Yorkshire girls, which meant she secured her spot in Yorkshire Team. She will compete for the Region in the individual race and the brand new relay event at the National IRC Triathlon 2018 Championships on the 15th and 16th September.