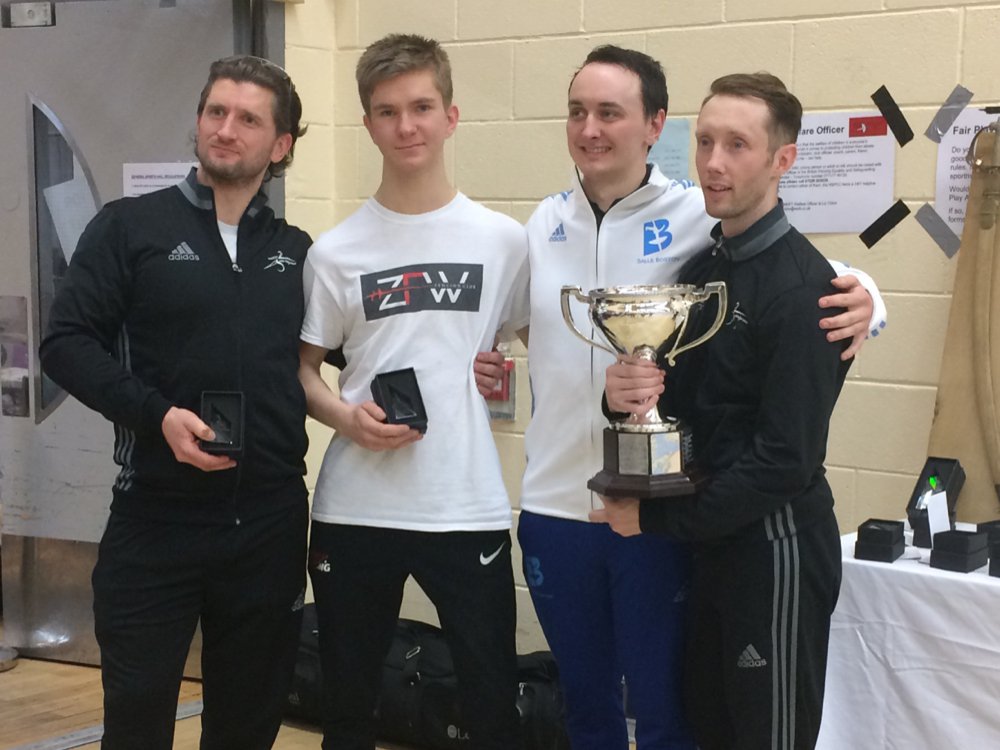 Busy weekend in Liverpool and Truro
This was another busy weekend, with competitions in Liverpool and Truro!
Both Ed Howlett and his elder brother Roderick were competing in the Merseyside Open on Saturday. Ed had a very slow start for him, losing 2 matches 4-5 in his first poule round (and winning 2) and losing 1 match 4-5 and another 1-5 in his second poule round (and winning 3). Roderick was fencing in only his second open, so was looking for competitive experience ,more than anything. He beat quite a difficult left handed Lancaster University student, Miguel Nobrega, in his first poule and a very experienced senior fencer, Matt Powell, in his second poule. He picked up points in most of his poule matches and with a little more patience and experience could have nicked two or three more wins.
Ed went into the DEs as 27th seed and Roderick as 48th seed. Ed started to get back into good fencing mode and completed a 15-1 victory over Joe Banks of Saxon in London in L64. Roderick went out 3-15 to left gander Matt Fitton of Sheffield Buccaneers, an ex GB junior and very well known to Ed as a sparring partner. Roderick finished 48th from 58 fencers and was quite pleased with that. Ed then faced the left handed 6th seed, Duncan Morrison of Salle Holyrood in Edinburgh. Ed and Duncan have been fencing each other since U13 days and Duncan beat Ed 5-4 in the first poule. The fight reached 6-6 and Ed stepped up a gear or two, not dropping another point to win 15-6. That was L32. Ed had another higher seed - 11th - in L16, Chris Mollard of Saxon in London. He won a bronze medal in the team event for Scotland in the Senior Commonwealth Fencing Championships in Australia before Christmas and has a strong fencing style. Ed took the lead early on and kept it to earn a 15-11 win. Ed had another tough challenge in L8, against 3rd seed, Jaimie Cook of Salle Holyrood. Jaimie is only 14, but has had some excellent cadet and junior results this season (and Ed lost 1-5 to him in the second poule). Also, his dad is Keith Cook, GB senior international and multiple GB senior champion - and gold medal winner on Saturday. Jaimie's very athletic and mobile fencing style meant that Ed would have to fence carefully and pick his hits. Ed again took a lead early on and using excellent distance, timing and footwork carved out a 15-7 win, which involved a lot of hard work. It also included a foil going through a glove and hitting a hand (Ed's) and a banged head from a close up encounter (Jaimie's). Ed was tired going into the semi-final match after a tough run in. Yet again he took an early lead, this time against Irish fencer Chris Lennon of Salle Boston in London. It was always close and Ed was being forced to attack more than he usually does. It went to 14-14 and Ed attacked, remised and hit, but was hit with a parry riposte giving his opponent priority. Ed had to be satisfied with a bronze medal - actually a rather attractive engraved piece of glass.
Arthur Eakin and Ethan Dakin were in action on Sunday in the U13 Leon Paul Junior Series competition in Truro. This was Ethan's first U13 competition, as he has moved up from U11 and Arthur is now in his last of two years in U13. Arthur had an excellent first poule round, dominating his matches, while Ethan was taking a little time to settle in. The second round was the reverse, with Arthur losing two of his poule fights and Ethan winning all his. Arthur went into the DE as 3rd seed and Ethan as 5th. Arthur had a bye in L16, with Ethan winning his L16 DE against Lachie Sawrey-Cookson of Millfield School. He then lost to Benjamin Collins of Phoenix in Somerset, while Arthur lost to Ryan Zhang of Russell Swords in Cardiff. Zhang went on to win gold. Arthur finished in 5th place and Ethan in 6th place.
Finally, James Rutherford was fencing in an away match last Wednesday for Nottingham Trent against Leicester University 2nds. This was in the quarter finals of the Midlands Conference Cup. Another comprehensive victory ensued, with a 134-81 score, taking NTU into the semi-finals. James again starred in all three weapons.