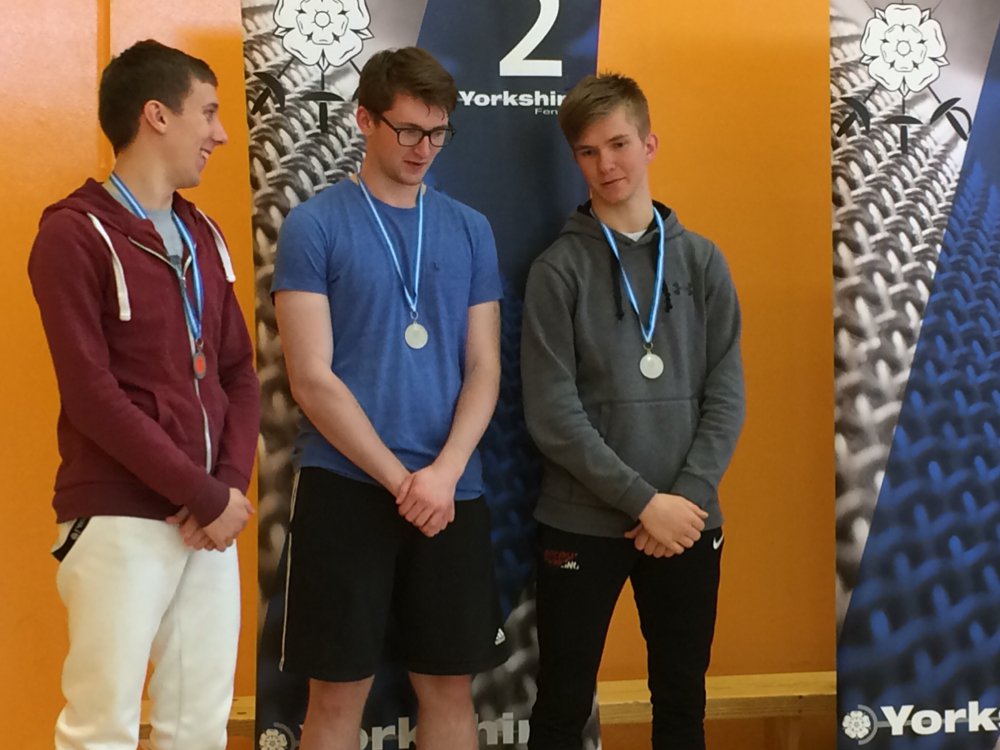 A weekend in Yorkshire
A busy weekend in Yorkshire for Fernwood's fencers, all of whom won silver medals in Penistone, near Barnsley.
First up on Saturday were James Rutherford and Ed Howlett, fencing with Matt Fitton for Sheffield Buccaneers in the Yorkshire Team Foil. In a competition of 9 teams, they made short work of Barnsley Fencing Club, with a 45-8 win, a eeds Bradford team with a 45-12 win and another Buccaneers team with a 45-9 win. As top seeds after the poule, they faced Barnsley again in L8, winning 45-7. They prevailed over Louth 2 with a similarly convincing 45-13 win in the semi-final. The final against Louth 1, with their very distinctive and awkward style, proved to be frustrating. James won 5-4 against GB junior Will Lonsdale and Ed drew 4-4 with Sam Blair. Buccaneers lost the next 3 bouts and Ed, chasing, could only manage a 5-5 draw against Archie Broughton. The next two bouts resulted in a further lead for Louth and Ed went into the last bout against Will Lonsdale with the score at 28-40. Having to fence aggressively to pull back the differential meant he also risked losing points and the score finished at 5-5 and a 33-45 loss overall.
Sunday saw the latest event in the Yorkshire Youth League, which is also open to fencers in the East Midlands, North West and North East. Ryan McGahey was fencing in U10 in only his third competition. He fenced very well in the poule, losing only 2 matches, increasing in confidence in each match - this included a very impressive 1-0 win over Aiden Mooney of Harrogate. He then had a super 10-7 win over William Parry of Sheffield Hallam and an even more pleasing 10-8 win over Leo Watson of Sheffield Buccaneers, who had knocked Ryan out at L8 stage in the last Yorkshire League event. He couldn't beat Rudy Levick of Sheffield Hallam in the final, but a silver medal was a great result.
Ethan Dakin in U12 couldn't maintain his long series of wins in this competition after a bit of a break from training. Old friend and rival, Nathan Mooney of Harrogate, prevailed in the final - some consolation for a defeat by Ethan in the semi final of the recent British Youth Championships.
Finally, Arthur Eakin won silver in the very competitive U14 section (as an U13). He fenced very well in the poule, winning 5 matches and losing only 2 matches. he had a bye in L16 and was 2-5 down in his L8 match against Robert Hind, pulling it back to win 15-7. His semi-final match against Billy Levick of Sheffield Halam was even more exciting - at 7-13 down, all looked lost but Arthur showed considerable mental strength to pull off a 15-14 win. In the final he was up against Barnsley's Finn Zaffino - good friend and sparring partner at Sheffield Buccaneers. Buccaneers coach Adam Blight described it as a really great final with a demonstration of intelligent fencing skill from both fencers - unfortunately Arthur lost on this occasion, but it was a good fight.