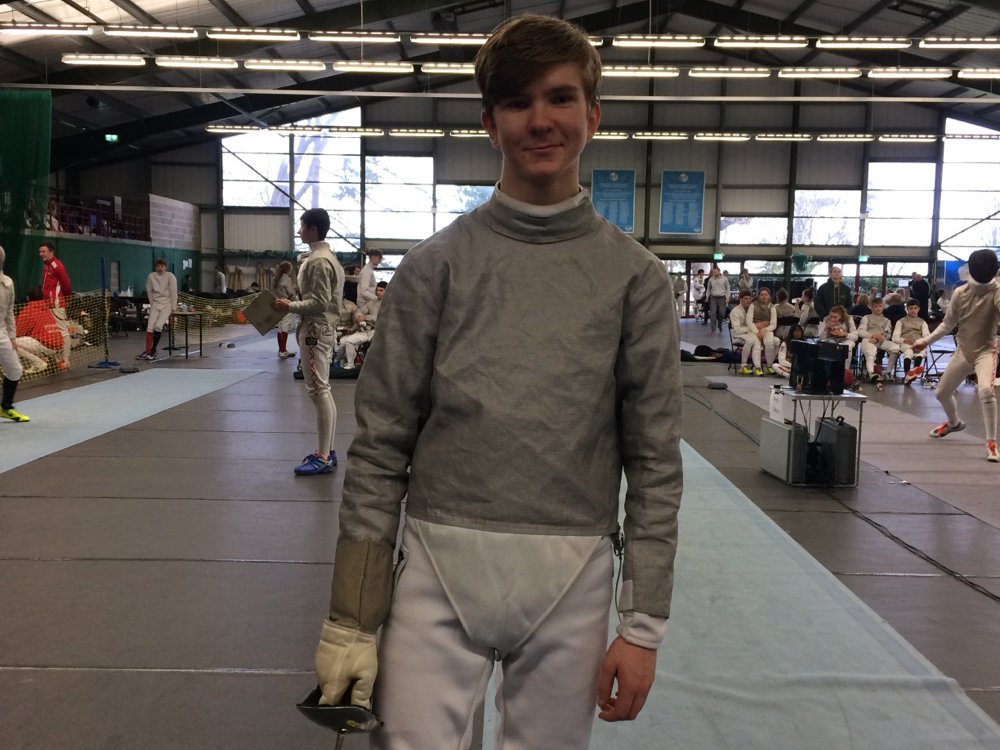 Sharon Jones reports
This has been a busy weekend for Ed Howlett as he was fencing in two strong international competitions. He was part of the GB U20 squad in the Eden Cup in Docklands, East London on Saturday. Then on Sunday he fenced in the London Cup at the same venue. This is a GB senior foil event but is also part of the European U23 circuit.
He fenced generally well in the poule on Saturday. He beat German Marcus Praus, Russian Vadim Bazulev and Qatari Ali Owaida 5-3.He did well to take 3 points off Rafael Savin, world ranked U20 number 8 and French senior squad member, but was slightly disappointed to lose 3-5 to US based Bulgarian, Ian Neilson 3-5 and 1-5 to Belgian senior squad member Lucas Mottiat. This left Ed ranked 85th for the DEs and with 44th ranked US fencer Allan Ding for the L128. He decided to go for strong attacks, resulting in double lights each time. This tactical decision didn't work and Ding won comprehensively. Ed finished 88th from 158 fencers and in the top half of the GB squad results. Also, finishing in L96 means he picks up international ranking points and has usefully improved his ranking.
Ed had excellent poule results on the Sunday. He beat another GB fencer, Owen Grosvenor 5-1, Malte Westesson from Sweden 5-2, Portuguese fencer Jose Guimaraes 5-1, Dutch fencer Teun Jans-Kohneke 5-1 and Roumanian Alexandru Sirb 5-3. His only loss was 4-5 to the men's foil gold medallist in the World Youth Olympics in Rio this summer, Frenchman Armand Spichiger. All bar Grosvenor are part of their country's U20 squads. Ed was the top ranked GB fencer for the DEs and had a bye through L128. He then faced Luis Macedo of Portugal, a significantly higher ranked U20 fencer. Ed started with a cautious approach and went behind. Eventually he changed tactics and started to attack aggressively but it was slightly too late and he went out 13-15. Ed finished 37th from 121 fencers and 4th highest of the 32 GB fencers who had entered.
Fernwood guest fencer Serena Patel was also fencing as part of the GB U20 squad and, like many of her team mates, had a tough day. She beat a Belgian fencer 5-1 but despite picking points up in all her matches, with a 30% cut didn't manage to make the DEs, along with 8 of her GB teammates. She fared rather better on Sunday, winning comfortably against a Bulgarian and a Slovakian, losing 2-3 and 4-5 to highly ranked French fencers and 2-5 to a Russian. I understand that there were some harsh refereeing decisions. Serena had a tough L64 DE against Arina Prytkova but fenced well to take 11 points off the Russian. She finished 44th overall.
Meanwhile, domestically, both Ed and James Rutherford have been fencing for their universities. This week, both helped their teams to 3 wins in 3 for the season. James, for NTU, is fencing sabre and epee as well as foil and his team beat Nottingham University 3rds 132-110.
Ed, for King's London, normally just fences foil, but such was the commanding lead against Queen Mary that he was let loose with an epee for a match, winning 6-3. His team won 135-76. Ed has also been selected this week as a King's Sport Performance Athlete.