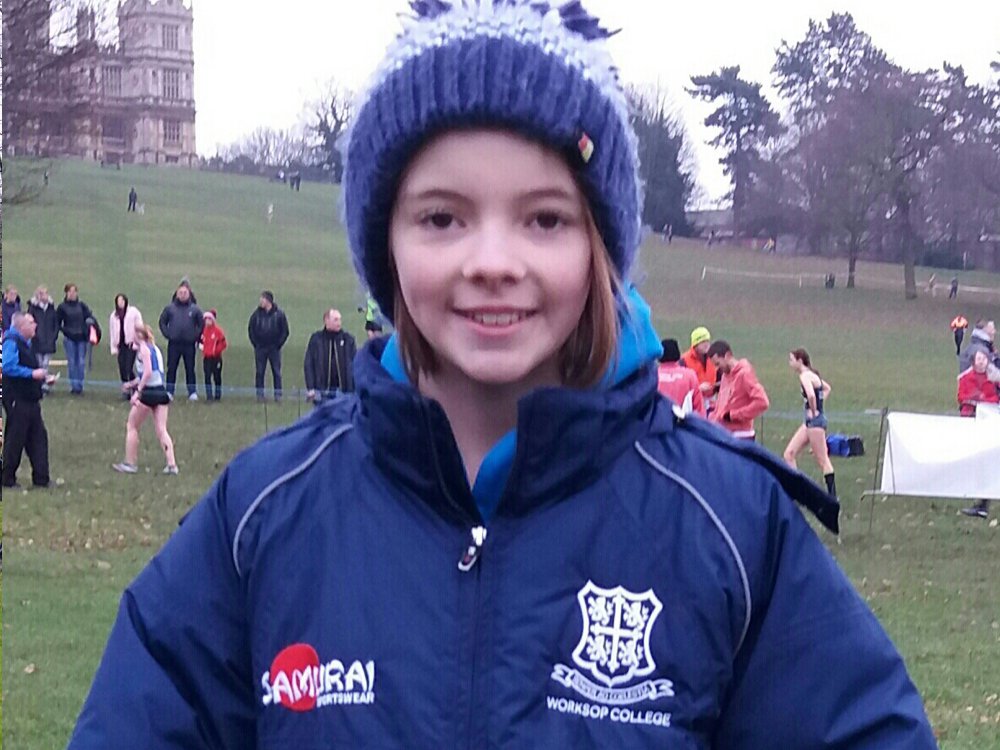 Not one, but two cross country races for Amealia Chrispin.
This morning (Saturday 3rd Feb) Amelia competed in the Notts Schools County XC Championships at a very cold and wet Wollaton Park. She was representing the Bassetlaw District and her school Worksop College against runners from all the other districts in Nottinghamshire.

Amelia, who is in Yr8 was competing in the first race of the day, which was the girls Yr 8/9 race with runners up to 20 months older than her. As the starting whistle sounded all the runners shot off, jockeying for position. After around 400m the field was spreading out and Amelia was running hard, competing well with the front runners. She carried on running well and after the first short lap was in 2nd place,running with another athlete, around 30m behind the leader.

Then one of the volunteer marshallls made a small, but forgivable, error and sent the whole field around the small lap once again, rather than the large lap. This error meant instead of running the scheduled 3.4km the race turned into a swift 1900m race. As the runners came into the final stages, Amelia was just beaten into 3rd in a sprint finish. A great bronze medal a year under age.

The result means Amelia will now go on to represent the Junior Nottinghamshire Schools XC Team in the English Schools Athletic Assoc. Championships in Leeds on the 17th March.

Less than 4hrs later Amelia said she felt fresh enough , probably due to her County race being shortened!, to run for Worksop College in the East Mids Independent Schools League.

She was running on her home turf, Worksop College, in the joint open age girls/U16 boys race which was a testing 4.85km. After the first lap she was holding her own and running well in 3rd position. She continued to work hard, and with around 2km to go manged to wear down and pass the girl in front .

She kept up the pace, pulling clear from 3rd, and crossed the line in a fantastic 2nd place and 6th out of all the boys and girls.

A great days racing!