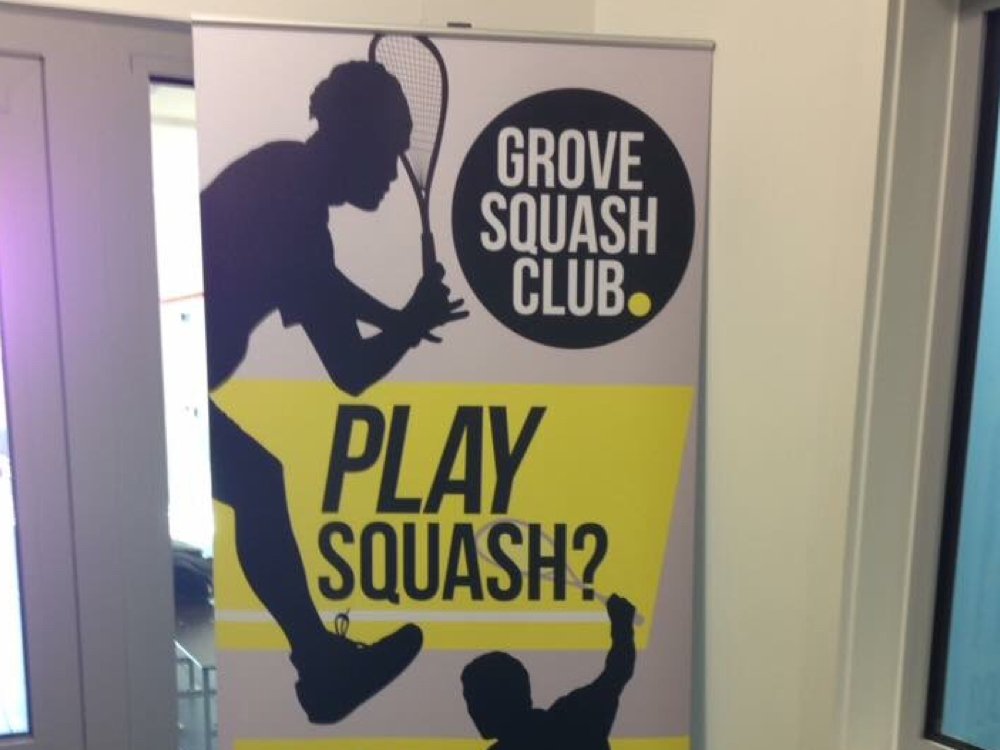 All is going very well
One of 2019's big success stories was the Grove Squash Club, Paul Drury updates us on the season so far;
First Team.
After their latest round of matches the 1st team currently sit third in Division 2. The had two victories, the first against Clifton Park 4-1, with wins for Chris Gibbons, Paul Burrell, Ash Brooks & Mark Chester and the second against Whitaker Nomads 3-2 with again Burrell and Brooks being joined by Richard Speed. Their solitary defeat came against Rushcliffe 3 with third teamer Paul Breffitt winning his match along with Steve Brown. Gibbons and Gibbons both currently sit in the top 10 rankings for the division.
Second Team.
After a slow start the 2nd team are gaining some momentum winning 3 out of their last four matches, one the much awaited clash against the 3rd team. That game watched by a good gallery of spectators witnessed victories for Matt Connor, Andy Sayers and Hedge Allen for the 2nd's with Paul Nolan-Fyfe and Paul Breffitt coming out on top for the 3rd team. The other two victories were comfortable affairs against Southwell 2nd's and David Lloyd 3rd's with the solitary defeat being a close run thing against Chilwell. They have moved up to 5th in Division 3 with a game in hand against most of the teams above them. Andy Sayers currently sits in the top 10 in the individual rankings.
Third Team.
The 3rd team currently sit In 3 place in Division 3 having played one more game than the 2nd's winning 4 and loosing 4. They have won their lost two matches though, a 20 point walk over against the Uni Students who couldn't raise a team and a fine 4-1 win against Rushcliffe 3rd's with Paul Breffitt, Elliot Davies, Ben Taylor and Ollie Stewart winning their games. Paul Breffitt currently sits 3 in the individual rankings.
Fourth Team.
The newly promoted 4th team are also beginning to find there feet and coming to terms with team squash winning their last two games. These came by the way of a 4-1 victory against David Lloyd with Ollie Stewart, James Cockerton, Jack Peterken and Gregg Rhodes winning their respective games followed by a 3-2 victory against Rushcliffe 6 with Cockerton being joined by Club Chair Paul Drury and team captain Steve Knowlton-Rayner. In the individual rankings both Cockerton and Peterken sit in the league top 10.
Fifth Team.
The newly formed 5th team are still looking for their first victory in Division 6 but all are enjoying the experience of team squash. They have been playing a mixture of the ladies from their Wednesday Club Night and Men who are generally new to team squash. They will all benefit form the experience of playing squash and take inspiration from how the 4th team are playing this season after starting out in a similar position last year. Adam Whitney currently sits highest in the individual rankings.
Juniors
4 of the juniors have taken part in the latest Notts graded tournament with Max James winning his group and Eli DeAngelis finishing runner up.
Eli was then joined by his brother Jeb who both played in the latest Notts & Derby tournament where Jeb came top in his age group.