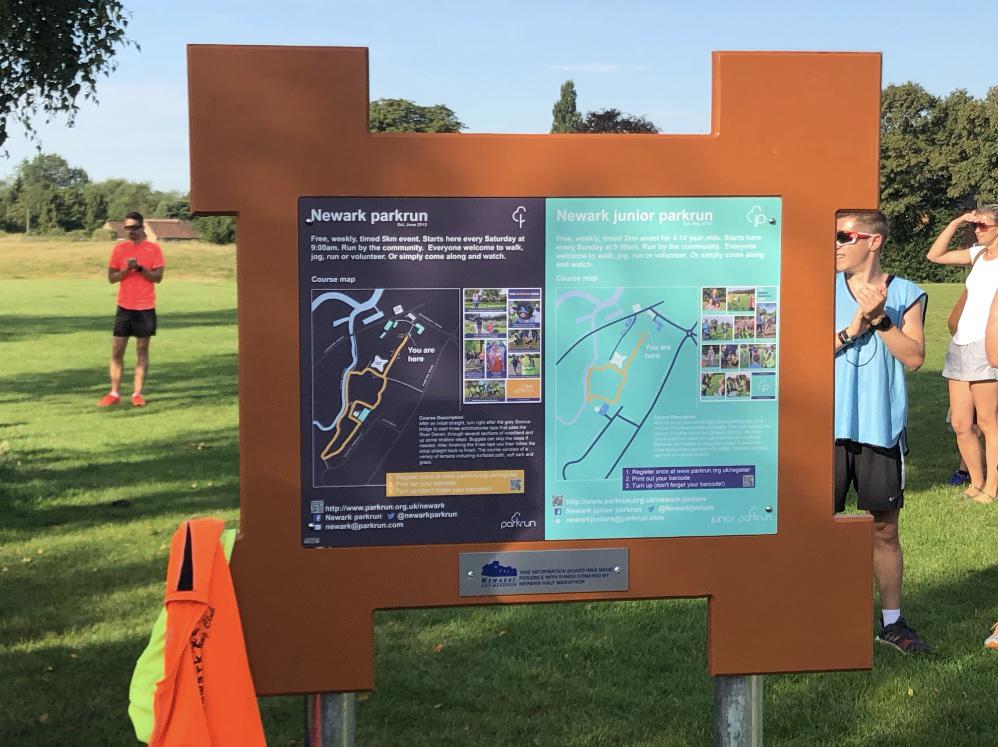 A new information board has been erected at Newark parkrun with money donated by Newark Half Marathon.
Back in April this year the Newark Half Marathon committee made a donation to the Newark parkrun and Newark junior parkrun events.
The events are entirely run by volunteers and other than the original start up kit, they are required to fund replacements. In the past this has ranged from a new laptop to process the results to replacement defib batteries and other general kit.
The core teams from both parkrun events decided that an information board would be a nice way to spend some of the donation.
The information board on Sconce and Devon park allows park visitors to know the events taking place at weekends and identifies the routes in case anyone wanted to run them outside of the official weekly times. The board also provides information to tourists and first timers that join a parkrun on Saturday or Sunday mornings, and relays additional information from the run brief each week.
This new information board is to show that both events are inclusive and anyone can join in the fun each week, no matter what their background or reason for taking part.
Chairman of Newark & Sherwood District Council, Councillor Rob Crowe, proudly unveiled the information board on Saturday 24th August to a large crowd of park runners and visitors including runners from across the UK and Austria.
If anyone would like to contact Newark parkrun directly, please email - newark@parkrun.com (Saturday 5km event for 4 years old upwards) or newarkjuniors@parkrun.com (Sunday 2km event for 4-14 year olds).
The board itself was designed by Brian Thompson and approved by parkrun HQ.
The frame was built and put together by Bob Oakham (parkrunner and NOTFAST running club member) who has donated his time and only charged for parts.
Phil Beard (NSDC Parks Manager) has supported the idea and it is was erected by George Hemstock (Sconce and Devon Park Ranger) and his volunteer rangers.