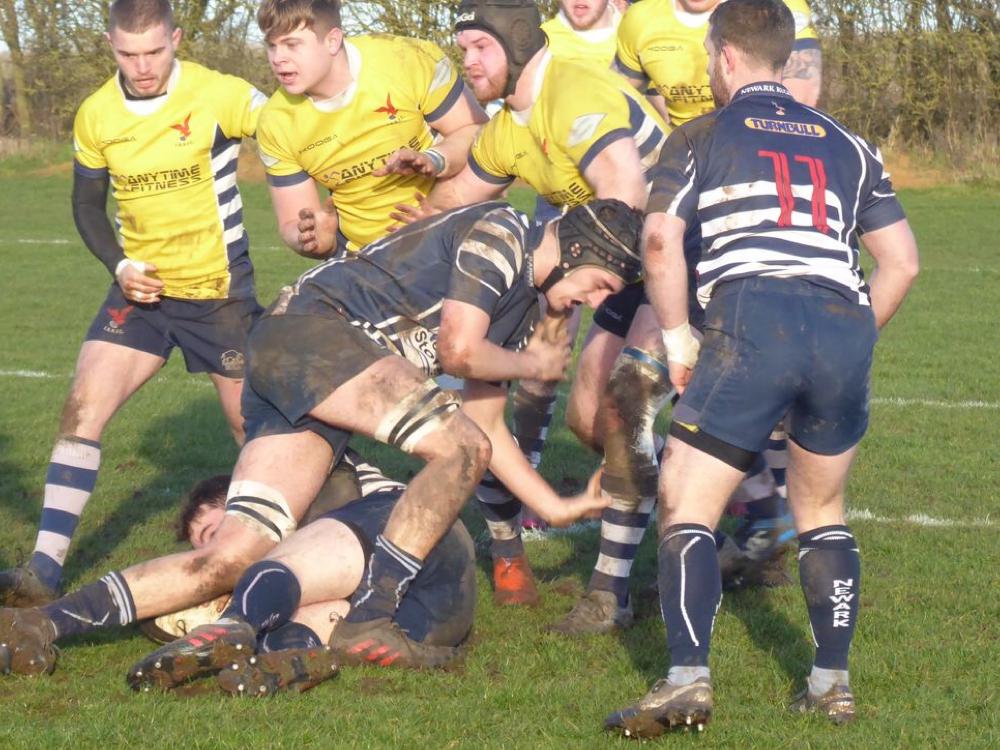 Newark Rugby Club
Saturday January 18
RFU Intermediate Cup – Midlands semi-final
Leighton Buzzard 24 Newark 10
A robust second-half performance raised hopes of Newark overturning an early deficit in this competitive Cup match.
However, Newark paid for the disappointing start which allowed the home team to build a winning lead of 17-0 before the fightback began triggered by some good forward play and strong scrummaging.
A try just before the break by full-back Robbie Hunter-Shaw started the turn-around which continued after the break when fly half Matt Cox landed a penalty.
That penalty put the team within a converted try and for a 15- minute period Newark dominated and had chances to score again.
Buzzard defended well and eventually struck the crucial blow when working a fourth try from a counter-attack.
Overall, Newark could not recover from an opening 35 minutes of conceding three tries and having two players sin-binned.
Newark were also hit by injuries to Cox which brought a reshuffle before the fly half resumed after the break. Captain Will Britten did not start because of a hand injury but came on as a substitute.
Eventually, Newark found their stride in the closing minutes of the half to put Hunter-Shaw over near the corner after some good build up work and strong running by the forwards.
Alex O'Dell converted to set up a second half that showed Newark could compete on equal terms with the leaders of Midlands Two East South.
Newark return to league action next Saturday (January 25), against Ilkeston, kick off 3pm (correct 3pm!).
The next home game is on February 1, against Lincoln, kick off 2.15pm.
Cup Team (v Leighton Buzzard); Hunter-Shaw; Overland, Waqalevu, Taylor, Archdale; Cox, O'Dell; Appleton, Chapple, Hempstead, Ellison, Woodman, Denning, Duncan, Webster.
Subs: Coulam, Garland, Britten.
Tries: Hunter-Shaw.
Conversion: O'Dell.
Penalty goal: Cox