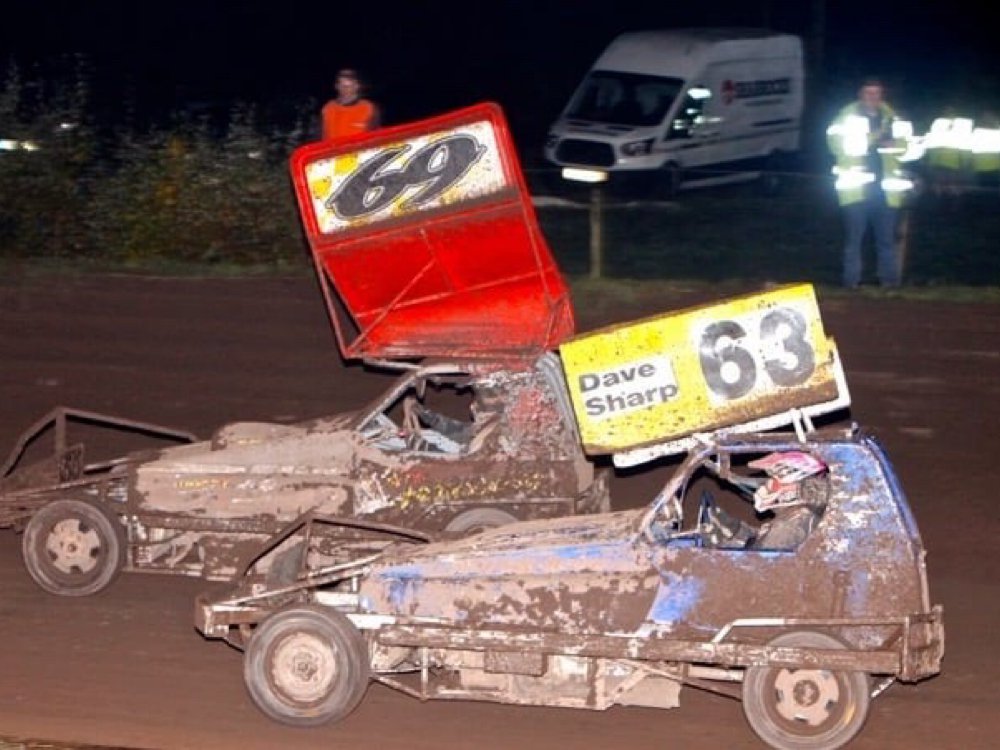 Stock car Dave says goodbye to Stoke Racetrack
The end of the racing season for MDS Racing was marked by a visit to Chesterton Stadium in Stoke on Trent for the very last time.
The race circuit at Stoke has become the latest casualty of short oval racing sites being sold to developers and Saturday saw the final race to be held there.
With a good attendance by both drivers and spectators the audience was treated to a race program featuring Brisca F1 Stock Cars, Brisca V8 stock cars and National Ministox
After two days of rain the circuit and pits were soggy to say the least and with that last few points for the season up for grabs the racing was always going to be intense.
The first race of the meeting was for the ministox followed by the V8 stockcars. In the extremely wet conditions, and with limited visibility there was numerous cars spinning off and sliding into the walls and with the car not handling as well as it could Dave erred on the side of caution and managed to work his way up the field and into 8th place.
A change of rear wheel to try and improve grip on the slippery surface and it was out to heat 2. With the car handling and cornering better Dave led the field for the first half of the heat before the race was halted to remove a stationary car from the middle of the track on bend 2.
When the race was restarted the field had been closed up and Dave was still in the lead, but he was eventually caught and passed by the higher-grade drivers. Battling on, he finished in a creditable 9thplace and once more in the points.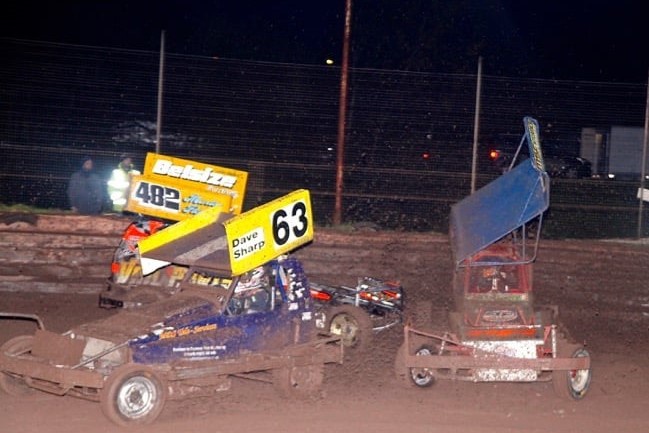 With just two races until the final the pit crew worked in the dark to refuel the car and prepare it for the final. With a temperamental starter motor due to the shale and wet there was added pressure not to let the engine stop during the race. Dave started well and kept the car going, keeping up with the leaders until being passed by the world Champion and higher grade drivers he finished in 11th place and still in the points to win the Grade award for scoring the highest number of points in the meeting for the Yellow grade drivers.
In a season of mixed fortunes Dave has battled and raced well finishing in a creditable 26th place in the National points table out of 60 drivers and in 8th place out of 34 drivers in the White and Yellows Championship.
"Being largely a self-funded team and the oldest driver in the series, with my wife and daughter assisting me at meetings, I am really pleased with the results that we have achieved this year" said Dave.
Asked about next season "we will see how it goes" Dave smiled.
Big thanks to Dave Bastock for permission to use his photos