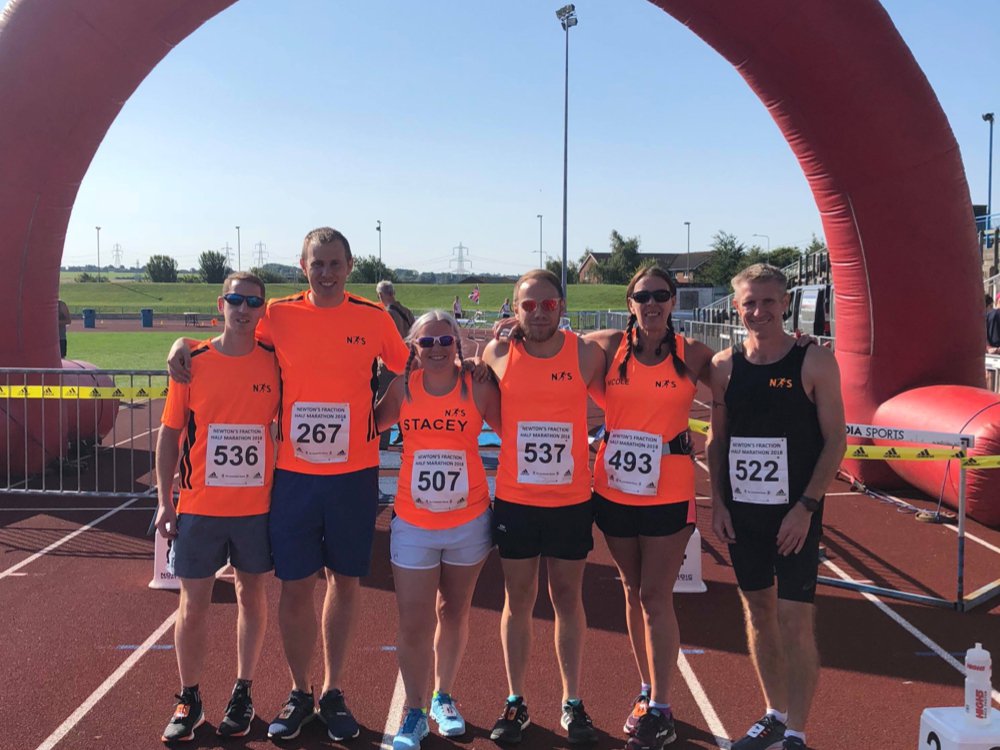 Graham Welsh brings you all the Striders gossip
It was a warm and sunny Saturday afternoon for the Bassingham Bash. 16 Striders took part in the popular 5 mile race around the village and the surrounding lanes. Jan Bailey overcame heavy cold symptoms to finish 8th in 28:46, 2nd in the M40 age category. Peter Davis was next with a gun time of 36:50, then Richard Spurr 38:15 PB, Jess Gordon 39:13, 3rd F35 and Ian Dobison 39:33 PB. Graham Welsh 39:53 and Nige Driscoll 39:53 PB crossed the line together followed by Steven Padgett 41:58 PB, Philippa Clarke 42:14 and Cate Driscoll 43:39 PB. Nicki Padgett 46:12, Matt Patterson 46:23 and new member Tom Jordan 48:56 PB. Kath Scott won out in an exciting sprint finish to record a time of 54:09, then came Clare Stainton 1:04:34 PB and Lynne Boby 1:04:36. Sara Carter and Stephen Tomlinson were event marshalls.
On to Sunday and 6 Newark Striders took on the hills in the Newton's Fraction Half Marathon. The race was rescheduled from March due to snow, but those wintry conditions were a distant memory in the warm Lincolnshire sunshine. Lewis Hopkinson was 10th finisher and MV45 first prize winner with a time of 1:26:51. Simon Roberts finished in 1:35:29, then Jean-Louis Balestra 1:45:28, Nick Beveridge 1:56:39, Nicole Henderson 2:36:53 and Stacey Atkins 2:39:45.
Meanwhile, Ted Behl, Michelle Starbuck, Steven Padgett, Nicki Padgett, Stephen Tomlinson, Sara Carter, Jason Priest, Andy Sirrs and Lesley Butlin were racing in the scenic Sherwood Pines trail 10K. Finishing times were Ted 45:11, Steven Padgett 53:45, Stephen Tomlinson 55:20, Andy 55:59, Sara 57:55, Jason 59:54, Michelle 1:00:31, Lesley & Nicki 1:04:44.