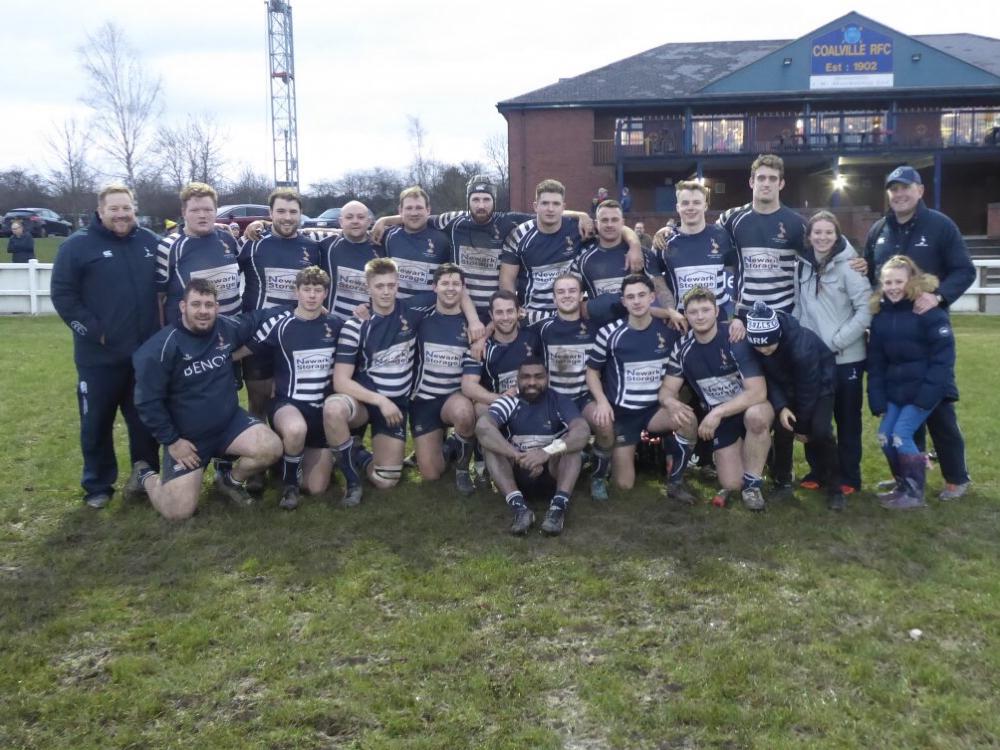 Newark Rugby Club
Newark Rugby Clubs 1st XV started the New Year in fine style at Coalville where they defeated the league leaders. It was one of Newark's best performances of the season and included a fine try by captain Will Britten and some accurate goal-kicking from fly half Matt Cox. Britten struck in the first half while Cox collected a conversion and five penalty goals. It was the team's third successive league win following success before Christmas against Casuals and Ashbourne.
Club chairman Andrew Fearn provides the detail on a good win against a team who had lost only once coming into the match.
When Coalville came to Newark in September, they looked like two well-matched sides until the visitors pulled away at the very end of the game. Thus Newark went into this game as distinct underdogs. However, there was no lack of self-belief and Newark more than matched their opponents in all aspects of the game. The two sides sparred with each other for the initial 20 minutes but Newark's physicality was beginning to show as two Coalville players required lengthy treatment for injuries.
The stalemate was broken in spectacular fashion when Newark's Jaymie Duncan made an outstanding midfield break.
He recycled the ball to the supporting Jonathan Webster who made good ground before offloading to captain Will Britten who accelerated to score an exceptional team try. The try was converted by stand off Matt Cox.
Newark continued to rebuff Coalville attacks in robust fashion, often pinning the opposition behind the gain-line. Debutant Sean Denning was prominent and made a number of powerful line breaks.
Coalville struck back late in the first half with a converted penalty to reduce the points gap to 3-7.
However, Newark finished the half strongly and not only restored but added to their lead with two converted Cox penalties; 3-13 at half-time.
Newark made three replacements at half-time with Overland, Hempstead and Webster retiring to the bench and Ed Poulson, James Archdale and Mason Coulam joining the fray. If Coalville thought that this might result in a reduced intensity, they were mistaken because Newark continued to dominate, relishing the physical challenge.
The pressure led to Coalville mistakes and the inevitable penalties which enabled Cox to add a further three kicks giving Newark an unassailable lead of 3-22. Will Ellison earned a late yellow card with an early tackle and Coalville broke back with a minute to go to score a consolation try under the post which was duly converted.
Newark are at home next Saturday against Dronfield, kick off 2.15pm at Kelham Road. All welcome. Free admission. Programme £2.
Newark team v Coalville: Taylor; Vinakasa, Charles, Britten, Overland; Cox, O'Dell; Appleton, Tomlinson, Hempstead, Ellison, Woodman, Denning, Duncan, Webster.
Subs: Coulam, Poulson, Archdale.
Try: Britten.
Conversion: Cox.
Penalty goals: Cox (5).