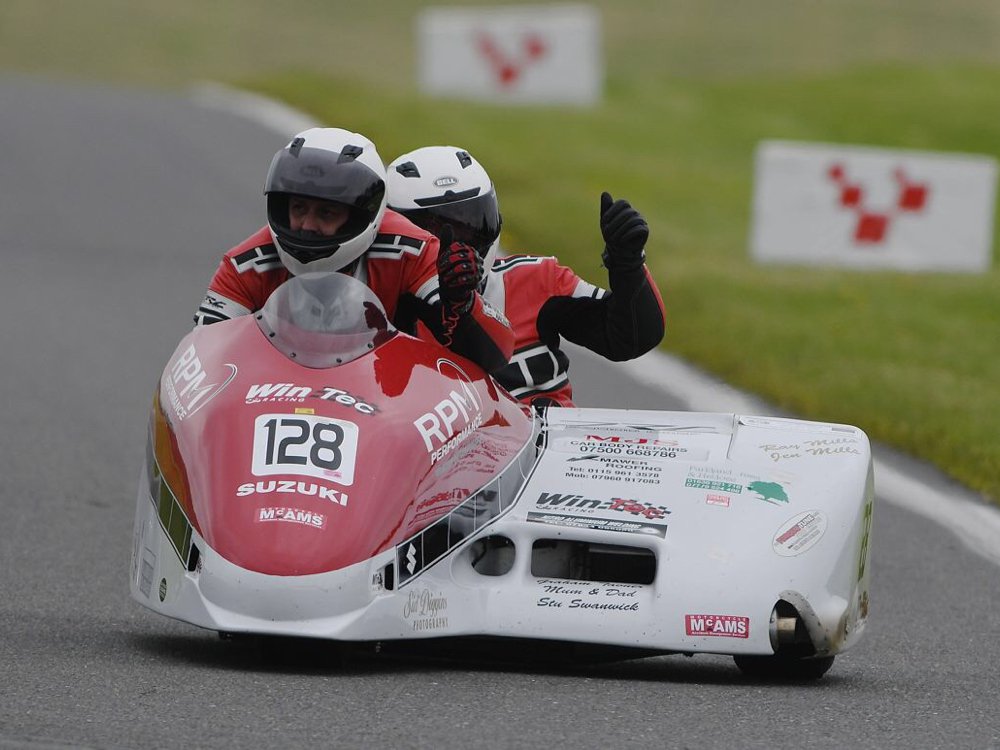 Three top five finishes
WINTEC RACING - CADWELL PARK
Newark Sidecar driver Simon Horton with passenger Adam Buxton was at Cadwell Park last weekend at the International Sidecar Revival meeting where they powered the WINTEC Racing Suzuki through to three top five results in the RKB/BMCRC F1 Sidecar championship.
But it was not a straightforward weekend for Horton and Buxton as they encountered an electrical problem at the start of qualifying and were forced to sit out the session. On further inspection it turned out to be a wiring fault which was easily fixed but it meant that they had to start the first race from the back of the grid.
More problems awaited the pair as they took their place on the grid for the start of race one when the clutch overheated while under race orders which caused them to withdraw from the race.
Starting the second race on Saturday from row 12 this time all went well and Horton/Buxton powered through the field passing five or more outfits on the first lap and going on to finish the seven lap affair in a strong fourth place from 22 starters.
Lining up on row three for the start of the first race on Sunday the pair got a good start and settled straight into third place as the lights went out. They maintained their position throughout the nine laps to take the chequered flag for third place and a place on the podium.
The final race of the weekend for Horton and Buxton brought them another top five result. Starting from the fifth row they were fourth on the first lap but were beaten back to fifth on lap two and remained in that position through the remainder of the nine lap race to pick up their third top five finish of the weekend.
Horton said: "We enjoyed the weekend but I was not feeling too well as suffering with a chest infection. I wasn't really feeling up to the last race but pulled myself together and got on with it. My personal best lap time here is 1m 43.7s but I struggled to get anywhere near that as the chest infection held me back."
The next outing for WINTEC Racing is a trip to Belgium in mid July for the Chimay road races.
Big thanks to Sid Diggins for permission to use photo