What's going in your celebration swag bag?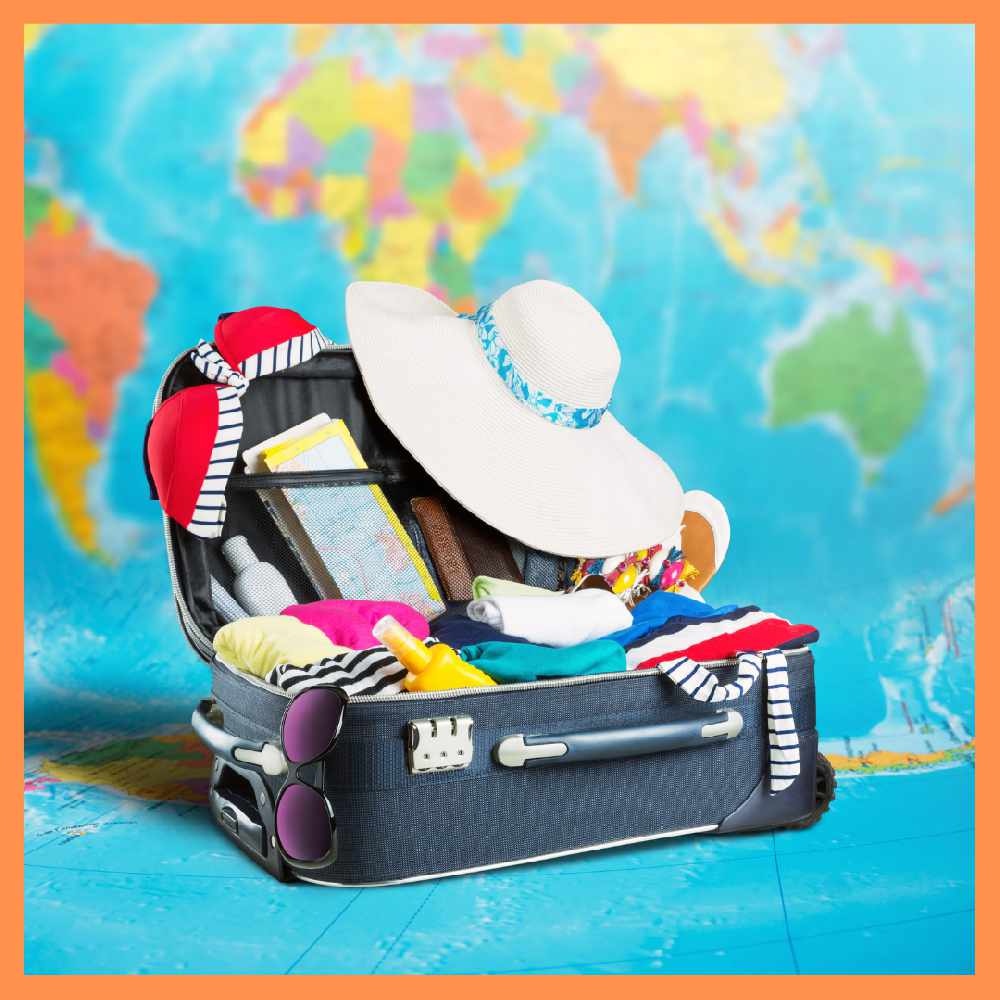 Back in July 2014, June was tagged in a Facebook post inviting people to join in The Big Birthday Swag Bag Hop.
With both a holiday and a birthday on the horizon at the time, she was happy to jump on board and share a few of the essentials that would find their way into her suitcase were she to join a group of friends heading off for a special celebration.
Almost six years on - how time flies! - and, with the UK currently under lockdown, she's already started planning her own post-coronavirus celebration.
So she's revisited her original list and made a few adjustments to the must-haves that will be going into her swag bag this time around...
Scroll down the page to find out what they are - but before you do, how about telling the Girls Around Town what you'd put in yours?
To get involved, simply follow this link to a short survey listing the things to include, answer the questions and submit your response by Sunday 12 July.
No personal details will be stored or shared - as always with GAT surveys, it's just a bit of a fun for a feature on one of the first Sunday mornings when the show returns to air on 107.8FM.
In the meantime, here are June's answers to the questions - it goes without saying of course that these are all in addition to the things on the legendary (and very lengthy) spreadsheet packing list she compiles every time she goes away...
The destination
Well, it has to be Italy of course but for once I won't be heading to my usual 'home away from home' in Amalfi.
Inspired by the book below, this time I'm off to Florence for a few days. And on the way home I'll be nipping over to Milan - what's a 200 mile detour when the fashion capital of the world beckons?
The book
As an avid reader, for me one of the hardest things about the current lockdown is not being able to nip into Newark library two or three times a week to pick up a good supply of books.
After just a few days of self-isolation, I'd already started searching through my bookshelves for something to re-read. And the first one I chose was one of my absolute favourites, Bella Figura by Kamin Mohammadi. who left London in January 2008 to spend a few months in Florence and is still there!
Subtitled How to live, love and eat the Italian way, it tells the story of her first year in the city, month by month - the places she visited, the people she met and the meals she learned to make and enjoy, with many of the recipes included too.
During my own relatively brief time in Florence I'm planning to spend a day with Kamin on one of the workshops she has devised to bring the book alive to readers and hope to visit her home on a 10th-century castle estate in the countryside of Chianti for a simple Tuscan cooking class and olive oil tasting.
The beauty product
I'm still a martyr to mozzies so the White Tiger Balm on the original list will be in my bag again but my real beauty hero these days is a lovely berry-coloured lipstick...
Cast your mind back to the summer of 2017 and you may remember a slightly hysterical conversation between Rachel, Sue and me about how to choose the right shade of lippy.
Picked precisely in the recommended way (if you missed it, you'll find details in the first 10 minutes or so of the podcast here), my berry lip gloss is a constant companion both at home and away so it will definitely have a place in the swag bag this time.
Snack food
With lots of lovely Italian meals to enjoy, snacks won't be much of a priority on this trip. But I'll be adding a few of my favourite Vive Bars to that packing list to keep me going during the journeys to and from my two destinations - a far tastier option than airline food!
The music
My holiday playlist will mostly feature the wonderful Andrea Bocelli but there'll be one extra track on there from the last time around...
After all, what could be more appropriate for the trip of a lifetime than Bill Medley's I've had the time of my life?
One last thing
Well, two things really...
A second (large and empty) bag - and a credit card to pay for all the extra swag going into it when I hit those Milanese shops!
So are you up for the challenge?
If you are, don't forget to fill in the questionnaire and share your own swag bag essentials with the Girls Around Town.
Then watch this space to find out when they'll be discussing their answers and yours on 107.8FM soon...