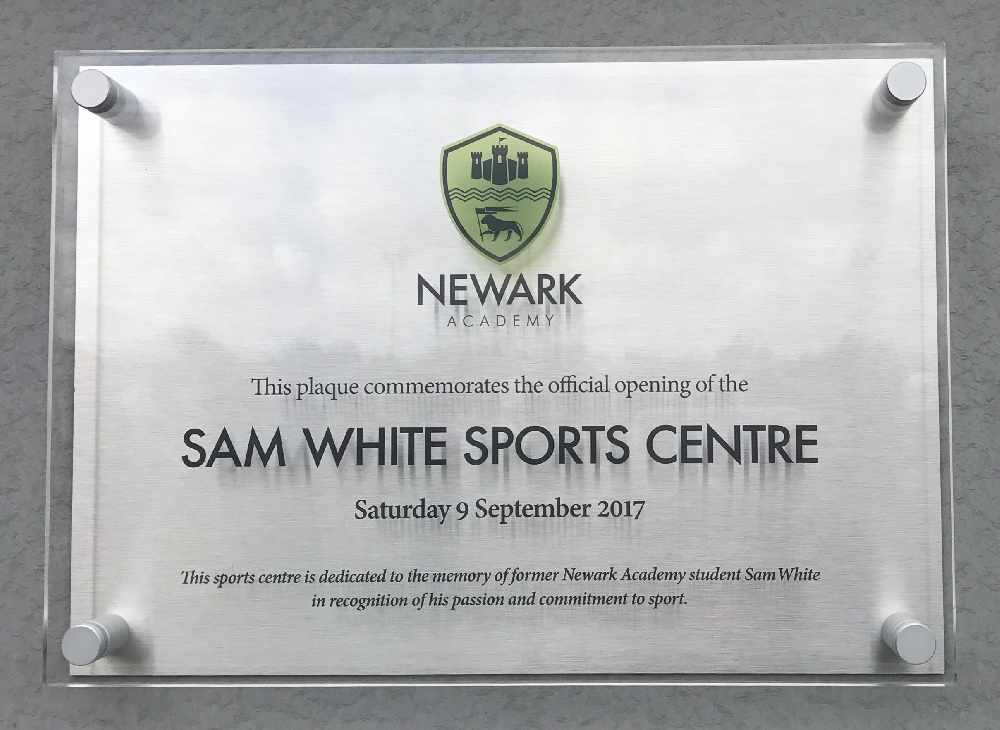 The new placque at the Sam White Sports Centre.
The Newark Academy has officially renamed their sports in memory of former pupil, Sam White.
The Sam White Sports Centre is officially open.
A special ceremony led by the Head of School at the The Newark Academy, Mr Andy Seymour, saw the unveiling of a new plaque which will be mounted in the next couple of weeks.
"We see The Newark Academy as a hub at the heart of the community. We recognise Sam's passion for sport and how proud he was of his school, and believe that this truly honours the character, determination and resilience of this outstanding young man." said Mr Seymour.
Pete Edwards, former Disability Sports Development Officer for Nottinghamshire County Council and Sports Nottinghamshire, was invited to open the sports centre.
Pete met Sam through boccia and school games. Sam helped coach younger students with a disability at the Grove School and proactively promoted sport through the schools leadership programme.
Sam's parents Mike and Pam White were deeply moved by the decision, "The naming of the new Sports Hall is a fantastic tribute to Sam."
"Acknowledging his determination and resolve to return to life and school in as normal and everyday way as possible. The fact that he achieved that reflects the huge support- and love- he had from those around him, and those people also know he had a strong sense of pride and belonging."
"We can only imagine how proud he would be to see his name up there, but we know how real and important that pride would be to Sam.... and just how wide and infectious his smile would be."
"Thank you Newark Academy for helping to continue Sam's legacy, recognising his passion for sport and keeping him in your hearts."
Sam was a former student of the Grove School before he sadly passed away in 2013.
An inspirational young man with a truly infectious smile, you can read all about Sam's remarkable story at here.