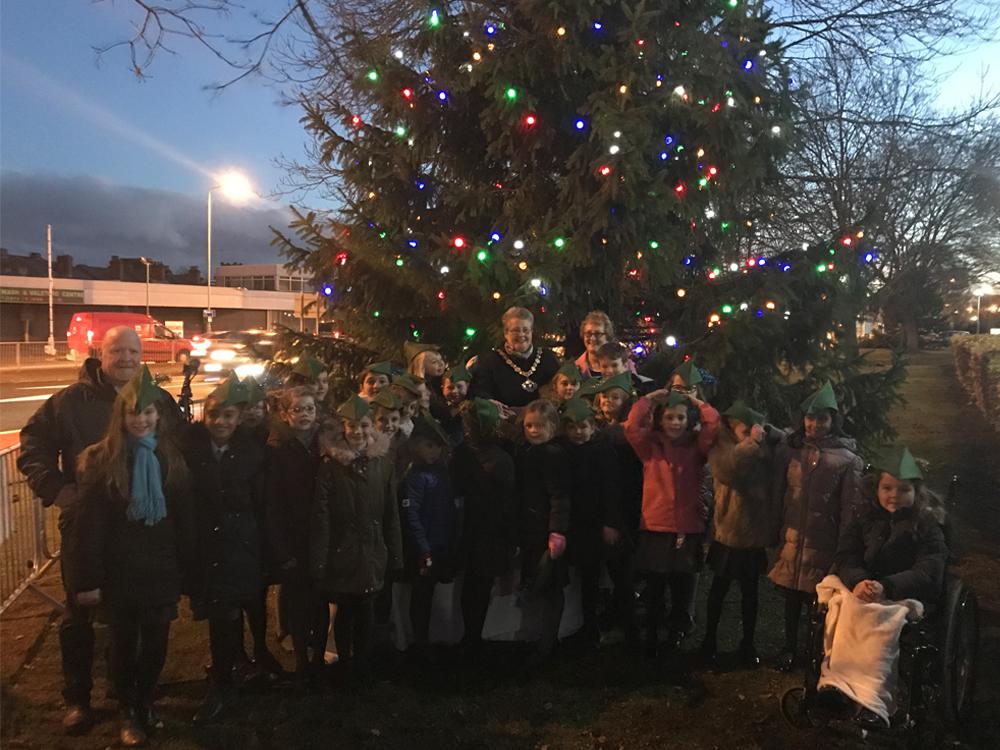 Nottinghamshire County Council chairman Councillor Sue Saddington with the pupils from Bleasby Primary School after officially switching on the Christmas tree lights at County Hall.
The Countdown to Christmas has begun at County Hall.  Christmas Fairy Godmother aka The Chairman of the County Council, Councillor Sue Saddington, joined school pupils to officially switch on the Christmas tree lights on Friday 30t November.
Twenty-three children from Bleasby Primary School - aged between 6 and 11 years olds - gave a fabulous festive performance with a selection of carols including Merry Christmas bells, Away in a manger and special Christmas medley.

The tree, a 25 foot tall Norwegian spruce, has once again been sponsored by Veolia, Nottinghamshire County Council's waste contractors.

And the tree lights have been sponsored by Arc Partnership, a joint venture company formed by Nottinghamshire County Council and Scape Group.

Council Chairman, Councillor Sue Saddington said: "We were delighted to welcome Bleasby Primary School to County Hall for the annual Christmas lights switch-on. It was a real treat to hear the children sing – it was a magical performance."

"We also extend our thanks to our sponsors Veolia and The Arc partnership for their support."

Samuel Mensah, Bleasby School Head said: "I'm so proud of the children. They were so excited when they were invited to join the Chairman to switch on the lights and they've worked really hard to get the performance just right.

"It is also good for the children to take part in new experiences away from the classroom and it's certainly got us all in the Christmas spirit!"

Dan Maher, Managing Director, of Arc Partnership, said: "Arc Partnership are pleased to sponsor the new Christmas tree lights and we hope that they are enjoyed by all throughout the festive period."

Lea Hawkes, General Manager for Veolia Nottinghamshire said: "We are proud to once again support the Nottinghamshire County Council Christmas Tree.

"Once the festivities are over we will ensure this real Christmas tree is recycled, chipped and turned into compost. Nottinghamshire's little recyclers can also tell Father Christmas their recycling good deeds for the chance to win pantomime tickets. The Father Christmas Letter competition is open until Friday 7 December."