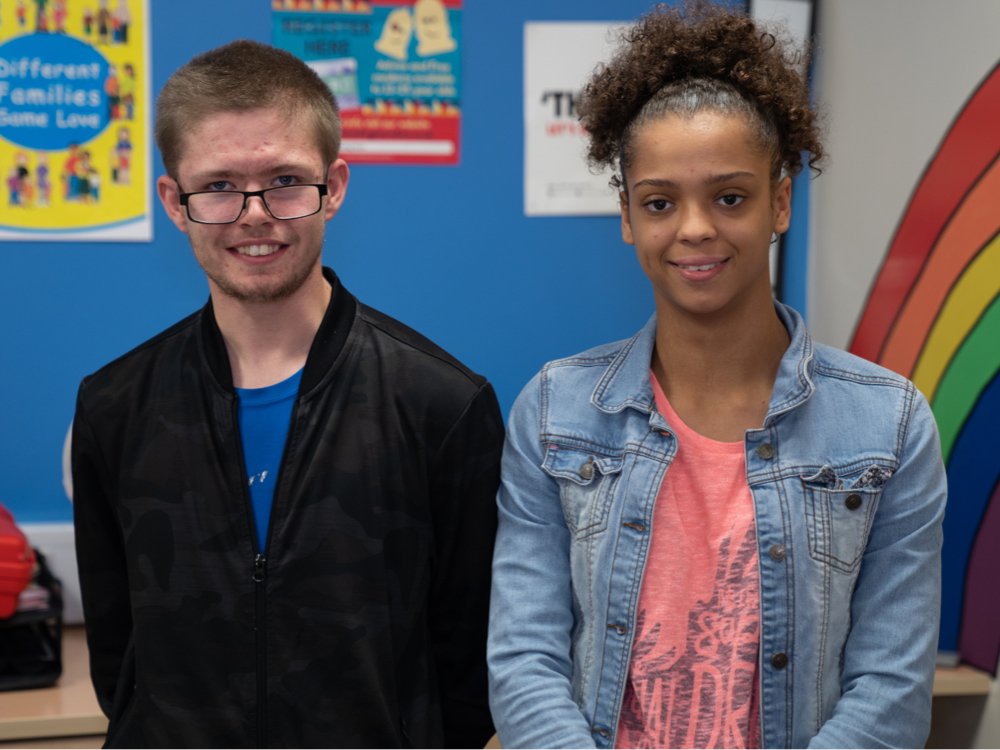 Jake Ramsay, 4Uth Award Winner with Annie Tait, his nominee. Annie described Jake as "a lovely kind and helpful young man who has matured into an outstanding citizen."
18 year old Jake Ramsay from Balderton has won a Nottinghamshire County Council 4Uth Award after overcoming bereavement and learning disability to become a valued community volunteer. He will be presented the award at a ceremony on Friday 22nd November.
Annie Tait, who nominated Jake, is just 14, the youngest person to ever nominate a 4Uth winner. She is a Member of the UK Youth Parliament for the Nottinghamshire Pioneers.

Annie explained why she nominated Jake for the award, "At a very young age, despite having severe learning difficulties, Jake helped with the care needs of his mother who he sadly lost through cancer. He moved in with a carer who also unfortunately died, due to cancer."
She spoke highly of Jake's ability to adapt to a new foster placement whilst still coming to terms with his grief, and even running charity cake stalls for Cancer Research.
Despite struggling with reading and writing due to learning difficulties, Jake was determined to become an active member of the Newark Community First Aid Group. He sat first-aid exams, over two days, with non-disabled students. He now attends local events most weekends as a volunteer first aider.
Jake also volunteers at his local disability swimming club, supporting other young people with special educational needs as well as volunteering at the local Boys Brigade Club.

Annie concludes: "Over the years, having to overcome grief and loss, Jake became an angry and frustrated young man. However, through fundraising and his commitment to help his local community and environment, he has become a lovely kind and helpful young man who has matured into an outstanding citizen. He spreads positive vibes wherever he goes."

Councillor Tracey Taylor, Vice-Chairman of the Children and Young People Committee, said: "Jake has done so much to help his community, and to overcome loss. He is a very worthy recipient of this year's 4Uth awards."
Almost 100 nominations were submitted to the 4uth Awards, with Jake joining other winners from Mansfield, Bircotes and Keyworth. The overall winner will be announced at the awards ceremony in a couple of weeks.
County Council Leader Councillor Kay Cutts MBE thanked everyone who nominated and added how great it was to see the contributions from young people in Nottinghamshire "Once again, there have been some remarkable accounts from across the county of young people who have overcome challenging situations to help others and make a difference to our community. I'm very proud of the finalists, and I'm pleased we are able to give them this opportunity to celebrate their achievements."